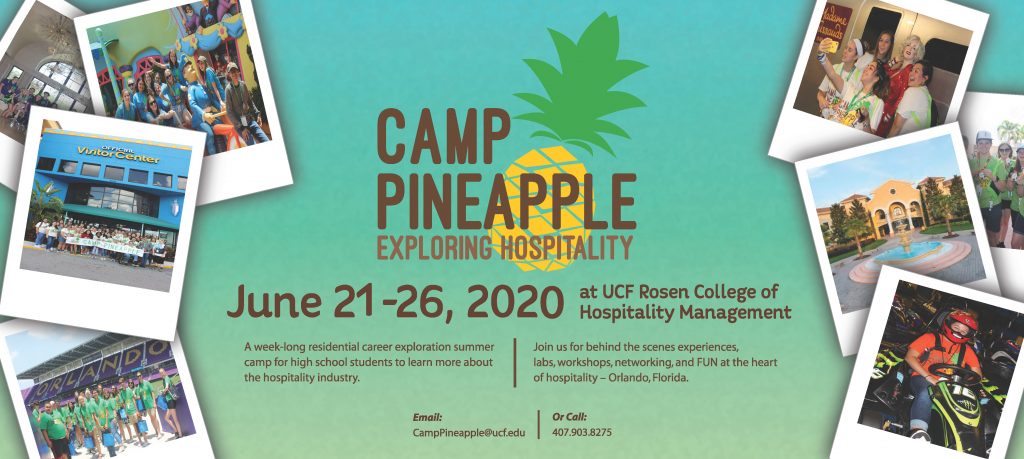 Attention: 
Camp Pineapple is full. We are excited to meet all 40 campers that are registered for Camp Pineapple 2019 , June 23-28, 2019!
For those that would like to be on the Camp Pineapple Waitlist, please complete the registration form and e-mail it to camppineapple@ucf.edu with a request to be added to our waitlist. Our staff will notify you as soon as possible if a space becomes available.
If you are graduating from high school in 2021, 2022 or 2023– Check back later this year for information about Camp Pineapple 2020.
Camp Pineapple Registration Form.
CAMP PINEAPPLE is limited to 40 campers and selection is made on a first-come first-served basis.  After completing and submitting the application form, visit the FORMS page to complete additional forms that are necessary for camp attendance.
REGISTRATION AND FORMS MUST BE HAND SIGNED.  ELECTRONIC SIGNATURES WILL NOT BE ACCEPTED.  Registration and additional forms can be mailed to CAMP PINEAPPLE, 9907 Universal Blvd, Orlando, FL, 32819 or printed, scanned, and emailed to CampPineapple@ucf.edu.