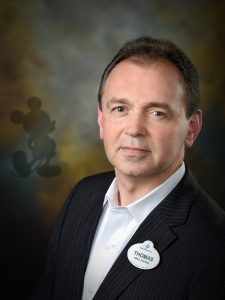 Thomas Mazloum serves as President of Disney Signature Experiences. He was previoulsy the Senior Vice President of Resort & Transportation Operations at the Walt Disney World Resort. A veteran of Walt Disney Parks and Resorts, Thomas oversees 28 resort hotels as well as transportation operations that rival mid-sized American cities, all located at the world's premier vacation destination.
Thomas began his Disney career in 1998 as a hotel director for Disney Cruise Line. He was instrumental in launching the Disney Wonder, the second ship in the Disney Cruise Line fleet, while directing a cast and crew of nearly 700 individuals, representing 52 countries around the world. Thomas then went on to serve as the general manager of Food & Beverage & Special Events at Epcot, where he supervised the park's diverse restaurant operations and pursued collaborative business opportunities.
Before returning to Disney in 2017, Thomas served as the chief operating officer of Crystal Cruise Line. During his tenure there, he was the key player in defining "The Crystal Experience," a concept that would set the bar on the definition of a luxury vacation – by a focus on employee culture and attitudes, ensuring the companies continued recognition as the "World's Best" from prestigious consumer award pools, including the readers of Conde Nast Traveler magazine (U.S.) and the readers of Travel + Leisure magazine (U.S.) for 15 years in a row –unprecedented by any other hospitality brand in the world.
Born in Austria, Thomas received his degree in hotel management and administration in Innsbruck. A life-long learner, Thomas has also received several business certifications from such institutions as Cornell University, the Hotel School of Lausanne and the Hotel School of Salzburg.