Immerse Yourself in


the Business of Food
The foodservice industry is the nation's top private employer. If you're business savvy and have a passion for food, our unparalleled program emphasizes design, catering, franchise development, food preparation, cost controls and more. Students will learn skills and best practices to reach full revenue potential as well as managerial and business strategies to optimize operations and staffing.
The Restaurant and Foodservice Bachelor of Science degree requires three paid internships where students apply the concepts learned from their professors, all of whom are seasoned experts in the field. Upon graduation, students will have a deep, robust understanding of the Restaurant and Foodservice industry through coursework and hands-on experience.
Our program also prepares students for an exciting job market that includes food sales, marketing, distribution, vending enterprises, restaurants and more! Graduates of our program are more competitive in the marketplace and have access to better food and beverage management positions in free-standing enterprises, franchises or hotels.
Start Your Career in College
We are very proud and honored to enter into a partnership with LongHorn Steakhouse, a Darden Restaurant, with over 530 locations nationwide, and growing, for a three-semester progressive internship for Restaurant, Food and Beverage Management Majors. This internship opportunity offers a direct pipeline into the nation's largest and top-performing casual restaurant brand. It will further enhance the offerings of our Restaurant Management program, while serving our industry partner, LongHorn Steakhouse, with future leaders in this sector. This powerful, sustainable model has been designed to support and equip restaurant business leaders with knowledge, skills required to create agile, successful and sustainable businesses.  Moreover, Darden is committed to the belief that work/life balance results in management satisfaction and retention.

This exclusive partnership between the Restaurant Management program at UCF Rosen College of Hospitality Management and LongHorn Steakhouse will consist of a three-tiered progressive internship located in Orlando while students attend their final semesters in college.  Once a student is accepted into the program, she/he/they will work with Longhorn for three (3) semesters, starting in summer 2020 and ending in spring 2021.
The first semester will include back-of-the-house (kitchen operations) training.
The second semester will move to the front-of-the-house (dining room operations) training.
The third and final semester will consist of a modified 'manager in training' program proprietary to LongHorn Steakhouse.
Upon successful completion, interns will select a location outside of Orlando, and will be given the keys to run their own LongHorn Steakhouse!  That's right, each successful graduate will be appointed as a Restaurant Manager of a LongHorn Steakhouse full-service, casual dining restaurant (average annual sales $3,600,000) in a location to-be-determined; and paid a competitive salary (minimum beginning salaries – $55,000).  The formula for a winning career. In addition, they will receive additional support and a four-week follow-up management training at Darden Corporate after they settle in at their new locations.
This is the application criteria RF&B majors followed for consideration for this pilot program: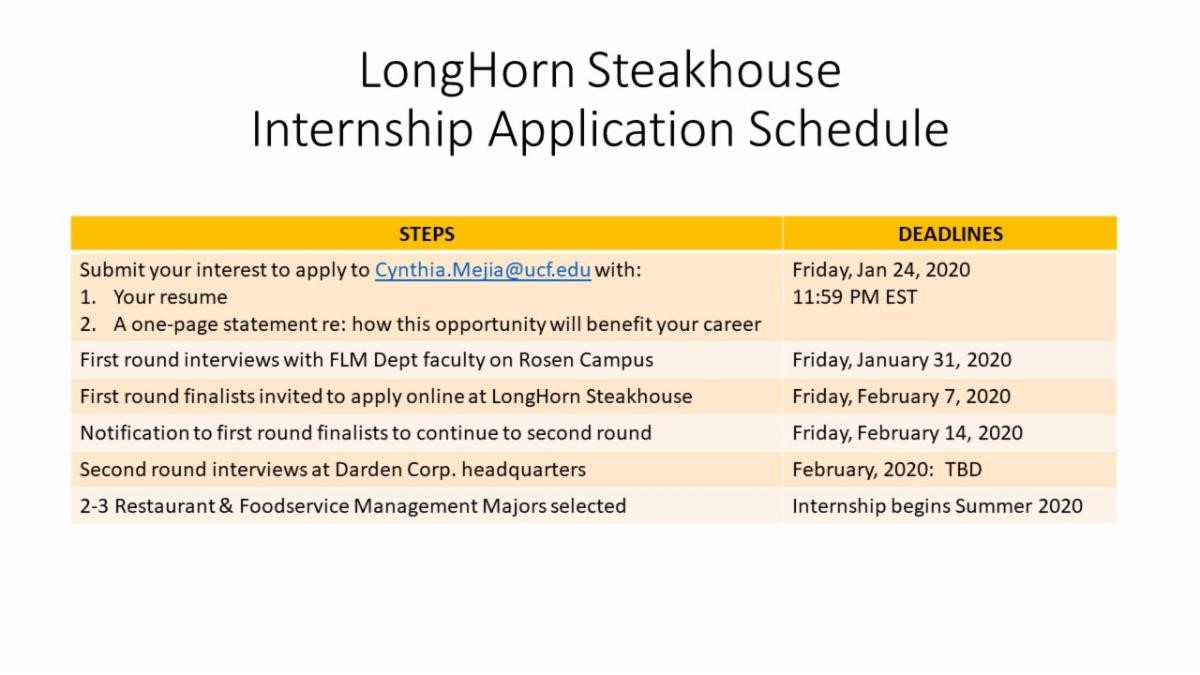 For more information about the Start Your Career in College progressive internship contact:
Cynthia Mejia, Ph.D., Interim Chair & Associate Professor
Department of Foodservice & Lodging Management
Office: 407.903.8191
BUSINESS KNOWLEDGE/SKILLS + HANDS-ON EXPERIENCE + BALANCED LIFESTYLE = SUCCESSFUL CAREER