Immerse Yourself in


the Business of Food
The foodservice industry is the nation's top private employer. If you're business savvy and have a passion for food, our unparalleled program emphasizes design, catering, franchise development, food preparation, cost controls and more. Students will learn skills and best practices to reach full revenue potential as well as managerial and business strategies to optimize operations and staffing.
The Restaurant and Foodservice Bachelor of Science degree requires three paid internships where students apply the concepts learned from their professors, all of whom are seasoned experts in the field. Upon graduation, students will have a deep, robust understanding of the Restaurant and Foodservice industry through coursework and hands-on experience.
Our program also prepares students for an exciting job market that includes food sales, marketing, distribution, vending enterprises, restaurants and more! Graduates of our program are more competitive in the marketplace and have access to better food and beverage management positions in free-standing enterprises, franchises or hotels.
Start Your Career in College
Program Details for Fall 2021 are HERE!
Info session, Tuesday, August 31 at 2 p.m.
Deadline to Apply, Friday, September 3 at 5 p.m. Submit to david.wixted@ucf.edu
First Round Interviews, Wednesday, Sept 8
Finalists notified, Wednesday, Sept 22 and Thursday, September 23
Internship starts, Monday, September 27
We are very proud and honored to enter into a partnership with LongHorn Steakhouse, a Darden Restaurant, with over 530 locations nationwide, and growing, for a three-semester progressive internship for Restaurant, Food and Beverage Management Majors. This internship opportunity offers a direct pipeline into the nation's largest and top-performing casual restaurant brand. It will further enhance the offerings of our Restaurant Management program, while serving our industry partner, LongHorn Steakhouse, with future leaders in this sector. This powerful, sustainable model has been designed to support and equip restaurant business leaders with knowledge, skills required to create agile, successful and sustainable businesses.  Moreover, Darden is committed to the belief that work/life balance results in management satisfaction and retention.

This exclusive partnership between the Restaurant Management program at UCF Rosen College of Hospitality Management and LongHorn Steakhouse will consist of a three-tiered progressive internship located in Orlando while students attend their final semesters in college.  Once a student is accepted into the program, she/he/they will work with Longhorn for three (3) semesters.
The first semester will include back-of-the-house (kitchen operations) training.
The second semester will move to the front-of-the-house (dining room operations) training.
The third and final semester will consist of a modified 'manager in training' program proprietary to LongHorn Steakhouse.
Upon successful completion, interns will select a location outside of Orlando, and will be given the keys to run their own LongHorn Steakhouse!  That's right, each successful graduate will be appointed as a Restaurant Manager of a LongHorn Steakhouse full-service, casual dining restaurant (average annual sales $3,600,000) in a location to-be-determined; and paid a competitive salary (minimum beginning salaries – $55,000).  The formula for a winning career. In addition, they will receive additional support and a four-week follow-up management training at Darden Corporate after they settle in at their new locations.
For more information about the Start Your Career in College progressive internship contact:
David Wixted
Instructor, Internships Coordinator
David.Wixted@ucf.edu
407.903.8062
BUSINESS KNOWLEDGE/SKILLS + HANDS-ON EXPERIENCE + BALANCED LIFESTYLE = SUCCESSFUL CAREER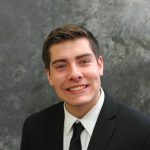 Three of our Restaurant and Foodservice Management students started the pilot LongHorn internship program, a special partnership between UCF Rosen College Restaurant & Foodservice Management majors and LongHorn. This starts a 3-semester intensive Front-of-house and Back-of-house training toward managing their own location! Let's hear from Dylan Krewer on how his intensive internship is going.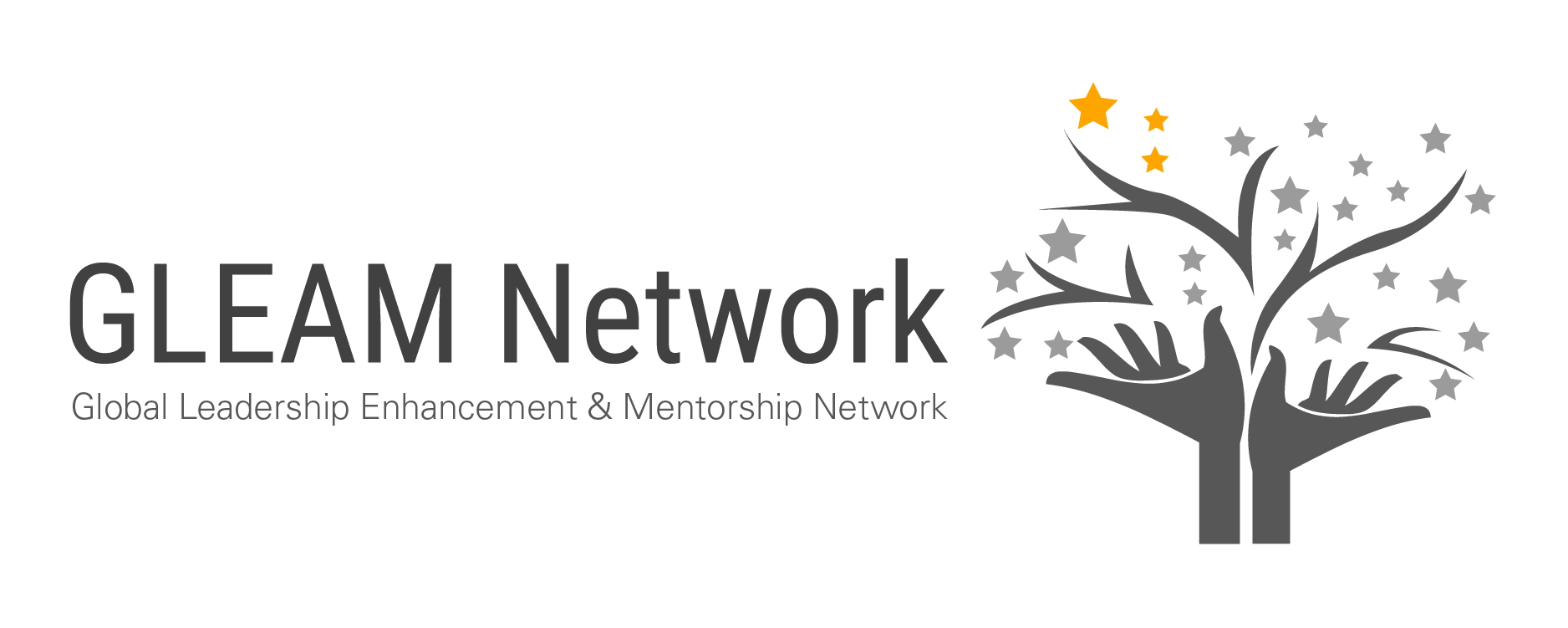 Students, GLEAM is a mentorship opportunity for Restaurant and Foodservices Management majors. It's a virtual, high touch, eight-week program providing bi-weekly engagement with experienced industry leaders in collaboration with the Global Leadership Enhancement and Mentorship Network – GLEAM Network.
GLEAM mentorship information for Fall 2021  
Tuesday, September 7, 2021 @ 2 PM: Virtual information session for Restaurant Management majors
By Thursday, September 9, 2021 5:00 PM: Submit application:

200-300 word essay telling us about your interests in participating in GLEAM, and also what "one big thing" would you like to explore with your mentor?
Your resume
Faculty reference via email
Send to: David.Wixted@ucf.edu

By Friday, September 10, 2021: Candidates notified via email
Thursday, September 16, 2021 @3 PM – 4 PM Zoom: Mandatory Student Orientation Meeting
Sunday, September 19, 2021: Upload 3-5 introductory video in Webcourses (you will be added)
Program starts with GLEAM mentor: September 20, 2021
******************************************************************************
Last Spring we held a virtual info session on Tuesday, January 19 @ 2PM:  Watch the video
 *******************************************************************************
GLEAM -What mentors and mentees have to say!
In the fall of 2020, four of our Restaurant & Foodservice Management majors worked on their "One Big Thing" with GLEAM, a global leadership enhancement & mentorship network for the restaurant industry.
Jared Becker, GLEAM Network Program Manager, Industry Student Mentor Program-ISMP talks about the benefits of mentorship. See what he has to say.
Christie Cruz, Sr. Director of Training & Operations Services Krystal Restaurants, LLC was one of the mentors who took part in the program. See what she has to say.
Andrew Miele, Restaurant & Foodservice Management Major, a Senior, is a student who was mentored by an industry partner. See what he has to say.
Rosen College Culinary Club – Cake Decorating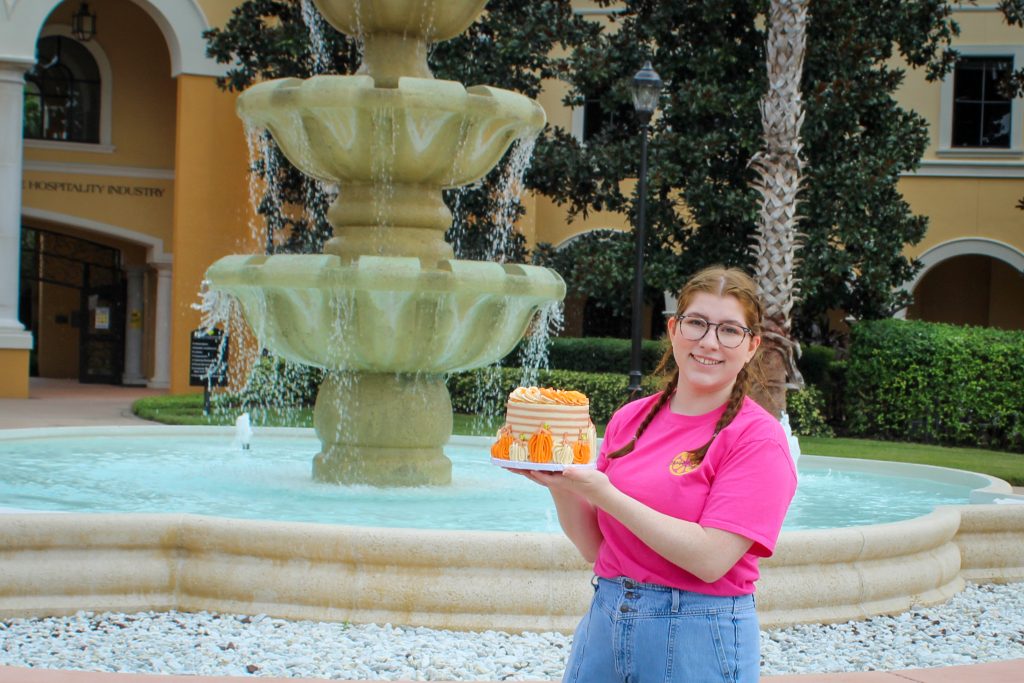 Take a look at Emily decorating a great fall cake.
Hello everyone, my name is Emily Davis, and I am a third-year student at the Rosen College of Hospitality Management. I currently operate my own bakery business called Lemonly's Bakery in Sarasota, Florida.
I started baking at a young age when my Grandma would come to visit for the holidays. Quickly I started immersing myself in all things baking by purchasing cookbooks, watching TV shows, and practicing whenever possible. I would bring dozens of mini cupcakes to school for my peers to enjoy and finally decided that I should turn it into a business.
At the age of 15, I created "The Teen Baker." I would advertise on social media, neighborhood websites, and anywhere where I could get an order. Shortly, the name of my bakery turned to "Lemonly's Bakery," a nickname that my best friend gave me. When planning for college, I decided I wanted to go to school for hospitality and found out about the amazing program here at Rosen. Once I saw that they had a major specifically for Restaurant Food Service Management, I was sold. Even though I knew how to bake, it was important for me to learn about the behind the scenes of working in the hospitality industry.
I wanted to share with the Rosen student body my love for cake decorating and decided to do this demo for Culinary Club. I hope everyone enjoys it and learns a little something about cake decorating!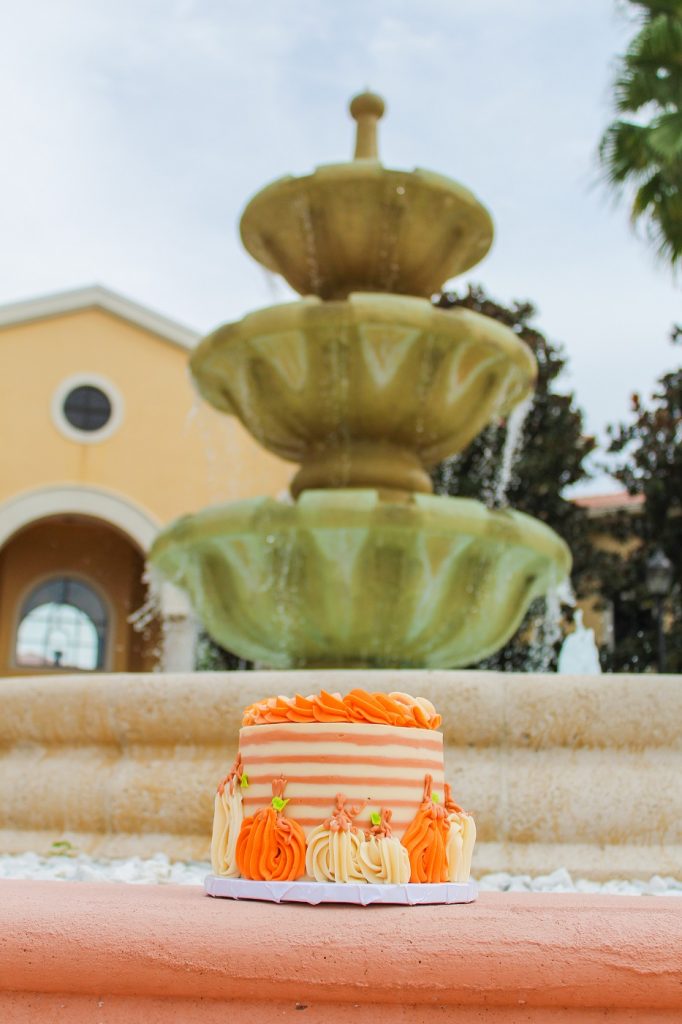 Virtual Meet Ups for Restaurant and Foodservice Management Majors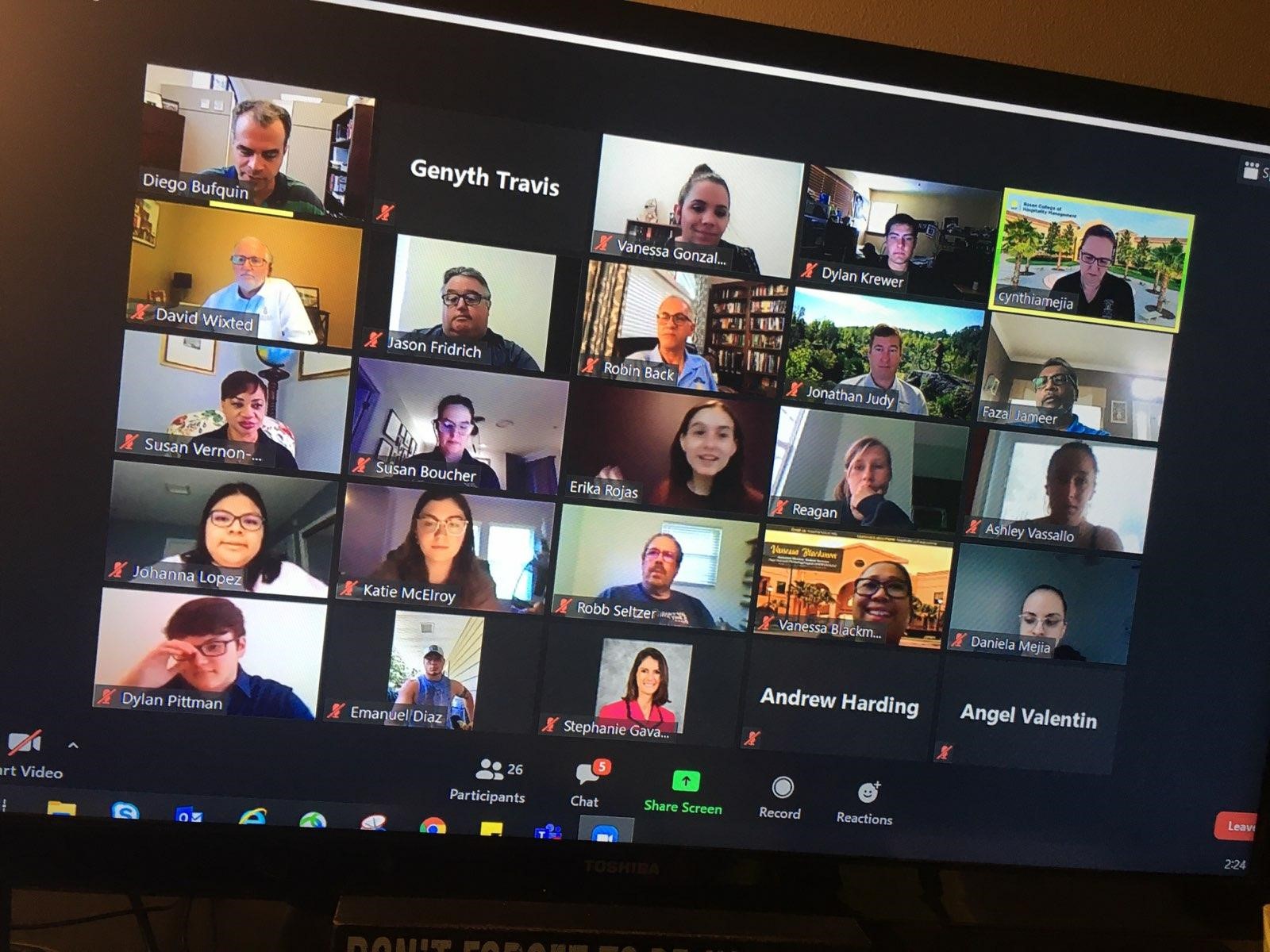 On July 22, 2020, Restaurant and Foodservice Management majors, Rosen College faculty and staff, met virtually to get to know each other and get some insight into what's coming this fall.
In case you missed it, you can catch up on what happened on the Rosen College YouTube channel: https://youtu.be/QJn9FBTu6zo
Here's what we covered:
Senior Restaurant majors will welcome all and introduce the department faculty
Student representatives will introduce our various restaurant clubs and the plans for Fall 2020
We will have small break-out Zoom rooms to mingle and do an ice breaker, get to know everyone!
Q&A session: please come prepared to ask any questions you might have about Fall 2020
On September 1, 2020, Restaurant and Foodservice Management majors, Rosen College faculty and staff, took a deeper dive while meeting virtually to find out about more of what's in store for the fall semester.
In case you missed it, you can catch up on what happened on the Rosen College YouTube channel: https://www.youtube.com/watch?v=1qXItw9-bew . Here's what was covered:
Information from Mr. David Wixted about our revised internship program,
A panel discussion with industry executives from alternate food-related sectors so you may apply your skills to related industries
Introduction to GLEAM, a mentorship program exclusively for Restaurant & Foodservice Management majors
Any Questions, please email: Dr. Cynthia Mejia,Interim Chair, Department of Foodservice and Lodging Management, at  cynthia.mejia@ucf.edu