UPDATE: In these uncertain times due to the coronavirus COVID-19, Kids Kitchen Camp is cancelled for summer 2020. Please stay safe and healthy. We hope to see you in our kitchens next summer!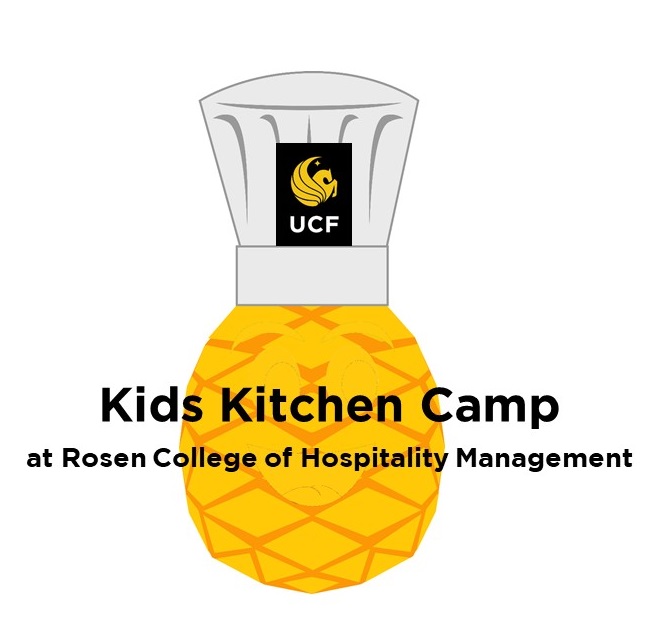 FORMS
Applications and forms must be filled out completely and may be
Emailed: kidskitchencamp@ucf.edu
or Faxed to: 407-903-8106
or Mailed:
Kids Kitchen Camp
c/o Ricarya Jackson
9907 Universal Blvd
Orlando, FL 32819
Please visit the In This Section Drop Down Menu for information About Kids Kitchen Camp, to Contact Us, for Cost and to meet the Staff.
Pick-Up and Drop Off Policies
The Kids Kitchen Camp at Rosen College of Hospitality Management will run two weeks in the Summer 2020: July 6 – 10, and July 13 – 17, 2020 from 9:00 AM to 4:00 PM each day, except Friday. Campers must arrive each day between 8:45 AM and 9:00 AM, and depart between 4:00 PM and 4:15 PM.  We are not equipped to provide after-camp care, so parents and guardians must be prompt in picking up their camper(s) each day.
Camp hours are Monday-Thursday, 9 a.m. – 4 p.m. and Friday, 9 a.m. – 1 p.m.
Uniform Policy
All campers are required to wear a uniform at all times during the camp in compliance with food safety policies followed at the college. Hair nets and aprons will be furnished by the camp. All campers will receive two long-sleeve T-shirts, one chef coat, and one hat, all included in the enrollment fee. Campers will be required to wear their long-sleeved T-shirts Monday-Thursday, and will be required to wear their chef coat on Friday.
Kids Kitchen Camp Code of Conduct
Nametag must be worn at all
Campers will wear the required uniform daily: (1) Issued long-sleeve t-shirt M-Th, and chef coat on Friday; (2) Issued cap or hair net (if you have long hair, you will be required to wear both); (3) Apron loaned by the College; (4) Long pants covering over shoes (not tight; no yoga pants/no tights); (5) close-toed, non-slip shoes (not mesh); (5) socks.
Campers cannot have long nails, nor nail polish. All campers must have clean, short nails as mandated for health and food safety.
Personal cleanliness is required at all times.
No gum chewing allowed.
Hair is always under control, in a hat or hair net, or both.
Boys must be clean shaven, or wear a beard guard.
Campers must never be alone outside of sessions. Unless given permission otherwise, all campers must stay with their assigned buildings/rooms and be supervised by their instructors, camp counselors, or a member of the Kids Kitchen Camp.
Campers are not allowed to re-enter personal vehicles once camp begins each day, until dismissal time as picked up by the designated parent or guardian.
Cell phone/electronic devices may only be used during the approved time of day, if necessary. These devices will be turned off at all other times
Respect the personal property of others at the Kids Kitchen Camp.
Be respectful of UCF Rosen property and inform a staff member if anything is is damaged.
Use of tobacco, alcohol, or illegal substances will not be tolerated. Any items found will be confiscated and the participant's parents/legal guardians will be contacted and the participant will be sent home.
Possession of firearms or other weapons will not be tolerated. Any items found will be confiscated and the participant's parents/legal guardians will be contacted along with appropriate authorities, and the participant will be sent home.
Observe the camp schedule, including session times and other activities.
Campers will follow instructions in the lab and only touch equipment and utensils as instructed by chef instructors and assistance.
Cooperate with faculty, professionals, teachers, and group leaders at all times.
Participate in all activities.
Stay safe and always follow directions.
Be polite and respectful to everyone. UCF Rosen College and the Kids Kitchen Camp do not tolerate bullying of any kind including teasing of counselors and campers. You will be sent home if deemed necessary. We promote diversity and inclusion and want everyone to feel welcome.