Record-Breaking Number of International Hospitality Students in Disney Undergraduate Program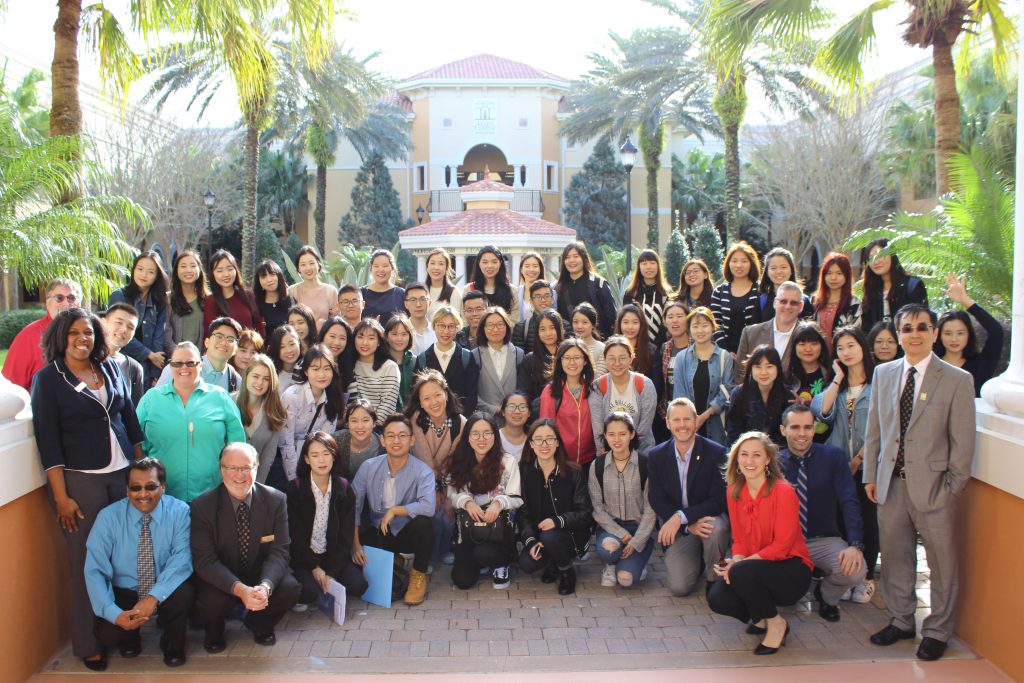 The weather was chilly but the welcome was warm as UCF Rosen College of Hospitality Management greeted 53 international students from China and South Korea on January 23, 2017, as they began the Disney Undergraduate Program. This is the largest group to participate in the six-month long program since it was established. The students will take courses at Rosen College and work at Disney, getting real-world experience in the hospitality industry.
The students arrived in Florida for this unique academic opportunity after a 29-hour flight. Back in their home countries they attend seven Rosen College partner universities, including in China:  BISU (Beijing International Studies University), Nankai University, Hainan University, Sun-Yat-sen University and first-time partner university, Huaqiao University and in South Korea: Sejong University and Kyung Hee University.
The students participated in an orientation program at Rosen College,  where they learned the details of the Disney Undergraduate Program, and met Rosen College faculty and staff, who will assist them while in the United States. Part of the day on campus was spent taking "selfies" and photos around the resort-style campus, as well as official ID photos and eating a traditional Thanksgiving turkey dinner in the Rosen College Disney Dining Room. The orientation process continued at Disney with two more days of acclimation and the "Disney Traditions" class.
The Disney International Cohort students will live on Disney property and work at the world's premier entertainment company for up to 37.5 hours each week. They'll also attend classes at the Rosen campus each week, studying Theme Park & Attractions Management, Guest Service Management and The History & Culture of Wine. The Disney Cohort students will also enjoy two days off and they are excited to explore Orlando; some plan to rent cars and explore downtown, Winter Park, look for farmer's markets and maybe even go as far as the east coast beaches. There will also be some surprise" social events organized by a team from Rosen College, which may include attending a sporting event, or even a BBQ with kayaking on the main campus lake
At the end of their six-month program, the students participate in a special graduation ceremony and luncheon in their honor.  Upon successful completion of the program, students are awarded a Certificate and 12 credit hours which will transfer to their home institutions towards their degrees.
Visit our website to learn more about the Disney Undergraduate Program.
— (Jan. 26, 2017)