Grab Your


Passport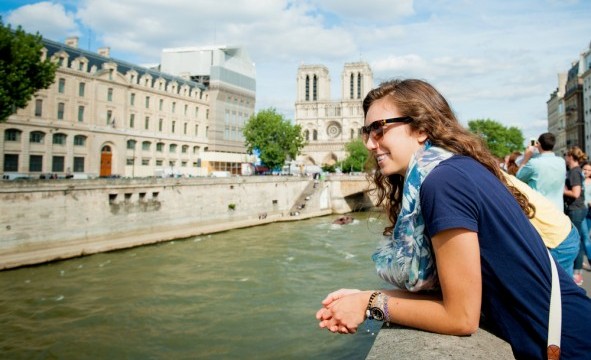 Immerse yourself in diverse cultures, enrich your education and cultivate your worldwide hospitality network through a variety of opportunities.
To apply for Study Abroad programs click on the links below.
Scholarships are available for Study Abroad. Click HERE to learn more.
Read Internship and Study Abroad Stories
Learn more about the Japanese Shrines and Temples and Cultural Tourism Internship
Short-term Summer Study Abroad for Summer 2020
**PLEASE NOTE: UCF in Europe | Exploring Entertainment, Attractions, Theme Parks & Events will not be offered in summer 2020**
Study Abroad and Internship Stories
Around Europe in 16 Days: Experiencing Extraordinary Entertainment, Summer 2019
Find out more about the first-ever summer China Study Abroad and see photos from the trip.
Read more about the additional programs which will allow more students to Study Abroad.
Hospitality Exchange Programs
Plan ahead for an education overseas. Increase global employment options and earn credit toward your degree by spending a semester overseas with one of our partner institutions:
For details, applications, scholarships and more, visit the Office of International Studies or contact Fazal Jameer at UCF Rosen College by emailing Fazal.Jameer@ucf.edu. You may also visit Mr. Jameer in the Student Services suite at UCF Rosen College in Room 201C.
Immigration Advising
International Students, please contact UCF Global for immigration advising needs by clicking HERE for more information.
Short Term Summer 2020 Study Abroad:
**PLEASE NOTE: UCF in Europe | Exploring Entertainment, Attractions, Theme Parks & Events will not be offered in summer 2020**
A look back:
Professor Ray Eddy's first "Exploring Entertainment, Attractions, Theme Parks & Events in Europe", occurred July 21-August 6, 2018 . Students traveled to Switzerland, France, England and Scotland. See the student perspective of this Study Abroad from Gabrielle "Gabby" Reiff .  Look for a recap of this Study Abroad trip HERE.
Cruise Ship Study Abroad
This course is a Hospitality, Event and Entertainment Management Restricted Elective so it is considered a course option to count towards degree requirements.
Details of the Spring 2020 Cruise Ship Study Abroad Are Here:
The Cruise Ship Industry- HFT 3770 Cruise Line Operations & Management, Docking at UCF Rosen College of Hospitality Management in Spring 2020
Are you looking for an elective to take Spring semester that will take you behind the scenes of one of the best cruise lines in the world?
Want to Learn about the various aspects of the cruise industry, including its history, operating and marketing procedures, career opportunities, ship profiles, itineraries and ports of call?
Students will study by land during lectures at UCF Rosen College and by sea during a Caribbean cruise over Spring Break 2020.
Students will also participate in special sessions led by Royal Caribbean executives who will be on board to share their expertise on cruise industry-related issues and topics.
Important Considerations for Interested Students:
You must be a Rosen College degree-seeking student to register for this course.
You must have a valid passport.
Additional costs apply:
Cost is $1200 (max) and due the FIRST DAY OF CLASS
The cruise will take place during Spring Break 2020
There are several mandatory onboard meetings/events.
There are TWO sections for the Spring 2020 course:
Tuesdays from 3:00 p.m.-4:15 p.m. with Professor Sean Bliznik
Wednesdays from 4:30 p.m.-5:45 p.m. with Professor Ryan Wootten
Send all questions to Ryan.Wootten@ucf.edu and Sean.Bliznik@ucf.edu
Click  Cruise Ship Study Abroad  for a look back at the Spring 2018 itinerary.