Grab Your


Passport

Immerse yourself in diverse cultures, enrich your education and cultivate your worldwide hospitality network through a variety of opportunities.

Are you ready to start your study abroad journey? We strongly suggest you begin the planning process as early as possible.  Take a look at the featured programs in Hospitality for Study Abroad. You'll want to schedule an advising appointment, but before scheduling the appointment, we suggest performing a self-assessment. This includes:
Meeting with your academic advisor to decide what remaining coursework may be taken abroad.
Evaluating your existing financial resources and financial aid dependence by utilizing our Budget Sheet here.
Considering the program duration and location that best suits your needs and goals.
Once you have conducted the self-assessment steps above, you should attend a Study Abroad 101 session.
Visit the UCF Abroad website for updates and information. See the programs available to Hospitality student at-a-glance HERE. Students considering Study Abroad will need to create a profile in the system. Scholarships are available for Study Abroad. Email Fazal.Jameer@ucf.edu to learn more.

Summer 2022 – Short-term Study Abroad
Austria, Germany, Switzerland, Italy and France await! Get more information and Apply to Study Abroad to expand your culinary management skills and your tastebuds. The journey runs from May 15-29, 2022. The cost, $5,750. Get your passport ready to expand your horizons. Click HERE for full program details and to contact Dr. Diego Bufquin for more information.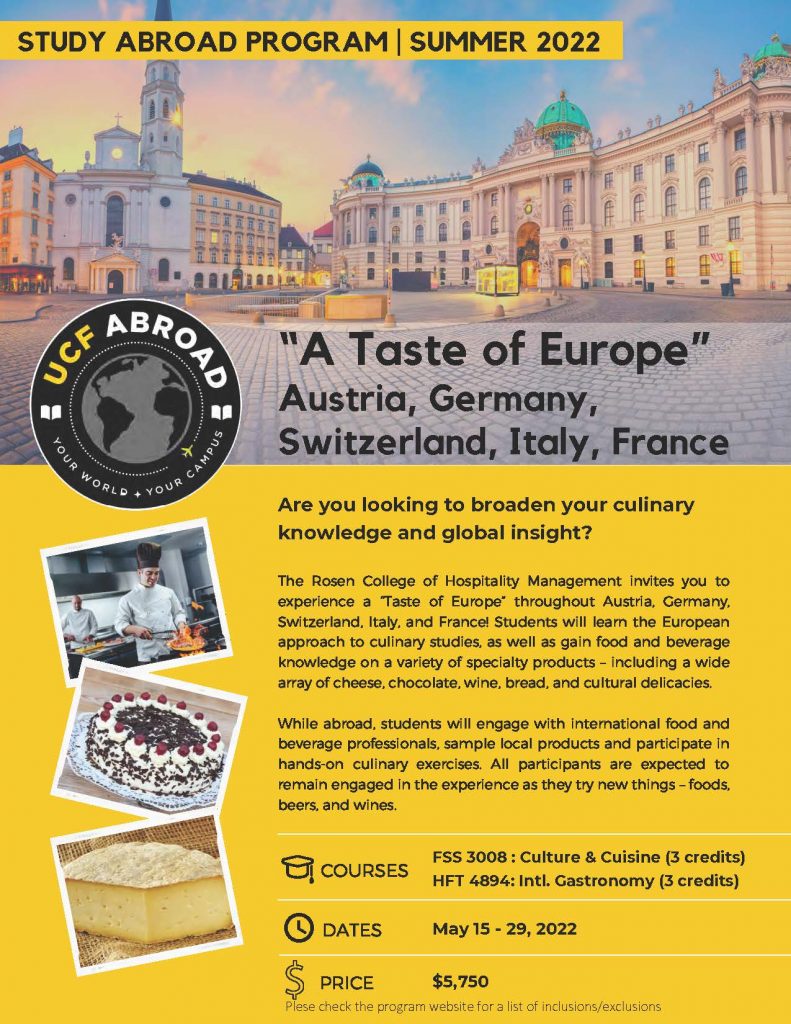 Hospitality Exchange Programs
Plan ahead for an education overseas. Increase global employment options and earn credit toward your degree by spending a semester overseas with one of our partner institutions:
For details, applications, scholarships and more, visit the Office of International Studies or contact Fazal Jameer at UCF Rosen College by emailing Fazal.Jameer@ucf.edu. You may also visit Mr. Jameer in the Student Services suite at UCF Rosen College in Room 201C.
Immigration Advising
International Students, please contact UCF Global for immigration advising needs by clicking HERE for more information.