Love, Set and Match for Adaptive Tennis Players and UCF PTM!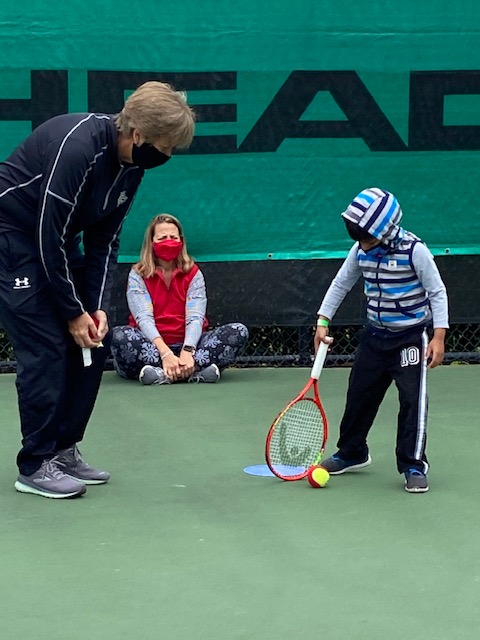 Dr. Jill Fjelstul, Director of the UCF Professional Tennis Management (PTM) program, launched an academic, industry, and community 6-week adaptive tennis event on Sunday, March 21, 2021. Players on the autism spectrum got a chance to get on the courts and get a feel for the game. This effort is part of the PTM Program to teach skills of managing special initiatives.
The PTM Program, housed at UCF Rosen College of Hospitality Management, educates and prepares the next generation of tennis management leader with curriculum centered in tennis operations, event management, and leadership skills. One focus of the UCF PTM program is to advance the health, well-being, and inclusiveness for people with disabilities with education, research, and opportunity. Dr. Fjelstul collaborated with the following industry, community, and academic leaders to launch the adaptive sporting event.
United States Tennis Association – Florida (USTA-Florida) promotes and supports "tennis for all", including programs for individuals with differing physical and/or mental abilities. USTA-Florida encourages facilities to provide adaptive tennis opportunities in their communities.
Love Serving Autism (LSA) has developed specialized therapeutic tennis instruction to strengthen participant's functional independence and community inclusion skillsets. LSA's mission is to expand life skills with a goal for participants to apply their newly learned skills throughout the community, school, workplace, social/recreational gatherings, and home settings and to promote inclusive opportunities for children and adults with special needs.
Gooding Todero Tennis Academy, located in Lake Nona, Florida, is the host of the 6-week adaptive tennis event and has offered their specifically trained coaches for the event.
The UCF Center for Autism and Related Disorders (UCF CARD) represent 7 Central Florida counties seeking opportunities for engagement and development with the goal of optimizing the potential of all individuals with autism and related disabilities.
The PTM Certificate offers curriculum that incorporates tennis operations, management, and leadership skills and knowledge to succeed as tennis professionals and leaders in a variety of careers. In addition, hands-on internships with top tennis facilities, clubs, events, and associations are a part of the program.
The UCF PTM Certificate is open to all UCF undergraduate students and can be aligned with any UCF undergraduate major. For more information visit:
https://hospitality.ucf.edu/tennis/