UCF Rosen College is the cover story for the November 2022 Issue of Higher Ed Digest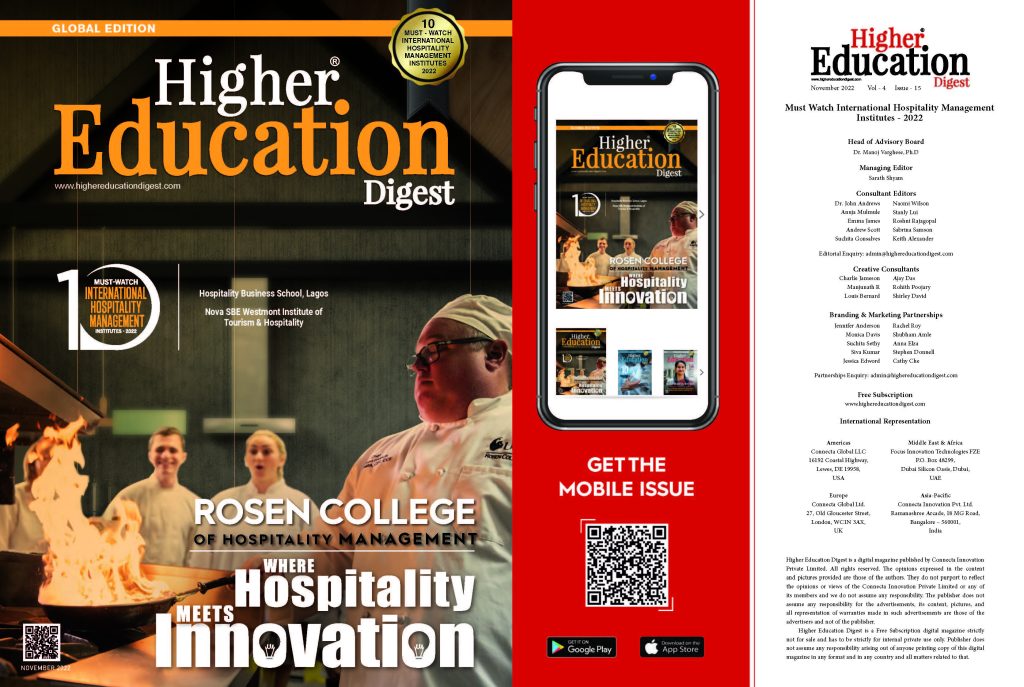 UCF Rosen College of Hospitality Management is proud to announce that it has been chosen as one of the 10 Must Watch International Hospitality Management Institutes in 2022 by Higher Ed Digest. We're the cover story in the November 2022 issue, with an article by Dean Youcheng Wang detailing the college's unique offerings.   You can also find the complete magazine HERE.  The article on UCF Rosen College is on pages 18-29. Below is an excerpt from the article about UCF Rosen College, the #1 college in the nation based on the Shanghai Rankings. Go Knights! Charge On!
**************************************
The hospitality sector, one of the fastest-growing global industries, now includes diverse domains like healthcare, retail, banking, aviation, and consulting. While the industry was already projected to proliferate before the onset of the Coronavirus pandemic, it is now predicted to catapult to even newer heights. This growth, combined with the adoption of various emerging technologies, mandates qualified individuals to better navigate this evolving field. To help the hospitality sector revive and grow faster, education programs need to stop being so generic and display a more specialized curriculum for individuals to make the difference they envision. 
Established in 2004, what started as a population of 300 students is now a whopping 3000! The programs extended to students have expanded from one undergraduate to five undergraduate degrees. The institution also offers four master's degree programs, a Ph.D. in Hospitality Management, and over 10 certificate programs to enhance degrees for undergraduate and graduate degree-seeking students.
The college boasts of a well-equipped expert faculty panel which started with just 10 faculty members to 70 full-time faculty members today. The model also contributes to completely revolutionizing the institution's dedicated research enterprise. Funded research has increased by more than 10 times its original level. Currently, the college faculty is working on close to USD 8 million funded research   with a gamut of experts in other related fields to build interdisciplinary research opportunities to solve some of the most complex problems facing our society today.