What will your career in Restaurants/F&B look like?
Apply for the Certificate in Beverage Management and learn the business from bottle to bar and beyond.  This certificate program is open to all UCF undergrad students regardless of major.
Restaurant Manager
Hotel Food & Beverage Management
Event Management
Theme Park Food & Beverage Management
Product Development
Food & Beverage Marketing
Foodservice Robotics
Virtual Dining
UCF Rosen College, in conjunction with industry, has created a successful, comprehensive Lodging & Restaurant Management Degree, whereby our graduates can develop successful careers.
Apply for the Lodging & Restaurant Management Degree today. Visit Undergraduate Admissions!
Rosen College Culinary Club – Cake Decorating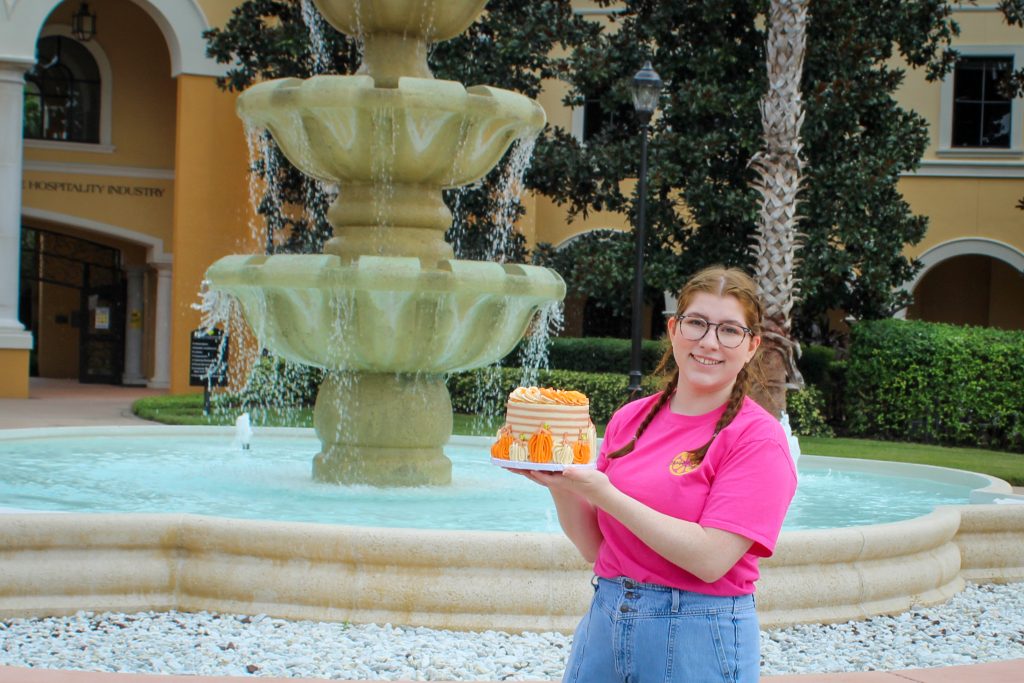 Take a look at Emily decorating a great fall cake.
Hello everyone, my name is Emily Davis, and I am a third-year student at the Rosen College of Hospitality Management. I currently operate my own bakery business called Lemonly's Bakery in Sarasota, Florida.
I started baking at a young age when my Grandma would come to visit for the holidays. Quickly I started immersing myself in all things baking by purchasing cookbooks, watching TV shows, and practicing whenever possible. I would bring dozens of mini cupcakes to school for my peers to enjoy and finally decided that I should turn it into a business.
At the age of 15, I created "The Teen Baker." I would advertise on social media, neighborhood websites, and anywhere where I could get an order. Shortly, the name of my bakery turned to "Lemonly's Bakery," a nickname that my best friend gave me. When planning for college, I decided I wanted to go to school for hospitality and found out about the amazing program here at Rosen. Once I saw that they had a major specifically for Restaurant Food Service Management, I was sold. Even though I knew how to bake, it was important for me to learn about the behind the scenes of working in the hospitality industry.
I wanted to share with the Rosen student body my love for cake decorating and decided to do this demo for Culinary Club. I hope everyone enjoys it and learns a little something about cake decorating!