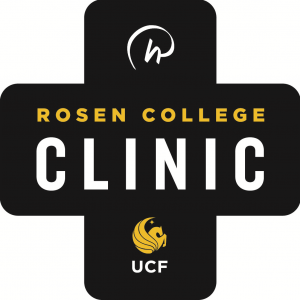 Your Health is Our Focus
We proudly provide quality outpatient clinical care and services for the health of our students. Receive a full range of benefits including:
Health
General medicine
Physicals/Well-woman exams
In-house labs
Pharmacy services
Immunization services
Disease management
Allergy injections
Wellness
Access to Weight Watchers
CPR & First Aid certification
Fitness events
Health & benefits fairs
Wellness & nutrition
We remain committed to the well-being of every Knight and continue to follow the guidance of public health officials. Find out more about COVID-19's impact at UCF.
Please note that during the summer, the Rosen College clinic will be closed on Fridays, effective Friday May 21, 2021. Hours have been modified on other days.
The Summer 2021 hours are as followed:
Monday- 1pm to 4pm
Tuesday-1pm to 4pm
Wednesday- 10am to 12 – 1pm to 4pm
Thursday- 12pm to 4pm
Friday- Closed
For medical services on Fridays or when the on campus clinic is closed, please call the Main Rosen Medical Center at 407-996-4554 to schedule an appointment or to be triaged. Friday hours of operation at the main Rosen Medical Center are 7:45am to 2pm.
For afterhours medical services call: 24-hour Nurse Line 855-245-8395.
The Rosen UCF Clinic will resume normal hours when fall classes begin on Monday, August 23, 2021.
*Clinic hours are subject to change with short notice. Please check email and social media for unscheduled closings and schedule changes of the Rosen College Clinic.
UCF Rosen College of Hospitality Management and the Rosen College Clinic will be closed on the following days:
Memorial Day, Monday, May 31, 2021
Independence Day observed, Monday, July 5, 2021
Labor Day, Monday, September 6, 2021
Veterans Day, Thursday, November 11, 2021
Thanksgiving Day, Thursday, November 25, 2021, and the Day after Thanksgiving, Friday, November 26, 2021
Christmas Eve Day, Friday, December 24, 2021
News Year's Eve Day, Friday, December 31, 2021
Contact our Health Professionals
Call 407.996.4560
24 hour Nurse Line, 855.245.8395
The Rosen College Clinic (RCC) is located in our Student Housing Building 905, Room 112, and access is available through the Housing Community Office. Walk-ins are accepted, and appointments can be made by calling 407.996.4560.
We encourage all Rosen College of Hospitality Management students to pre-register with the Rosen College Clinic (RCC). Pre-registration can be done during operating hours at the RCC in Student Housing Building 905, Room 112.
Additionally, students may be referred to the Rosen Medical Center located at 7656 International Drive, about three miles from the UCF Rosen College campus. If this becomes necessary, a car service, to the Medical Center will be made available at no cost to student. The Medical Center is open Monday through Friday.
The nurse hot line, 855.245.8395, is available to all Rosen College Students 24 hours a day. In the event of a medical emergency, call 911.
Rosen College Cares
We are committed to excellent, affordable, confidential and compassionate services. The UCF Health Fee covers free doctor visits for Rosen students; however, additional charges may apply to tests, prescriptions and other procedures. The UCF Health Center is an additional medical option.
Questions?