Merendino Memorial Wine Scholarship Awarded to UCF Rosen College Student
UCF Rosen College of Hospitality Management is proud to announce that the first Merendino Memorial Wine Scholarship has been awarded to Carlos Castro-Wetzstein. This $2,500 scholarship will be awarded annually to a student enrolled in Rosen College's newly launched Beverage Management Certificate Program who demonstrates sustained excellence in educational performance and the study of wine. The certificate program is open to all UCF undergraduate students, and has already become one of the Rosen College's most popular certificate programs in its first year.
The scholarship is named for Robert D. Merendino, a Jacksonville based fine wine merchant, who passed away in 2015 and directed his estate to be utilized to create a scholarship for the study of fine wine. In support of the Rosen College's Beverage Management Certificate Program and to fulfill Mr. Merendino's wishes, the Merendino Foundation created an endowed scholarship at UCF.
Carlos Castro-Wetzstein, this year's scholarship recipient, is passionate about wine, completed two of the required certificate courses during the Fall 2022 semester and is about to complete an additional two courses this spring semester, leaving just one more course to take before fulfilling the Beverage Management Certificate requirements. His goal is to qualify as a sommelier and to eventually own his own wine business. Congratulations, Carlos!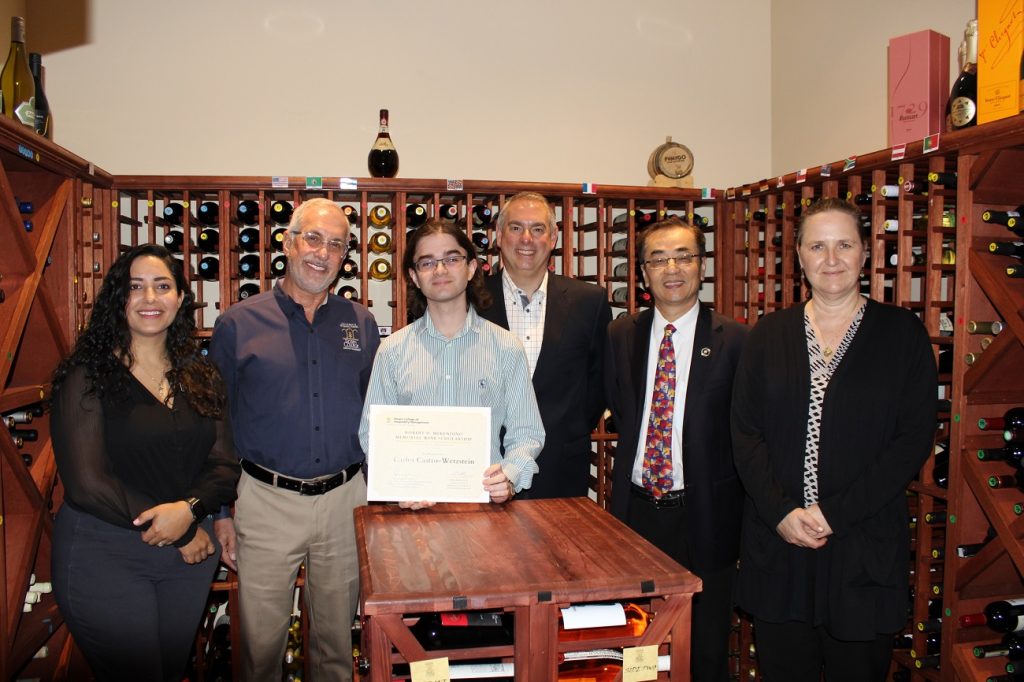 Pictured from left to right: Marcela DeFaria, Director of Advancement for UCF Rosen College, Dr. Robin Back, Associate professor, Carlos Castro-Wetzstein, Tim Varan of Tim's Wine and a trustee of the Merendino Foundation, Dean Youcheng Wang and Dr. Cynthia Mejia, Interim Department Chair of the Foodservice & Lodging Management.