Virtual Open House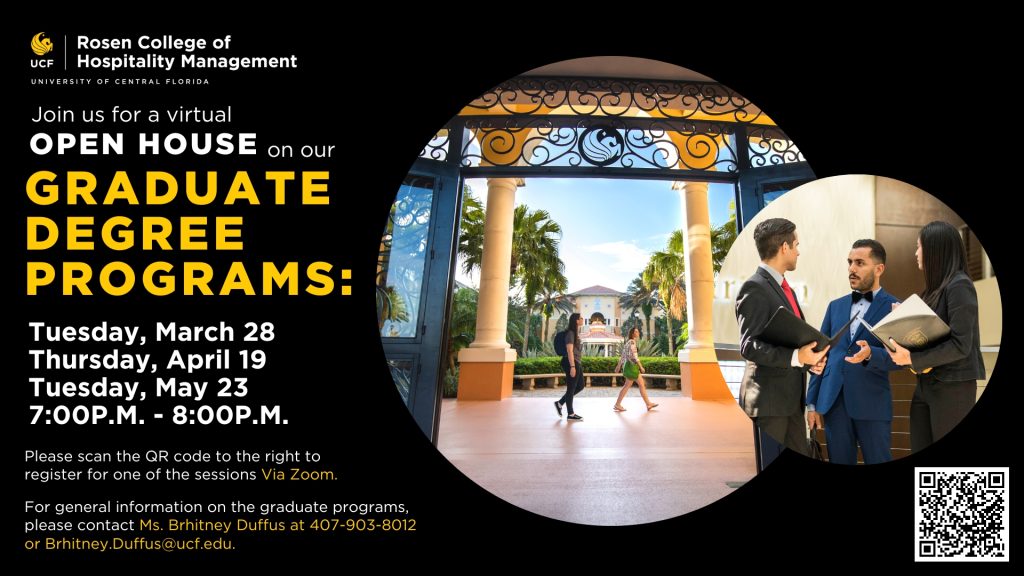 Join us for a virtual Open House on our Graduate Degree Programs:
Tuesday, March 28, 2023, 7:00 p.m.– 8:00 p.m.
Thursday, April 19, 2023, 7:00 p.m.– 8:00 p.m.
Tuesday, May 23, 2023, 7:00 p.m.– 8:00 p.m.
Please register for one of the sessions using this link: Meeting Registration – Zoom
For general information on the graduate programs, please contact Ms. Brhitney Duffus at 407-903-8012 or
Brhitney.Duffus@ucf.edu.
The College of Graduate Studies welcomes your email: graduate@ucf.edu.
Read the Graduate Degree program FAQs.
Take Your Skills


to the Next Level
Ready to take the next step in your career? Do it on your own terms with a master's degree in Hospitality and Tourism Management from UCF Rosen College of Hospitality Management. Complete your degree either fully online or face-to-face, or customize it through a mix of both to fit your schedule and budget.
Apply to Rosen College Today
Candidates should submit their Rosen College graduate online applications to the College of Graduate Studies. Funding opportunities and on-campus housing are available.
For more information on our graduate programs, please click below:
Visit Our Campus
If you're unable to attend one of our many information sessions in the fall and spring semesters, we invite you to explore our Mediterranean-inspired, resort-style campus. You may use the campus map and the self-guided tour to take you around campus.
We encourage you to schedule a meeting with the Graduate Programs Coordinator before or after your campus tour. Please contact us at  Kathy.Henry@ucf.edu to coordinate a meeting.