About the degree program
The Senior Living Management Bachelor of Science degree is an interdisciplinary program that combines the art and science of Hospitality Management with Aging Studies and Health Care Management.  Senior Living Management is where Hospitality Meets Healthcare! The undergraduate degree program is designed to adapt the culture and philosophy of hospitality to the senior living industry, meeting a call from industry leaders that understand that a culture of hospitality presents a strategic advantage for senior living communities by enhancing the overall experience of the residents.
The objective of the program is to prepare its graduates for managerial positions in the senior living industry.  This degree program does not require a medical or nursing degree.  There is no patient care involved, just management of all aspects of a home or community.  The major components focus on courses in hospitality management, healthcare management, and gerontology.
The program is available in-person and online.
Why choose Senior Living Management as a career
As the percentage of our population ages and continues to lead an active lifestyle as they enter retirement, the need for skilled leaders for the senior living industry has  increased. Don't miss your chance to take advantage of this opportunity and enter a career field that is secure, essential, and has longevity!
The industry generated $246.9 billion economic impact in 2019, larger than air transportation (202.8 billion) and hotels and motels industry ($167.9 billion).
In 2019, the industry supported 767.8 thousand jobs.
The value of volunteerism and charitable donations in 2019 resulting from senior living communities was $1.1 billion.
The top 5 states for senior living industry include: California, Florida, New York, Texas, Wisconsin.
Despite the impacts of the  Covid-19 pandemic, the active adult community sector in the senior living management industry is projected to grow.
The US Expect to need 1.2 million workers in the senior living industry by 2025.
Community managers make an average of $67,000 annually.
Scholarships available
We are excited to announce that Senior Living Management, has full and partial tuition scholarships for those that are seeking a career in this industry that combines hospitality and health care. Look for scholarship opportunities like the Lilly and John Donohue Senior Living Management Scholarship and the Tuscan Gardens Senior Living Management scholarship in the A2O system.
Visit the A2O system to learn more about available Scholarships!
In the News
Our new Bachelor of Science in Senior Living Management was recently featured on WFTV Channel 9 and Bay News 9/Spectrum News 13. Dr. Abraham Pizam founding dean of UCF Rosen College and the professor who is spearheading the program and student Connor Estes are interviewed. Watch the news!
Other Info


You Need to Know
The Senior Living Management degree program focuses on developing business acumen and management skills for independent and assisted living housing, and continuous care retirement communities where hospitality services are important components. UCF Rosen College is currently accepting applications for potential students who have the passion to work in the senior living management sector. The program is assisted by an active advisory board, top executives from the senior living industry.
The program is available in-person and online.
Please review the UCF Undergraduate Catalog for specific Senior Living Management course requirements.
For admissions questions, contact rosenadmission@ucf.edu. For program questions, contact seniorliving@ucf.edu.
Undergraduate Admissions Deadlines
Freshman
| | |
| --- | --- |
| Semester | Deadline |
| Fall | May 1 |
| Spring | November 1 |
| Summer | March 1 |
Transfer
| | |
| --- | --- |
| Semester | Deadline |
| Fall | July 1 |
| Spring | November 1 |
| Summer | March 1 |
International
| | |
| --- | --- |
| Semester | Deadline |
| Fall | March 1 |
| Spring | September 1 |
| Summer | January 1 |
Food and Beverage Career Opportunities in Senior Living
If you are a passionate, caring, and service-oriented individual, you can take your hospitality skills to the next level by joining the foodservice teams in senior living communities.
Today's senior living communities do not resemble traditional nursing homes of the past. They are rather vibrant and engaging communities with  several ongoing activities everyday and plenty of opportunities for socialization. Senior living communities of today are shifting from solely focusing on healthcare toward offering resort-style hospitality amenities and services to their residents.
Meals and dining services are highly valued by seniors and are one of the biggest events of their daily lives. For residents of senior living communities, mealtime is not just about food, but it is about an opportunity to socialize, develop new relationships and maintain friendships. It is about enjoying a delicious meal with friends and family members, which is an important experience that they value. Senior living communities offer a wide variety of food and dining options to their residents.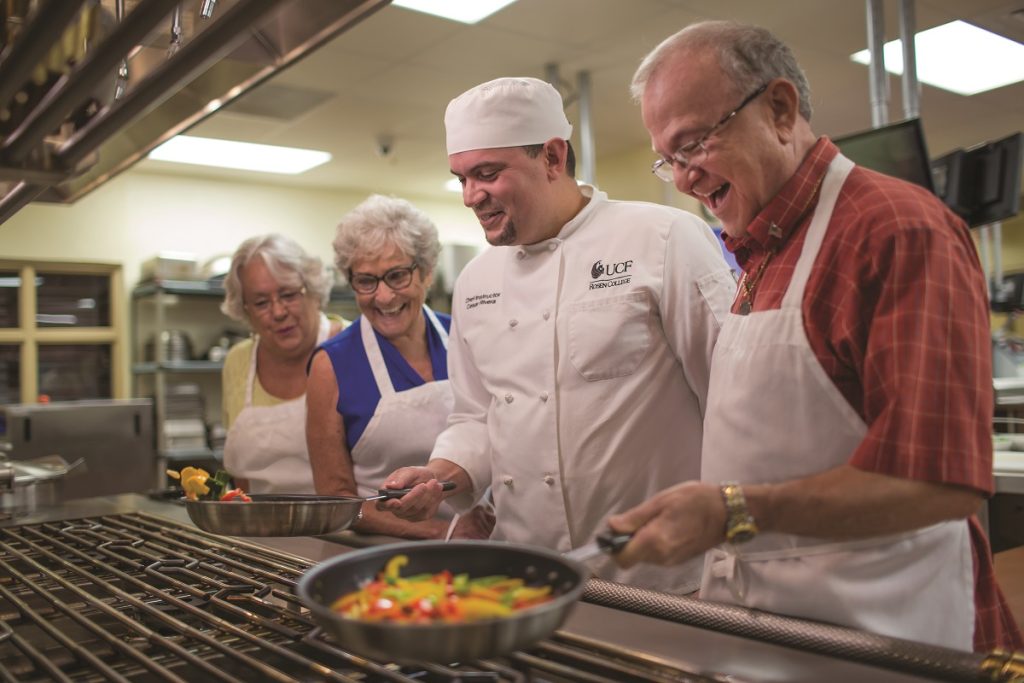 Many communities offer different dining options such as a-la-carte dining, private dining, room service, signature and themed restaurants, cafeterias, wine bars, coffee shops, bakeries, and pubs, all to meet their residents' varying needs rather than only offering traditional buffets or seated services. In addition to providing diverse dining options to their residents, senior living communities also offer ongoing dining events such as cook with the chef events, international cuisine nights, themed parties, wine tasting sessions, cooking demo sessions, happy hours, and educational dining events on a regular basis.
More Baby Boomers (i.e., born between 1946-1964) are retiring and are predicted to relocate to the senior living communities in the coming years. This new generation of seniors are considered to be the most affluent generation who are healthier, food-savvy, have more purchasing power, less family obligations, value a healthy lifestyle, and enjoy recreational activities more than when compared to the previous generation.
In this regard, senior living operators have started to prepare themselves to meet this exclusive cohorts' unique needs and expectations. Thus, demand for foodservice directors and managers will continue to increase in coming years, and students who are cross trained in hospitality, senior living, food and beverage services, and wellness and nutrition are likely to be more valuable for the senior living industry, and more competitive in the job market.
Industry experts in senior living agree that food services in senior living communities will be very similar to fine dining establishment with variety of menu options in future. Thus, students with a diverse set of skills are likely to be the future senior living workforce as more seniors seek the healthy hospitality-infused lifestyle offered by senior living communities.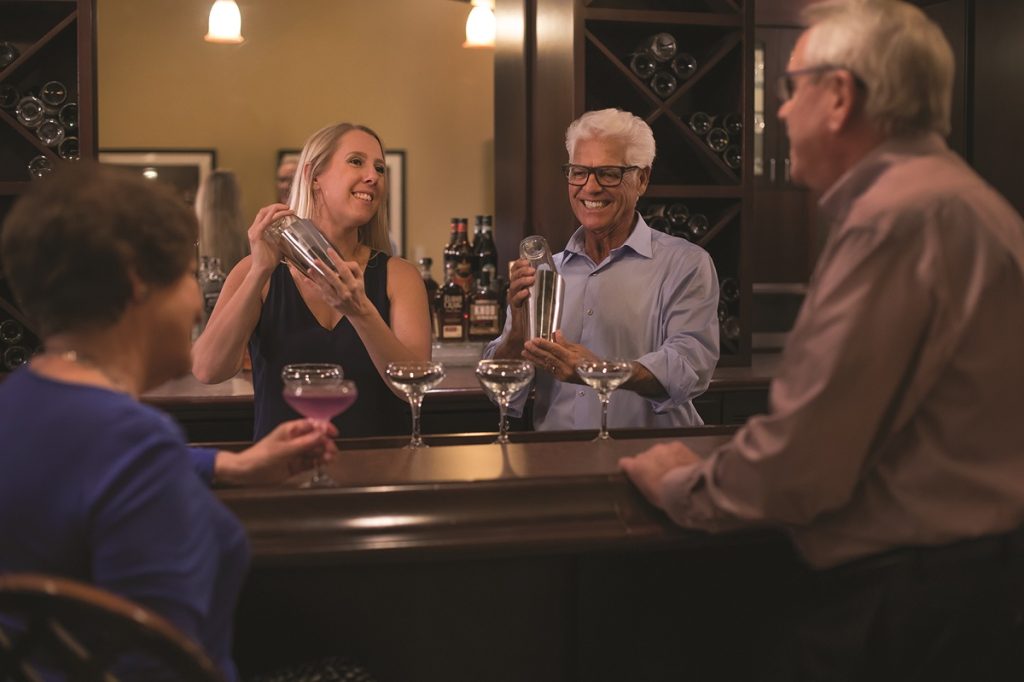 According to Argentum, the leading national association of senior living communities, the senior living industry is an engine of job growth, and the industry will need an additional 1.2 million employees by 2025. In addition to the employment and career growth opportunities, flexible working environments with flexible working schedules and job security, senior living employees will also have a meaningful opportunity to work with seniors, to build long term relationship with them, and to make a difference in their lives, which many senior living employees refer to as a "rewarding career".
Senior living industry provides food and dining service career opportunities in the following positions:
Dining Services Director
Food Service Director
Food Service Planner
Food and Beverage Operations Director
Food and Beverage Coordinator
Executive Chef
Dining Assistant
Dining Services Manager
Food and Beverage Attendant