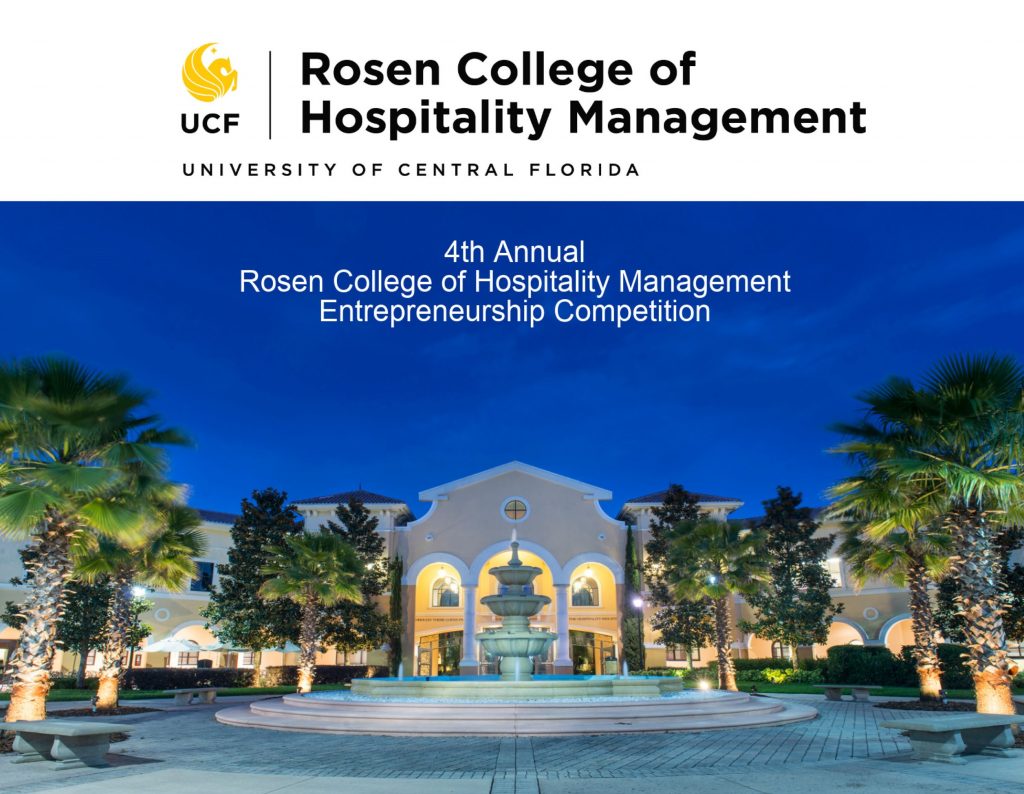 2019 Entrepreneurship Competition Winners
The winner of the 4th Rosen College of Hospitality Management Entrepreneurship Competition was…Venture Hostels, Brittany Cole and Bryson Cole, a sister-brother pair of twins who presented on a hostel concept that could work for Florida tourist destinations. The Cole's shared their vision for creating a limited edition chain of hostels offering clean, low-priced accommodations for visitors travelling around Florida. Click HERE read about the competition and the second and third place winners.
Pictured from left to right: Dr. Kevin Murphy, Professor at Rosen College; Bryson  Cole; Brittany Cole; Chirtian Arriola, Creative Director of VidiGlobal, a competition judge and a representative from the British American Chamber of Commerce; and Dr. Youcheng Wang, Dean of Rosen College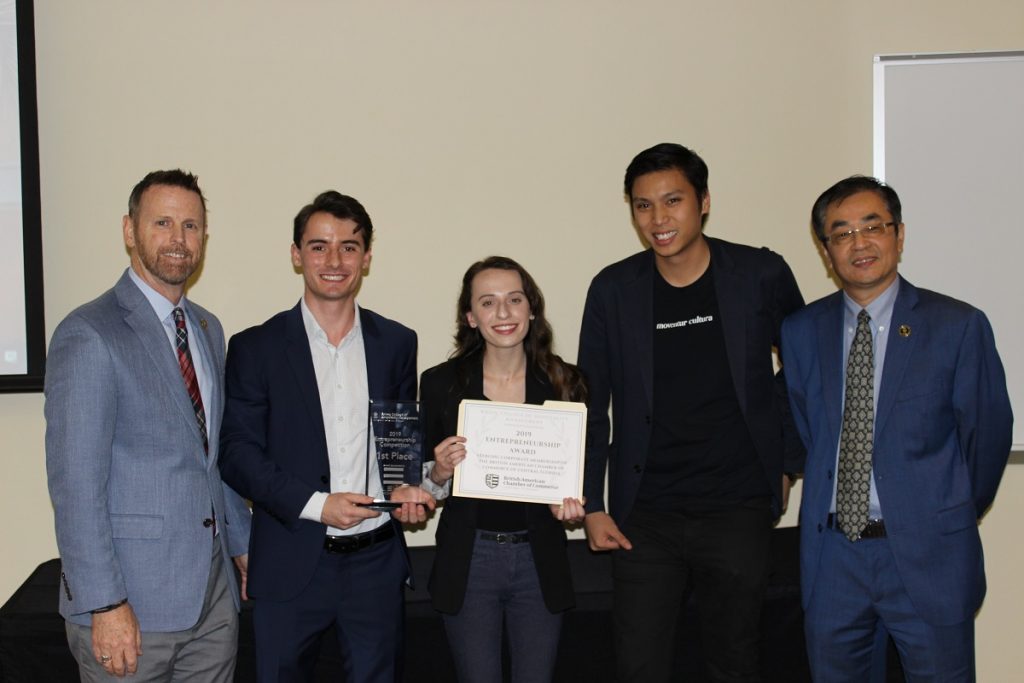 Thank you to all who attended the 4th Rosen College of Hospitality Management Entrepreneurship Competition, Thursday, April 18, 2019. You were there for the excitement as the finalists presented to a panel of judges for no more than 15 minutes with 10 minutes of Q&A on their venture.  Many of you also attended the Pre-competition reception: 5:15 – 6:00 p.m.  in  UCF Rosen College Inner Courtyarda and the Keynote address: 6:00 p.m. – 6:30 p.m.,  delivered by 
Brett Kingstone, Max King Realty and KF Holdings.
The Competition and Judging took place from 6:30 p.m. – 9:00 p.m. in Room 111.
The finalists for the competition were:
Tripology
VentureHostels
Canoli 360
Clubline
Pasta Bay
The Judges for the 2019 Entrepreneurship Competition were:
Christian Arriola
Creative Director
VidiGlobal
Andrew Bell
President
Auto Tag Agency
Craig Bolz
Founder
SparkPoint
Angel Delgado
Chief Financial Officer
FantasyWorld Management Services Inc.
Julien Meyer
Partner
MGI Capital – Investment Bank
Matthew Ockwell
Enterprise Product Manager
Home Depot
Kristen Wiley
Founder
Statusphere
Key Competition Dates
Monday, January 14, 2019 – Information Session (room 207 @ 6:30)
Students will be able to attend an informational session that outlines the application process for the competition and they can also gain a more in depth perspective as to what the judges will be looking for.
Friday, March  8, 2019 – Applications Due!
All submission forms must be completed and turned in by 11:59 pm for any team to be eligible for the competition. No Individual extensions will be granted. A panel of judges will select proposals to be passed on to the next round of the competition.  The following presentations are samples of those submitted in prior years. Please review them to help guide your application process:
Friday, March 22, 2019 – Finalists Announced
Friday, April 12, 2019 – Slide Decks Due
All slide decks are to be submitted via email by 11:59PM to Jeff.weinland@ucf.edu.
Thursday , April 18, 2019 – Final Round
Pre-competition reception: 5:15 – 6:00 p.m.
Keynote address: 6:00 p.m. – 6:30 p.m.
Competition and Judging: 6:30 p.m. – 9:00 p.m.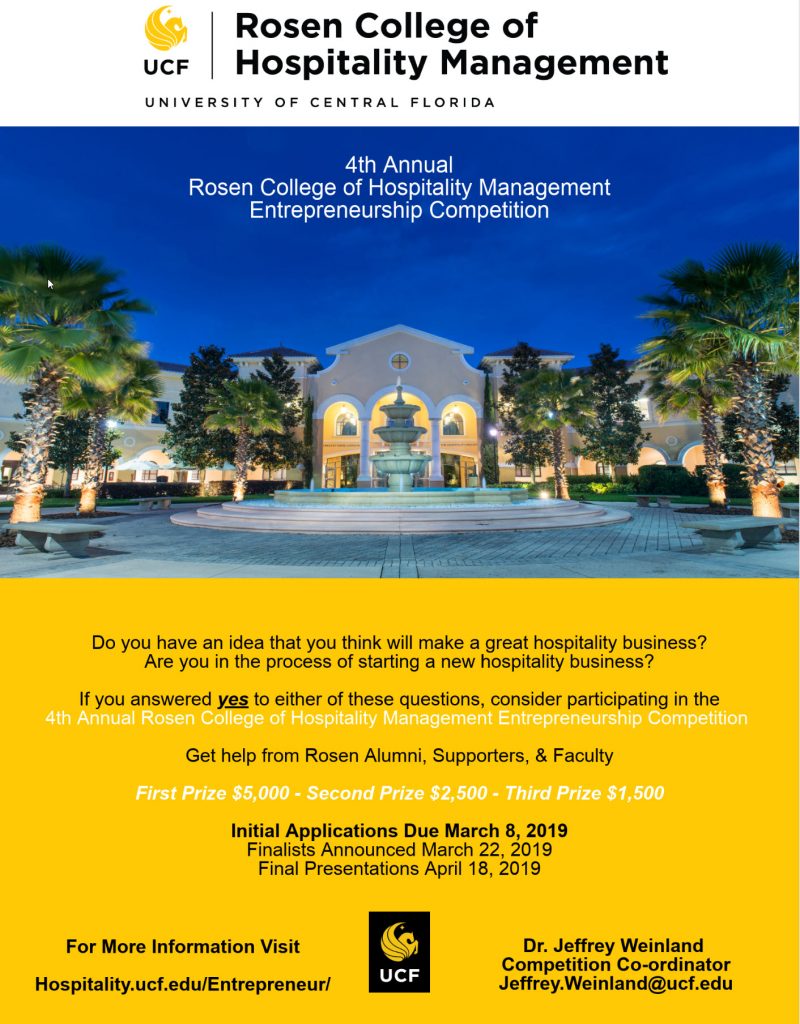 Eligibility Requirements
At least one team member must be a full-time University of Central Florida Rosen College student who has completed at least two full semesters at the University. (The corresponding team member must meet this requirement.)
Revenues generated by the proposed venture must not have exceeded $50,000 in the last year.
The proposed venture must not have raised any more than $50,000 in venture capital as of January 1, 2018.
Submissions and presentations must be the original work of the team.
Submission Guidelines:
Submissions should be a minimum of five (5) and a maximum of 10 single-spaced, Times New Roman 12pt font, pages with 1-inch margins, addressing the topics listed in the judging guidelines. Please ensure that no information identifying individual team members is included in the submission file.
2019 Hospitality Entrepreneurship Competition Finalists were announced: Friday, March 22, 2019 
The finalists for the competition are as follows:
Tripology
VentureHostels
Canoli 360
Clubline
Pasta Bay
Prizes
The top 3 finalists will receive cash prizes, 1st: $5,000, 2nd: $2,500, 3rd: $1,500.  As part of the initial submission, the team must elect how they want the prize money distributed. They can choose to either divide the money evenly among all of the members competing or make the check out to a business entity.
Judging Criteria:
Judges are comprised of experienced entrepreneurs, business people, and professionals within the hospitality industry. Judges will be presented with some areas on which to rate proposed ventures:
Business Description: Details of the venture and what it does.
Market Analysis: Characteristics of the market and description of its customers.
Product or Service Analysis: The specifics of the product or service.
Competition: Identify current and potential competitors.
Marketing Strategy: How sales will be achieved.
Operations: How the product or service will be produced and delivered.
Management: An assessment of the entrepreneur(s) and team.
Finances: An overview of the required resources and economics of the venture.
Investment Proposal: The terms and conditions offered to investors.
Presentation: Overall effectiveness of the actual presentation.
Overall Value: The feasibility and originality of the venture idea.
2018 Hospitality


Entrepreneurship Competition
The winner of the 2018 Hospitality Entrepreneurship Competition is Bougie Eats, the brainchild of Andra Harris. Andra will receive $5,000 to further her business and a one-year corporate membership in the British American Chamber of Commerce. Her concept is a food blog and in home chef's teaching sessions.
The second place winners are Slip n Set Event Covers, the company founded by Mary Kaitlin Des Jardins and Tyler Thomas Dick. The third place winners are Cold Stone Food Truck, the business concept of Kyle Hight and Guilio Ronzoni.
Five competitors/teams presented before a panel of judges, which included the owner of one of Orlando's top catering companies, the owner of a sought-after event design, planning and coordination company, a businessman, a consultant and two founders of top hospitality companies (see complete list of judges below). Each competitor had 25 minutes to present their concept using PowerPoint, videos and handouts, some even brought tasty samples to help sway the judges opinions. Three of the five competitor teams, including Bougie Eats, Cold Stone Food Truck and Slip n Set Covers, were repeats to the event, having brought a similar or the same concept before the judges in 2017. Newcomers to the competition were Indulge Desserts from entrepreneur Stephanie Taylor and The Youvenier Shop from fellow competitor Michael R. Wotherspoon.
Prior to the presentations, Nick Grounds, President of the British American Chamber of Commerce and an advisor for Evershore Financial Group gave a keynote address that offered advice and insight. In the end, Andra Harris and her concept Bougie Eats took the top spot. In recent months, Harris has had the opportunity to appear on a Food Network competition program. She stated that it really helped her prepare for this competition once again. Congratulations to all the participants and the winners.
The competition was held on Wednesday, April 11, 2018, at 6 p.m. in room 111. News of the outcome is above.
The UCF Rosen College of Hospitality Management Entrepreneurship Competition is an opportunity for current students of the program to take an idea for a new hospitality product or service and develop a plan to bring their idea to market. This is the third competition.
In-Kind Donation
The winners of the 2018 Hospitality Entrepreneurship Competition will also receive in-kind services from Watson L.L.P. and the British American Chamber of Commerce. Watson L.L.P is a firm that specializes in intellectual property law. The firm will provide a comprehensive business start-up consultation to the winner. The British American Chamber of Commerce will provide a one-year corporate membership to the Chamber, which will allow for numerous networking opportunities and exposure for winner of the 2018 Hospitality Entrepreneurship Competition's business. The membership is valued at $5,000
2017 Hospitality Management


Competition
The second Rosen College of Hospitality Management Entrepreneurship Competition was held on Wednesday, April 12, 2017, at 6:00 p.m. on the beautiful Mediterranean resort-style campus.
And the winner is, drum-roll please, Slip & Set Event Covers. Following presentations by the five finalists to the judges, Q&A, and sequestered judges' deliberations, Slip & Set Event Covers, a catering event product, and the brain child of Tyler Dick and Kaitlin Des Jardins, was chosen by the judges as the winner of the second Rosen College of Hospitality Management Entrepreneurship Competition. The pair of entrepreneurs, who work in the catering department at Interlachen Country Club in Winter Park, Florida, will receive $5,000. They plan to use to prize money to patent their product, which they make with pride in the USA.
Kaitlin Des Jardins, Tyler Dick and sponsor Barney Barber, Patton Hospitality Management
The second prize winner is Dhark Coco, an online boutique confectionery company, headed by Andra D. Chisholm. The chocolates feature 12 different flavors, hand-made in the Daytona Beach area and shipped nationwide. Andra receives a prize of $2,500, which she plans to use to brand her product.
The third prize winner is Family Ranch, an all-inclusive family vacation ranch, which will give a portion of its profits to establishing a permanent home for foster children. The concept was developed by Shane Carman, who will receive $1,000.
Congratulations to winners and to all the finalists of the Entrepreneurship Competition who took a leap of faith to make their dreams of starting their own business ventures come true.
The finalist in the competition were:
Ice Cream Food Truck
Dhark Coco, Online Chocolate, Confections, and Treats Boutique
Family Ranch
Slip & Set Event Covers
Timeshare Friends