Rosen Professional Internships


Experience Hospitality
Mission Statement
It is the mission of the Rosen Professional Internship Office to provide high quality industry experience to our students and highly prepared professionals to our partner employers. We accomplish this through understanding the evolving needs of our partners and developing students to meet the current and future needs of the hospitality industry.
Vision Statement
To be the partner of choice for leading hospitality organizations, providing professional internship opportunities globally.
Opportunities are available to intern overseas .We have completed the applications for International Internships for Summer 2019. Click here to see International Internships that have been filled by the future leaders of the hospitality industry.
Please complete the International Internship Application in order to be considered for these opportunities.
See what students have to say about internships, international and domestic and Study Abroad experiences.
Getting Started
The Rosen College of Hospitality Management's curriculum requires all Rosen College students to gain professional experience in their field of study. Students enroll in three (3), 1-credit hour courses and gain valuable work experience for at least three (3) semesters prior to graduation in progressively more responsible, career driven positions.
Internships…
Clarify academic and career goals
Receive major-specific work experience
Develop academic and professional skills
Apply classroom education to the real world
Gain access to professional relationships, techniques and equipment
Maximize earning potential and employment opportunities upon graduation
Employers: Post Internships and Jobs HERE
International Internship Fall 2019: Costa Rica and Panama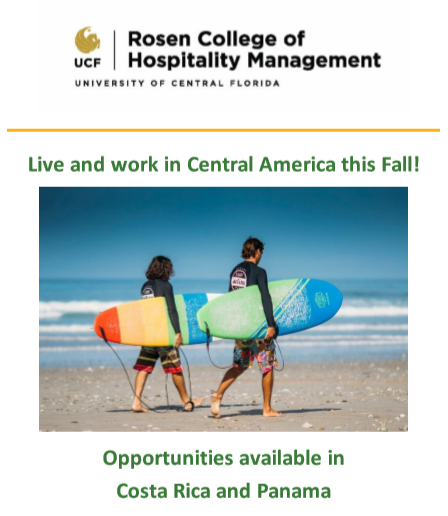 Rosen Professional Internship Process
Step 1: Enroll in the appropriate Internship course, HFT 3940 Internship I, HFT 4941 Internship II or HFT 4944 Internship III
Step 2: Must Attend the first day of class. You can find this information on your my.ucf.edu!
For more information on Rosen Professional Internship courses, please contact an Internship Instructors – Jessica Wickey or David Wixted  or Gisele Canova for an appointment. Offices are located in the Student Services Suite 201.
There are no walk-in hours for summer 2019. Please make an appointment if you wish to meet with an internship advisor during the summer.
Monday and Friday, and all other times are by appointment only. Please email the internship instructor you wish to meet with to set an appointment.
Jessica Wickey, Suite 201N

Tuesday, 9:00 a.m. – 12:00 p.m.
Wednesday, 1:30 p.m. – 3:30 p.m.
by appointment only in the summer

David Wixted, Suite 201L

Wednesday, 9:00 a.m. – 12:00 p.m.
Thursday, 1:30 p.m. – 3:30 p.m.
by appointment only in the summer

Gisele Canova, Suite 201M

Tuesday, 1:30 p.m. – 3:30 p.m.
Thursday, 9:00 a.m. – 12:00 p.m.
by appointment only in the summer
Leadership Workshop Series
The Leadership Workshops are mandatory for all students enrolled  in an internship course. Each semester, students are required to attend a minimum of two (2) workshops. The workshops are during your scheduled class time and are facilitated by our industry partners. Students MUST sign in and complete the written assignment for the workshop. Topics and presenters will vary each semester. Please attend the workshops listed for your class requirements. Students who attend five (5) or more workshops per semester in your class, will be presented with a leadership certificate of completion signed by Dean Youcheng Wang and invited to the Thank You breakfast at the end of the semester.
Spring 2019 Leadership, Professional Development and Job Search Workshops: Click HERE for Spring! **Topic and/or presenter for Leadership Workshop Series (LWS) are subject to change.
Fall 2018 Leadership, Professional Development and Job Search Workshops: Click HERE  to see what you missed in the Fall!
Advertise Internship Opportunities to Rosen College students!
Employers are able to reach Rosen College students with internship-eligible positions by submitting an internship opportunity by clicking HERE. Please note that all internship eligible positions must offer a Minimum of 256 hours per semester of hospitality industry experience (includes attractions, entertainment, events, restaurant and foodservice) to our students while compensating the student intern at least $8.05/hour. Please do not hesitate to contact Jessica Wickey or David Wixted  or Gisele Canova with any questions.
Our Fall 2018 semester series of Lunch & Learns, Career Services Workshops, Career Services Events. Leadership Development Series dates, Internship I, II  and III Seminars has ended. Please click HERE to see what you missed.
FREQUENTLY ASKED INTERNSHIP QUESTIONS: Please Read the FAQ's in their entirety!