Sophomore Lillian Bell is FRLA Scholarship Recipient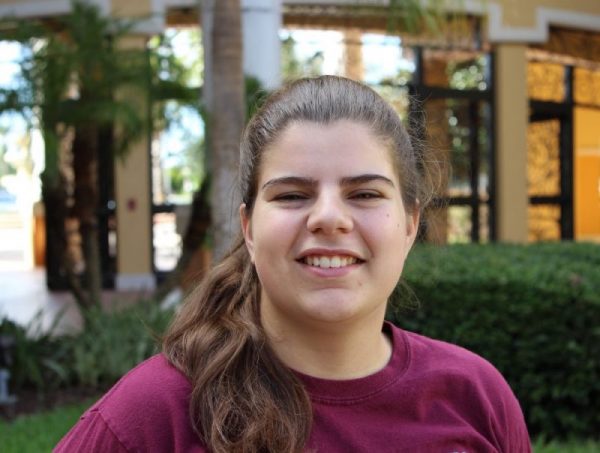 Congratulations Lillian Bell!
Lillian, a sophomore at UCF Rosen College of Hospitality Management, is this year's recipient of a $1,900 scholarship from the Florida Restaurant and Lodging Association (FRLA). The scholarship, given over the year's two semesters, will allow Lillian to complete her degree and graduate in May 2020.
Lillian is currently a line cook at Toothsome Chocolate Emporium and Savory Feast Kitchen at Universal Studios Orlando's City Walk. She works while she studies for a Bachelor of Science in Restaurant and Foodservice Management with a minor in Spanish.
The choice to pursue a degree in restaurant and foodservice management was a natural for Lillian. She developed a passion for food at a very young age. Lillian learned how to cook from her father and participated in a culinary program throughout high school. She began working as a line cook in a restaurant when she was just 17 and fell in love with the fast-paced environment that comes with the job.
Lillian is the first in her family to attend a university and will be the first to earn a college degree. When she was a child, Lillian wanted to be a criminal or civil attorney but as she spent more time working in restaurants, and attending UCF, it became clear to her that she wanted a life in the hospitality industry. The essay Lillian wrote and submitted to win the FRLA scholarship highlighted her passion for preparing high quality food and providing memorable and enjoyable experiences for restaurant guests. She loves working at Universal Studios Orlando's City Walk because the work she does will be a part of the memories of families who visit the restaurant from countries all around the world. Lillian credits her father with teaching her how to cook and giving her a good work ethic. She credits her mother for encouraging her to be the first in her family to graduate with a college degree. Lillian's dream is to be the owner and executive chef of her very own restaurant. With her drive and enthusiasm for the business that dream will come true.
— (November 14, 2017)