We Bring


Success to You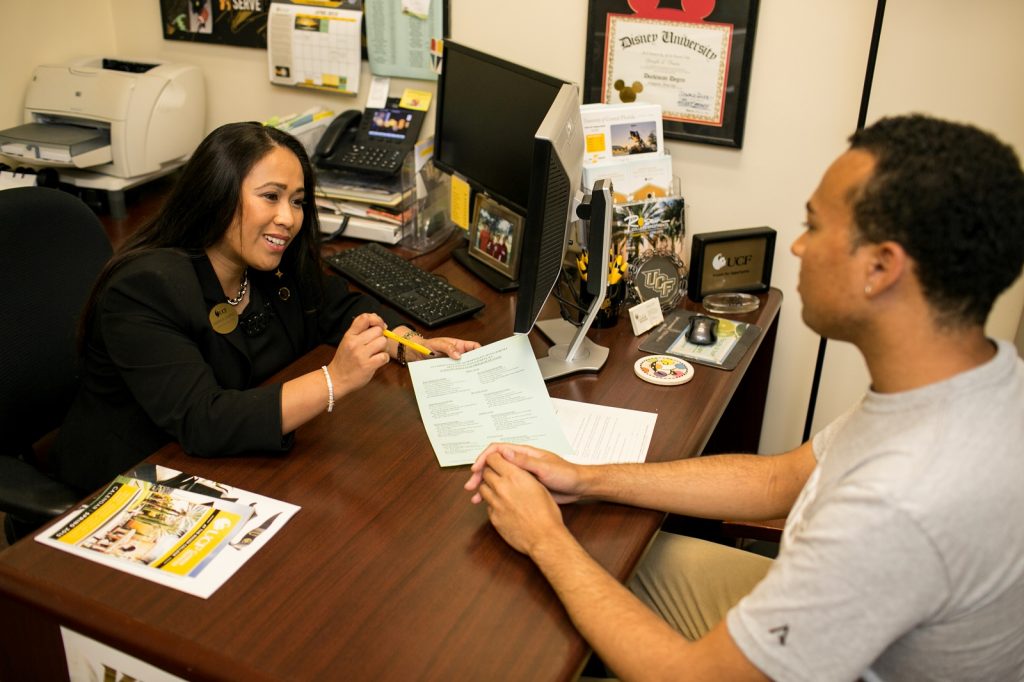 We are Available!!!
The Rosen Campus location Office of Student Services will be open daily the first "2" weeks of the Spring 2021 term limited to 50% capacity. Therefore, only one student at a time will be permitted into the office.
For your convenience, Support Services will also be Available via open ZOOM sessions between the hours of 9:00am to 4:30pm daily. Please visit the Rosen College Advising Web Resource Guide via your Webcourses for additional information and EASY ACCESS.
Remember to Check your Knights Email Daily and the Undergraduate Advising Resource Guide Via Webcourses weekly!
We look forward to a wonderful academic year!!! Keep safe and we wish you continued success in achieving your educational goals!!!
Representatives from UCF offices, such as Academic Advising, Internships, Career Services and more, are housed at the Rosen College campus to provide exceptional service, support and guidance. Click on In This Section (above) and/or scroll down the page below, for links to all the resources available to Rosen College students.
Watch this video and meet some of the people from the Rosen College Library, Rosen CAPS, Academic Advising, Career Services and the Rosen College Clinic, who are here to help you succeed as a student.
Academic Advising
Our academic advising staff is dedicated to your educational goals and provide guidance with course offerings, university policies, procedures and graduation requirements.
---
Campus Information
Click here for information about parking, the shuttle and a variety of other resources available to Rosen College students.
---
Career Services
Our focus is to help you determine career goals and succeed in the workplace long after graduation. Career Services offers a complete range of career development resources.
---
Cost & Financial Aid
Explore options to fund your college education with the Office of Student Financial Assistance.
---
Housing
Explore options to live on campus at Rosen College, main campus or at UCF Downtown.
---
Internships
Pave the way to your future with paid internships. Our team will guide you through three internship courses to enhance your resume.
---
Immigration Advising
Immigration Advising visits campus once a month during fall semester.  The advisor is located in Room 204 from 1:00 p.m. to 5:00 p.m.  Please check back for fall dates.
If you require immediate assistance, please contact UCF Global.  Visit the International Students tab on the website for more information.
---
Knights Helping Knights Pantry @ Rosen College
The Pantry is located on campus in 101C (the door is on the right side of the Darden Auditorium lobby). The current hours of operation are Mondays and Thursdays from 10 a.m. to 2 p.m. Other times during the week are available by e-mailing pineapplepantry@ucf.edu to make an appointment.  Learn more about the pantry HERE!
---
Library
The Universal Orlando Foundation Library is stocked with more than 10,000 books, articles, and videos on all facets of the hospitality industry, and students also have access to all of the UCF Libraries' print and electronic collections. Our library also provides computers, research help, study rooms, and individual study spaces. In addition, students can check out laptops, calculators, chargers, headphones, and more.
---
Peer Outreach Mentoring Program (POMP)
Learn more about Rosen College's award-winning Peer Outreach Mentoring Program (POMP), which provides a valuable support system for students by connecting them with peer mentors.
---
P.R.E.P
The Professional Rosen Experiential Portfolio empowers students to take advantage of a unique, wide range of personal and professional development, internship, volunteering and mentoring, and leadership opportunities designed to enhance the student experience and ensure progressive engagement toward career readiness upon graduation. Learn more HERE!
---
Rosen Life
Learn how to get involved at the Rosen College campus.
---
UCF Cares
We want all students at the university to know that UCF not only cares about their academic success, but their overall well being. Many students are faced with stressors and challenges that begin to impact their success as a student. Our goal is to "build a culture of care, one Knight at a time, where every UCF Knight cares about the health and safety of one another." For more information or to contact a Care Manager, please visit ucfcares.com.