Let Us


Cater to You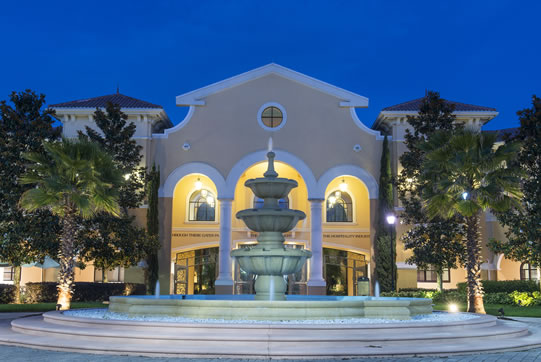 Choose our Mediterranean-style venue for your next meeting or event. Our professional staff will add a personal touch and demonstrate service that is beyond compare. Leave the details to us. We'll support your event's planning, set-up, day-of coordination, and break down so that you can relax and enjoy.
The Perfect Setting
Our delicious food and beverage menus are perfect for small receptions to large, seated dinners. Our state-of-the-art facility meets your event's audio and visual needs with computers, microphones, projectors, drop-down screens, lighting and more. We offer a selection of tables, chairs, linens, décor and dinnerware. Our preferred vendors can provide you with additional selections.
We can accommodate 20-500 guests for your next social gathering or business event.
Getting Started
To begin the event reservation process, please complete the following online form. Once submitted, a member of the UCF Rosen College Event Team will review your request within 2 business days. If we have any additional questions, a member of our team will reach out to you via email.
Click Here: Reservation Request Form
*Please note that reservations are not complete until you receive a confirmation email/contract from the events office.
Other online resources include:
UCF Rosen College is a pay to park campus. Please contact the Events Office to discuss adding parking to your event.
Email: rosenevents@ucf.edu
Call: 407-903-8045
Select a Space for Your Event
UCF Registered Student Organization Tabling Request
Tabling is conducted outside in Rosen College Courtyard (covered breezeway area) Monday – Thursday, 10 a.m. – 2 p.m. UCF Rosen College can host up to four (4) tabling events per day.
Once we have received the request a representative from the Events Department will contact you to confirm your scheduled date. For additional information and questions please contact use at RosenEvents@ucf.edu
To submit a tabling request click HERE!
Please note the following:
Forms are due at least five (5) business days prior to the requested date.
We will provide a 6ft table and two chairs.  Please bring your organizations table cloth for marketing purposes.
Your tabling request will be processed within 2-4 business days