To honor Dr. Abraham Pizam, founding dean of the Rosen College of Hospitality Management on the 50th anniversary of his achieving his Ph.D., the Dean's Distinguished Lecture Series will take a look at the evolution of the hospitality and tourism industry through the eyes of some of the pioneers in this field of education.  
Seven lectures will be presented in the Dean's Distinguished Lecture Series, beginning on October 28, 2020, 9:30AM.  The lectures will conclude in April 2021. Please scroll down the page for detailed information on the lecture series.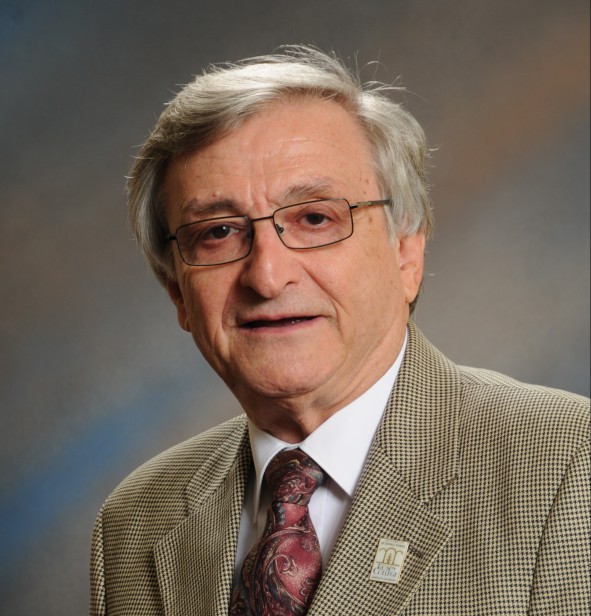 Dr. Abraham Pizam's Dissertation Title:
Some Socio-Psychological Correlates of Innovation within Industrial Suggestion Systems
Abstract
The main postulate of this study was that industrial innovation as manifested in a suggestion system is a product of some personal characteristics that an individual possesses which are constrained by some structural characteristics of the organization. Industrial innovation was operationally defined as "Bringing something new into existence or use, through an industrial suggestion system."
The study was conducted in two middle-size industrial organizations in the North East United States, (NCR and Corning) having a similar suggestion system for more than 10 years. One hundred employees were administered two psychological tests (Remote Association and Social Differentiation) and one survey questionnaire of six questions. Information relating to the subjects' suggestion making records was gathered from the two companies' suggestion departments. Information relating to the subjects' jobs was obtained from the personnel departments of the two companies. Information relating to a person's motivation, satisfaction, idea source, rarity of suggestions, and supervisory encouragement was collected through the questionnaire. The foremen (totaling 43) of the above-mentioned subjects were administered the Social Differentiation test.
The results of the study proved that industrial innovativeness ways affected significantly by the personal characteristics of creativity, social differentiation, motivational source, and idea source. The higher a person was on the Individual index the higher was his/hers innovativeness tends to be. However, the data obtained did not confirm that innovativeness was affected significantly by structural characteristics such as , the job one does, or the work environment.. These characteristics neither constrained nor sustain innovativeness.
To learn more about Dr. Pizam please visit his website page.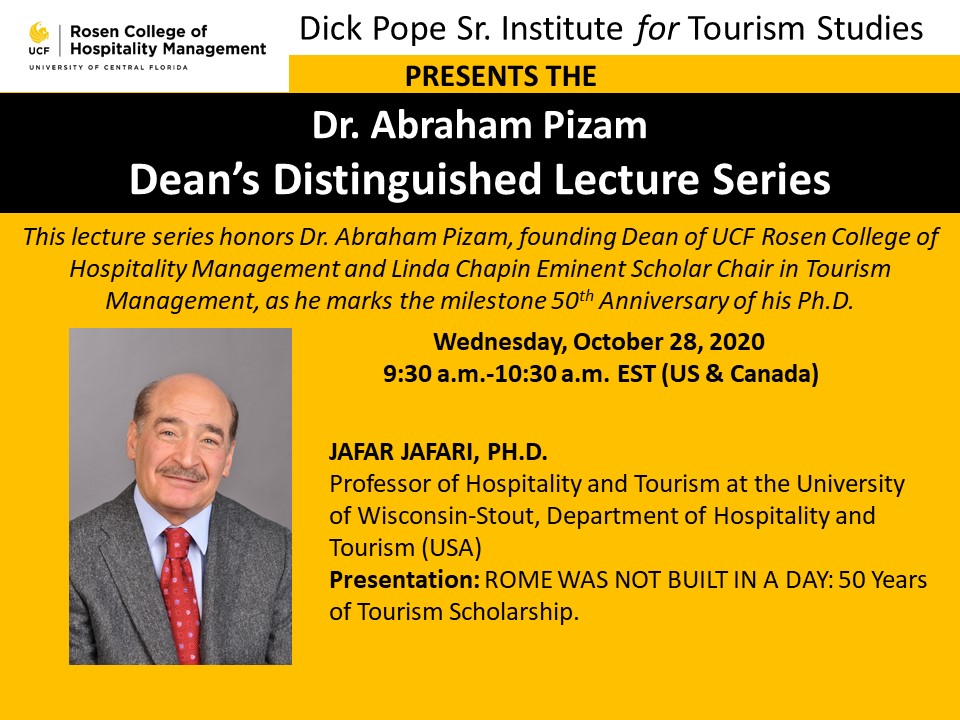 Lecture guest speaker October 28, 2020:
Jafar Jafari is Founding Editor, Annals of Tourism Research; Chief Editor, Tourism Social Science Series; Co-Editor, Bridging Tourism Theory and Practice; Co-Editor, Encyclopedia of Tourism; Co-Founder, TRINET; Founding President, International Academy for the Study of Tourism; Co-Founding Editor, Information Technology & Tourism; and Co-Founding President Tourism Intelligence Forum. With a PhD in cultural anthropology from University of Minnesota, BS and MS from Cornell University, BA from University of Isfahan, he is the recipient of the 2005 UNWTO Ulysses Prize and Honorary Doctorate, Universitat de les Illes Balears (Spain); Visiting Professor of Sun Yat-sen University (China), Universitat do Algarve (Portugal), University of Isfahan (Iran), Lifetime Honorary Professorship of Bundelkhand University (India), and Professor Emeritus of University of Wisconsin-Stout (USA). He has also acted as consultant/advisor to several intergovernmental agencies (including UNWTO and Inter-American Development Bank), and ministries of tourism.
October 28 Lecture
Passcode: 246591
Or iPhone one-tap :  US: +19292056099,,99029715445# or +13017158592,,99029715445#
Or Telephone:
Dial(for higher quality, dial a number based on your current location):
US: +1 929 205 6099 or +1 301 715 8592 or +1 312 626 6799 or +1 669 900 6833 or +1 253 215 8782 or +1 346 248 7799
Webinar ID: 990 2971 5445
International numbers available: https://ucf.zoom.us/u/aepDdu3Ggo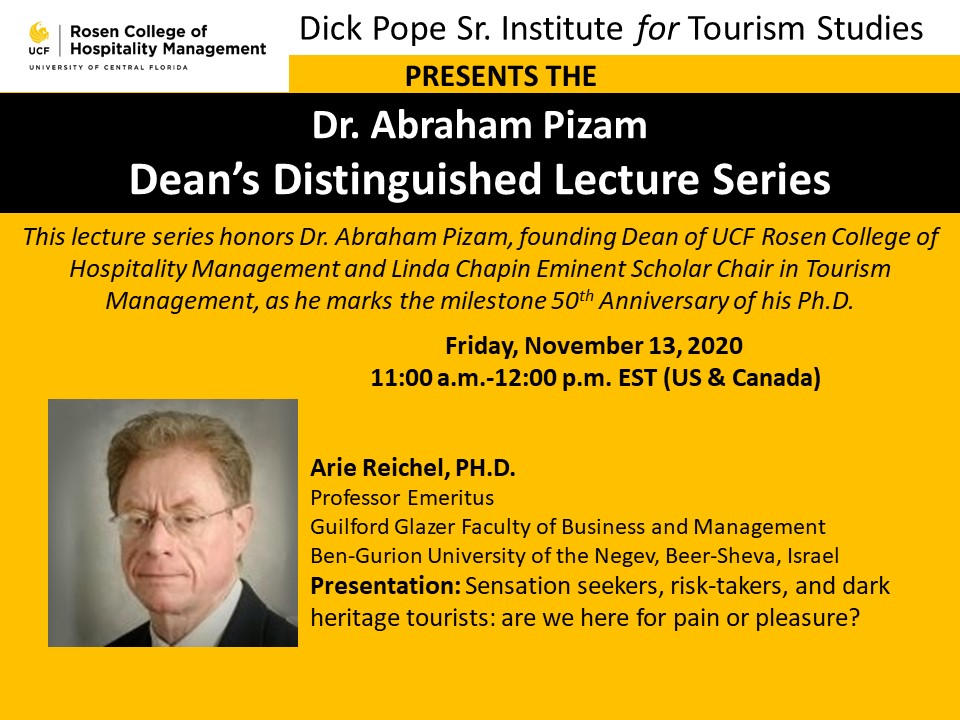 Lecture guest speaker November 13, 2020:
Arie Reichel is Professor Emeritus and the former Dean of the Guilford Glazer Faculty of Business and Management at Ben-Gurion University in Israel. He is the Founding Dean of BGU's southern campus at the resort city of Eilat and the Founding Head of the Department of Hotel and Tourism Management on BGU's main campus in Beersheba.
Arie published dozens of articles in top tourism and hospitality journals. For example: Annals of Tourism Research, Tourism Management, Journal of Travel Research, and the International Journal of Hospitality Management. He is a member of the editorial board of six journals, and acts as an ad-hoc 'blind referee' to many other journals. His main current research interests are in tourists' behavior and managerial planning issues in the hospitality and tourism industry. Recently he focused his scholarly work on the inclusion of disenfranchised segments in the tourism experience, in term of servicecape, both physical and human.
Prof. Reichel earned his Ph.D. in Corporate Strategy at the University of Massachusetts in Amherst, MA. After serving as assistant professor at New York University (NYU) Stern School of Management, he joined BGU in Israel. He has also taught courses and done consulting work in Brazil, Cyprus, France, Jordan and Bethlehem in the P.A.
November 13 Lecture
Passcode: 012492
Or iPhone one-tap : US: +13017158592,,97236246936#  or +13126266799,,97236246936#
Or Telephone:
Dial(for higher quality, dial a number based on your current location):
US: +1 301 715 8592  or +1 312 626 6799  or +1 929 205 6099  or +1 253 215 8782  or +1 346 248 7799  or +1 669 900 6833
Webinar ID: 972 3624 6936
International numbers available: https://ucf.zoom.us/u/ax1CcRdWz
Lecture guest speaker December 10, 2020:
Brian King has been Associate Dean and Professor at The Hong Kong Polytechnic University since 2012. He was previously in Melbourne, Australia where he completed a PhD (Monash University) and worked at Victoria University as Head of the School of Hospitality & Tourism and latterly as Pro Vice-Chancellor (Industry & Community). Originally from Scotland, he specializes in tourism and culture in Asia and in hospitality leadership. He has published books and articles on integrated resorts, marketing, VFR travel and Asia-Pacific tourism. He is Founder and Editor-in-Chief of Tourism, Culture & Communication. His industry experience includes manager and/or director roles in airlines, tour operations, destination management, cruise operations and hotels. He has held visiting professorships in Europe, USA and the Pacific, and is a Fellow of the International Academy for the Study of Tourism and of the International Association of China Tourism Studies.
December 10 Lecture
Passcode: 246591
Or iPhone one-tap : US: +13017158592,,96488470014#  or +13126266799,,96488470014#
Or Telephone:
Dial(for higher quality, dial a number based on your current location):
US: +1 301 715 8592  or +1 312 626 6799  or +1 929 205 6099  or +1 253 215 8782  or +1 346 248 7799  or +1 669 900 6833
Webinar ID: 964 8847 0014
International numbers available: https://ucf.zoom.us/u/adSfwGqPsE
Dates and Times of the Dean's Distinguished Lecture Series
Oct 28, 2020, 9:30 AM Eastern Time (US and Canada), Professor Emeritus Jafar Jafari

Nov 13, 2020, 11:00 AM Eastern Time (US and Canada), Professor Emeritus Arie Reichel

Dec 10, 2020, 9:30 AM Eastern Time (US and Canada), Brian King, Associate Dean and Professor,School of Hotel and Tourism Management, The Hong Kong Polytechnic University

Jan 15, 2021, 11:00 AM Eastern Time (US and Canada), 

Feb 12, 2021, 11:00 AM Eastern Time (US and Canada)

Mar 19, 2021, 11:00 AM Eastern Time (US and Canada)

Apr 16, 2021, 11:00 AM Eastern Time (US and Canada)