Industry Partners and Employers did you register to recruit at the spring 2023 Career Fair?
The registration deadline was January 31, 2023.
See below for details.
**************************************************
Thank you to our Career Fair Sponsors
Pegasus Level: Freeman;  Marriott Vacations Worldwide
Gold Level: CFHLA; Universal Orlando Resort
**************************************************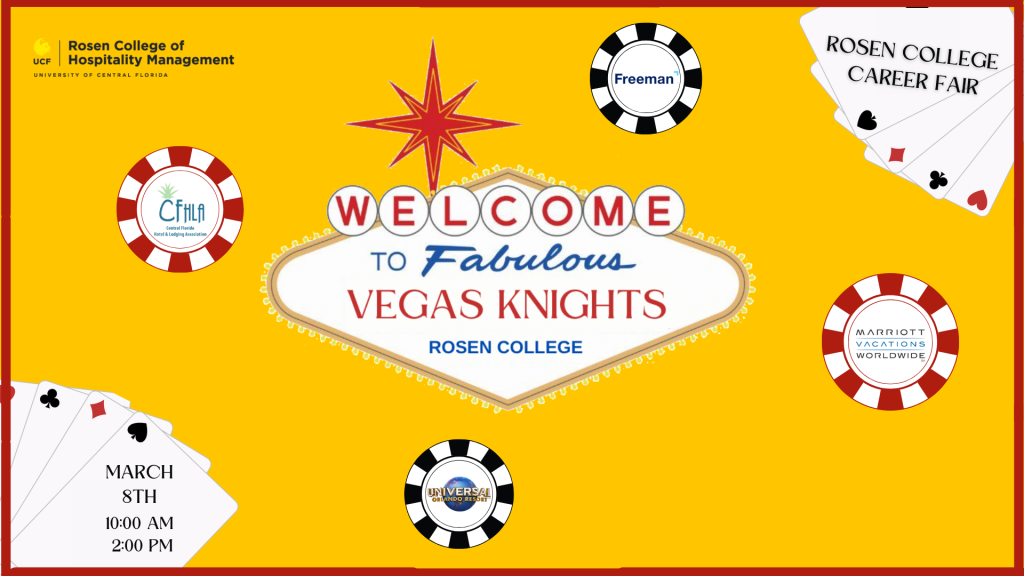 Rosen College Spring 2023 Career Fair: Vegas Knights
Employers by Booth Numbers
Exterior Exhibitors 
Westgate Resorts
Crestline Hotels and Resorts
American Hospitality Talent Acquisition
Addison Reserve Country Club
Kimpton Vero Beach Hotel and Spa
The St. Joe Company
PRM Hotels
Freeman
Experience Kissimmee
Landry's
The Breakers
Delaware North
Citrus Club
Puff 'n Stuff
E & J Gallo Winery
PRA Events
Cameron Mitchell Restaurants
Driftwood Hospitality Management
Compass Group
Celebration Restaurant Group
WillWork Global Event Services
Grand Bohemian Hotel Orlando
Eau Palm Beach Resort and Spa
RH
Fun Spot America
Holiday Inn Club Vacations
Guest Services, Inc.
The Club at Ibis
HHM – Holiday Inn Resort Orlando Suites-Waterpark
Hillstone Restaurant Group
Vista Host
Jason's Deli
Innisbrook
LCS
Robertson Lodges
Interlachen Country Club
Orlando Marriott Lake Mary
Performance Hospitality
Everwood Hospitality Partners
Little Gem Resorts
LogiPlan USA LLC
Bluegreen Vacations
Arnold Palmer's Bay Hill Club & Lodge
Margaritaville Resort Orlando
Paramount Hospitality
Tim Webber Events
Ponte Vedra Inn and Club
Pinstripes
Wyndham Destinations
Republic National Distributing Company
Four Seasons Hotels and Resorts
Walt Disney World
Walt Disney World Swan and Dolphin
The Ritz-Carlton, Lake Tahoe
Crayola Experience
Sodexo Live!
Hotel Equities
Hyatt Regency Grand Cypress/ Hyatt KPMG Lakehouse
The Boca Raton
Aramark
The Curtis Hotel – Hilton Denver, CO
Hilton Orlando Buena Vista Palace
Hilton Worldwide
Hilton Orlando
Hilton Grand Vacations
4 Rivers Smokehouse
*TBD
Drury Hotels
Hello! Florida
Busch Gardens
SeaWorld
Entertainment Technology Partners/LMG
Southern Hospitality Internship Program
Visit Orlando
 Interior Exhibitors 
Disney Dining Room
Melia Orlando Celebration Hotel
IMCMV – Margaritaville
Marriott Vacations Worldwide
Marriott Vacation Worldwide – Marketing and Sales Division
Caribe Royale Orlando Hotel
Signia by Hilton Orlando Bonnet Creek & Waldorf Astoria Orlando
Encore
Omni Orlando Resort at ChampionsGate
Loews Hotels at Universal Orlando
Royal Caribbean International
Rosen Hotels & Resorts
Breakthru Beverage
Hershey Entertainment and Resorts
The Celeste Hotel, Orlando, a Tribute Portfolio Hotel
Booster
White Lodging
Streamsong Resort
Southern Glazer's Wine & Spirits
Ocean Reef Club
Ocean Properties Hotels Resorts & Affiliates
Universal Orlando Resort
Marriott International
Gaylord Palms
Central Florida Hotel & Lodging Association
Hyatt Hotels – Lake Tahoe
Hyatt Hotel Corporation
Interior Exhibitors 
Hall of Fame
Red Lobster
The Little Nell
Venus Legend Corporation
United Airlines
Creative Group
Sheraton Suites Orlando Airport
Mandarin Oriental, Miami
Lettuce Entertain You Restaurants
Evermore Orlando Resort

For information about our twice a year career fairs contact: Heather Pfingston, Assistant Director, Employer Relations, UCF Career Services at (407) 903-8077 or email Heather.Pfingston@ucf.edu. Thank  you for your continued support of the UCF Rosen College of Hospitality Management!
********************************************
Sponsorship Opportunities
UCF Rosen College of Hospitality Management is pleased to offer engagement opportunities for companies and employers through sponsorship of its biannual Career Fair. Partner with the college to build brand awareness on campus and engage with talented students and alumni. Enhance your recruitment efforts today via a sponsorship.
For complete information about sponsorship opportunities, please download our Career Fair Sponsorship Opportunities brochure for 2022-23.  Click on the image for a PDF.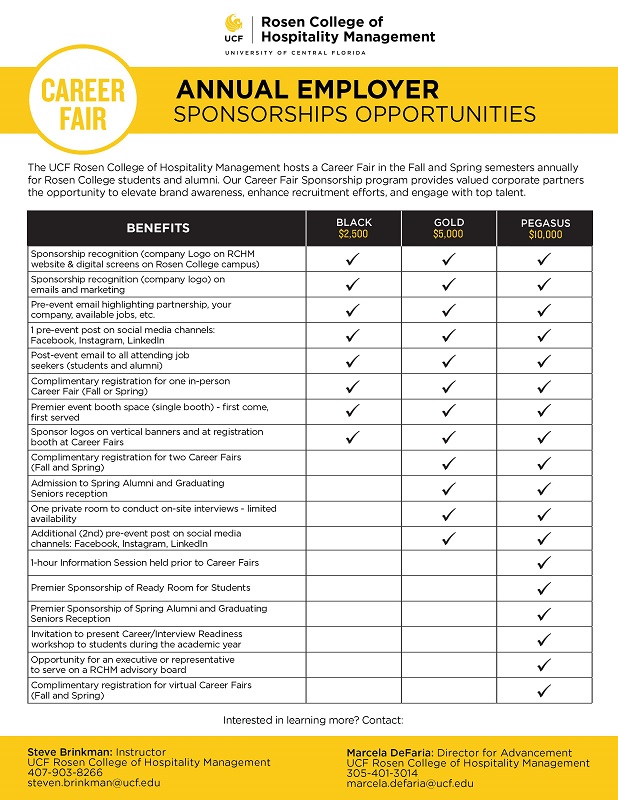 UCF Rosen College of Hospitality Management is proud to be a leader in partnering with industry. A corporate partnership is a powerful way to support the college's mission of developing future generations of global hospitality and tourism leaders representing all industry segments. To learn more about how your company can create a custom and strategic partnership with the college, contact Marcela DeFaria at marcela.defaria@ucf.edu.
Visitor Parking
When you visit our campus, we invite you to pay for your parking online via the UCF Parking Portal. When you purchase through the portal, the permit is virtual. Your license plate will serve as your parking permit.  Visitors have the choice of two types of Daily permits:
Daily Permit:
$5 Pass Expires at 11:59 PM
$8 Pass Expires 24 hours from time of purchase
Once you purchase a Daily Virtual Permit,  you may park in any available parking space located in the "D" Parking Lot.  The "D" parking area is denoted with a green sign.
If you are visiting the UCF main campus, UCF Downtown and Rosen College on the same day, you only have to purchase the daily virtual permit once.
Tabling at Rosen College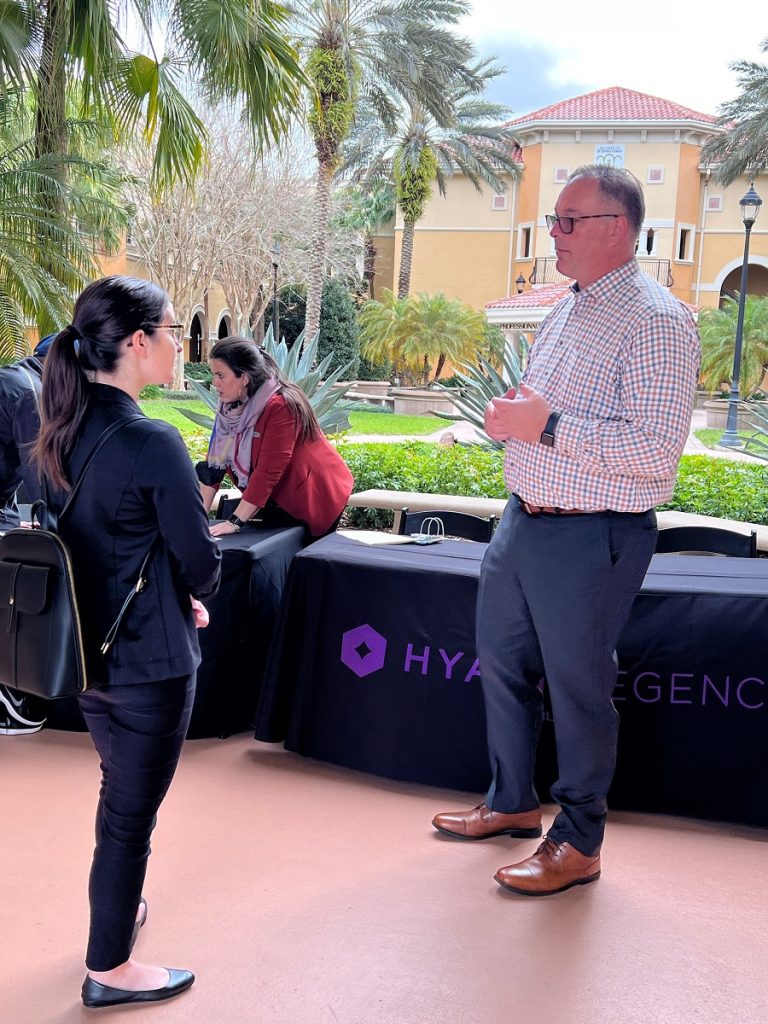 Build brand recognition by hosting an information table at the UCF Rosen College of Hospitality Management to increase visibility for your company and talk to students between classes about your internship and job opportunities!
During the first and second week of classes, we offer tabling Monday-Thursday from 10:00 a.m.-2:00 p.m. for up to five (5) employers. 
Normal Tabling Schedule
Tabling is conducted outside in Rosen College Courtyard
Tuesday's and Wednesday's, 10:00 a.m. – 2:00 p.m. UCF Rosen College can host up to three (3) employers for tabling at a time.
In order to continue supporting our students and College, recruitment tabling will come with a fee as of the Fall 2023 semester.  For additional info, please contact Marcela DeFaria, Director of Development, UCF Rosen College of Hospitality Management. Marcela.DeFaria@ucf.edu
SPOTLIGHT TABLING is tabling for only one employer on that day (subject to date availability). Tabling is offered on a first come first served basis.
One table and two chairs are provided. Please bring a company tablecloth and other career-related materials and brochures to share with the students. No linen is provided, you must bring your own.
To submit a tabling request click HERE.
*Unavailable Dates*
August 22, 2023
September 13, 2023
October 11, 2023
October 24, 2023
October 25, 2023
Review the academic calendar for our spring semester dates. We do not table during the summer semesters.
*Thank you for your interest in recruiting UCF students. UCF is continuing communication, coordination and planning using updated guidance from our state and federal health partners. For the latest information, please visit our website, https://ucf.edu/safety/coronavirus 
************
Sharing Career Information
Rosen College is proud to partner with employers and organizations to prepare the future leaders of the hospitality industry. Please take a moment to review the various ways we can work together and connect you with our outstanding students.
Post Internship, Full-Time, or Part-Time Opportunity: Utilize our online recruiting tool, Handshake, to post opportunities for Rosen College students and alumni. If you are already using Handshake as part of your recruitment efforts, please add University of Central Florida to your list of schools. If you are not already using Handshake, please visit UCF Career Services website for detailed instruction on creating an account.
Once approved, you will then be able to upload any job and internship postings where our students can access them and apply.
When posting a position please ensure that under "Major Category" you are selecting "Choose a specific major by school" and select our Rosen College specific majors for best posting visibility by our students and alumni.
For a reminder of what majors are currently offered please visit Rosen College Degree Programs.
Stay Connected
Thank you for your continued support of UCF Rosen College students. While in-person recruitment events resumed in January 2021, we do welcome employers to continue to connect with UCF Rosen College of Hospitality Management students virtually.
Here are some options:
Virtual Webinars and Information Sessions
Virtual Networking & Q&A Sessions
Job Postings
Virtual Recruiting
Support Education


Scholarships and Academic Initiatives
Want to learn more about supporting hospitality management education through scholarships and/or academic initiatives? Click here for more information.
Would you like to participate in


our bi-annual Career Fair?
UCF Rosen College of Hospitality Management hosts two hospitality career fairs each year, in the fall and spring.  This career fair typically attracts over 95 hospitality, events, entertainment, attractions and tourism specific employers and over 900 UCF Rosen students and alumni seeking internship, full time, and part time opportunities in the hospitality industry. For more information about the career fair, email rosencareerfair@ucf.edu .
If you would like to sign up to receive announcements regarding the career fairs and updates from UCF Rosen College please click here.
A Look Back!
Thank you to everyone who attended and recruited at the fall 2022 Career Fair!
Wednesday, October 26, 2022, in-person career fair
Thursday, October 27. 2022, virtual career fair.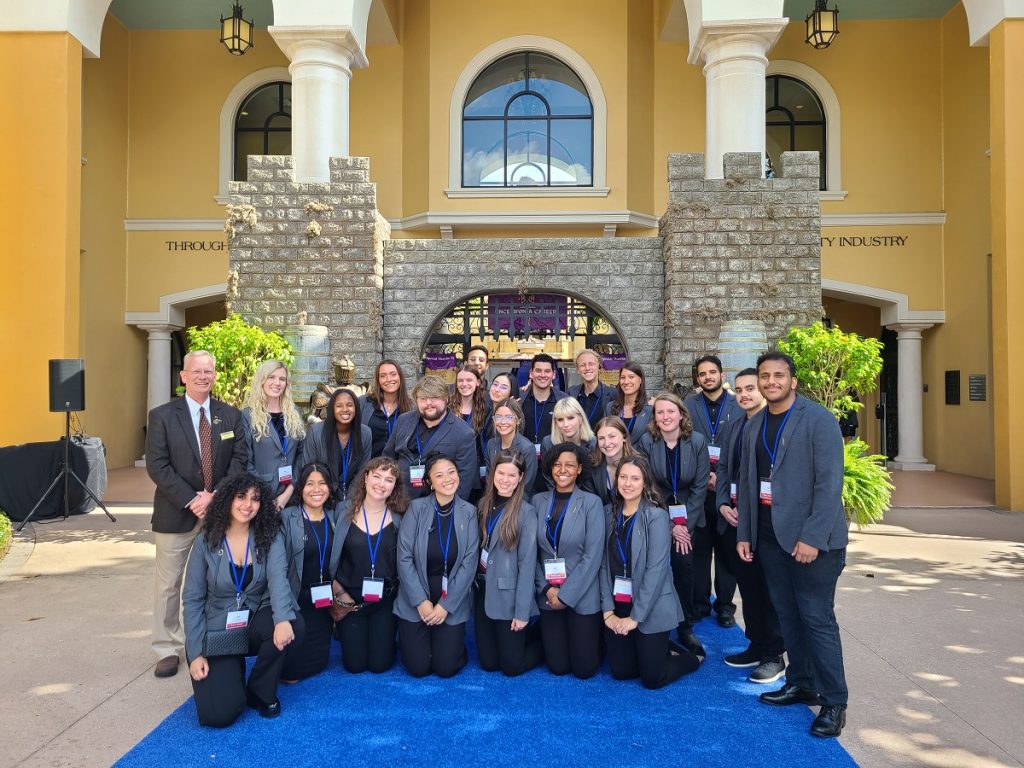 Thank you to our Career Fair Sponsors: Freeman, Marriott Vacations Worldwide and Universal Orlando Resort.
***********************************************
A HUGE special thank you to everyone, who joined us for Knights, Camera, Action!, the spring 2022 career fair on March 16, 2022, in-person and March 17, 2022, virtually via Zuddl! You can see an album of photos from career fair HERE!
***********************************************
Thank you to our Industry Partners and Employers from around the globe who joined us for the two days of the fall 2021 Career Fair, Wednesday, October 27, 2021, and Thursday, October 28, 2021. You can see photos from the Fall 2021 Career Fair Rosen College Knights Take Flight in the Facebook album. Students and Alumni, if you attended the career fair and took a headshot, you may find them through this Dropbox link.
*****************************************************
Thank you to the industry partners who participated in the spring 2021 Career Fair. Our second virtual career fair was a success with more than 750 students and alumni in attendance virtually and 40 employers conducting interviews for jobs and internships.
*****************************************************
Thank you to the industry partners who participated in the fall 2020 Career Fair on Thursday, October 29, 2020. Our first virtual career fair was a success with more than 600 students and alumni in attendance virtually and 25 employers conducting interviews for jobs and internships.
*****************************************************
Thank you to all our industry partners and employers who attended the March 5, 2020, Spring Career Fair. A photo album from Career Fair is available on the UCF Rosen College Facebook page. Share the memories.
*****************************************************
Thank you to all our industry partners and employers who attended the November 14, 2019, fall Career Fair fall. We were ready to launch our careers and you helped us blast off and set the course to our futures. A photo album from Career Fair is available on the UCF Rosen College Facebook page. Share the memories.
****************************************************
Thank you to all the industry partners and employers who attended the spring Illuminate the Knight Rosen College Career Fair on March 7, 2019. More than 1,000 students met with 95 employers. Take a look at some photos from the event in the Facebook Album!
Leadership Workshop Series
Developed in the Spring of 2017, the Leadership Workshop Series is a series offered to all internship students. We created this series to develop our students into effective leaders, and more marketable candidates. After analyzing employer's feedback, we took the constructive comments and created topics to address the areas of improvement. Industry partners facilitate a 45 minute workshop on various topics. So far, the series has been a phenomenal success! We have mentored over 10,000 students with the collective efforts of our industry partners!
Each Leadership Workshop starts with a brief introduction of your career path, followed by your presentation on a leadership topic, ending in Q&A with the students. The workshops are mandatory for all internship students (they must attend 2 workshops per semester), as well as open to all current students and alumni.
If interested in participating in a Leadership Workshop, please email Internship Program Director, Jessica Wickey, at Jessica.wickey@ucf.edu.
**Workshops are held in the Darden Auditorium, Room 101, on the Rosen College campus. The auditorium is equipped with presentation technology**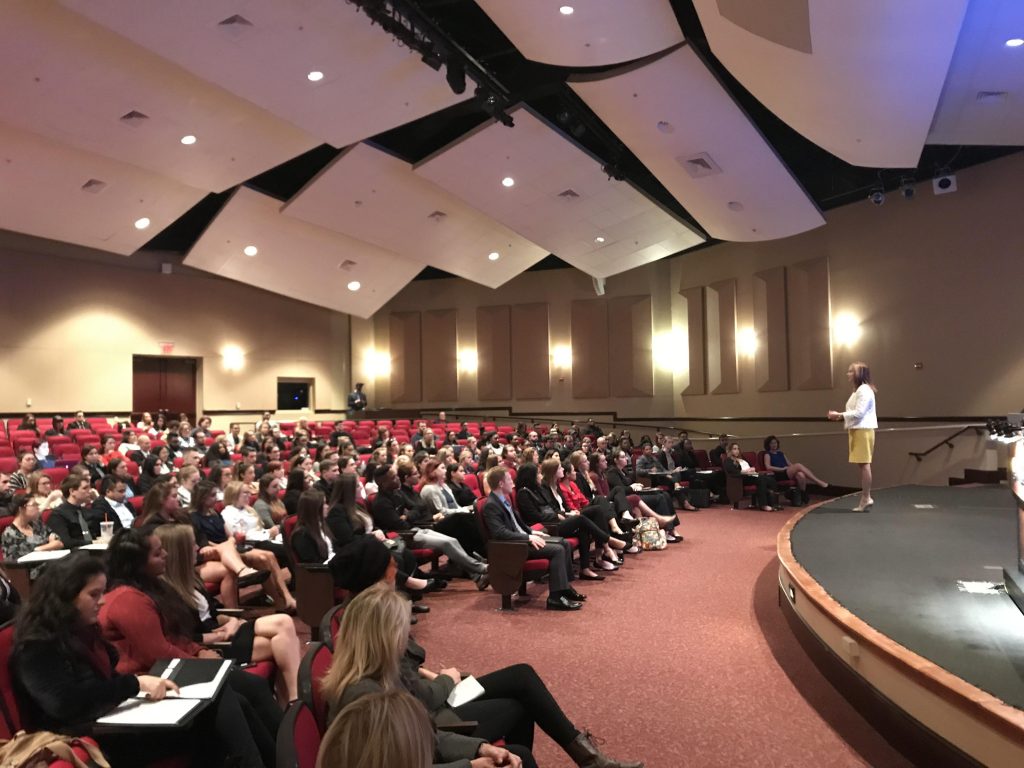 Previous Topics include:

Personal Branding – Who AM I?
Characteristics of a Leader
How to be Successful in the Entertainment Industry
Sports Entertainment and Success
Loyalty to your Employer – Longevity for YOUR Career
Accountability in the Workplace – Own YOUR Mistakes
Safety Leadership: Risk Management in Theme Parks
Networking, Utilizing Social Media and Professional Associations
Multi-generations in the Workplace
Talent Development and Music Distribution
Cruise Industry: The Nomadic Life of Choosing a Seagoing Lifestyle
Professionalism, including Attire, Communication, Time Management and Social Media
Professional Development – FIVE Year strategic plan; do you have one?
Employer panels for Entertainment Management, Event Management, Lodging, Restaurants, Theme Parks
Interviewing and Preparation, Choosing the Right Candidate and Salary Negotiation
Leadership and Professional Development – What is my Elevator speech?
Managing Change in Myself and Others
Leading is NOT Managing
Setting Expectations and Delivering Feedback
Relocation and Recruitment: How being Mobile Can Drive YOUR Career
Empathy in the Workplace

Previous Industry Facilitators for the Workshops include:

Amazon Restaurants
American Traveler
ARDA
AT&T
Axis Events
Carnival Cruise Lines
Chick-Fil-A
CW Hotels
Drury Hotels
Edgefactory
Entertainment Technology Partners
Herschend Family Entertainment
Hilton Worldwide
Holland America Cruise Lines
Integrated Insight
Kennedy Space Center
Loews Hotels
Marriott Vacations Worldwide
Merlin Entertainment
Orange County Convention Center
Orlando Magic
Parallon
Red Lobster
Royal Caribbean Cruise Lines
SeaWorld Parks and Entertainment
Seminole County Tourism
Staying Sain
Tavistock
The Breakers Palm Beach
Walt Disney World
Westgate Resorts
A Student/Industry Partnership
Rosen College students have partnered with wheelchairjimmy.com to document handicapped accessible hospitality and tourism venues in Central Florida. Take a look at their work.