Thank you to our Industry Partners and Employers from around the globe who joined us for the two days of the fall 2021 Career Fair, Wednesday, October 27, 2021 and Thursday, October 28, 2021, 10 a.m. – 2 p.m.
Check back frequently for information on the spring 2022 Career Fair.
Tabling at Rosen College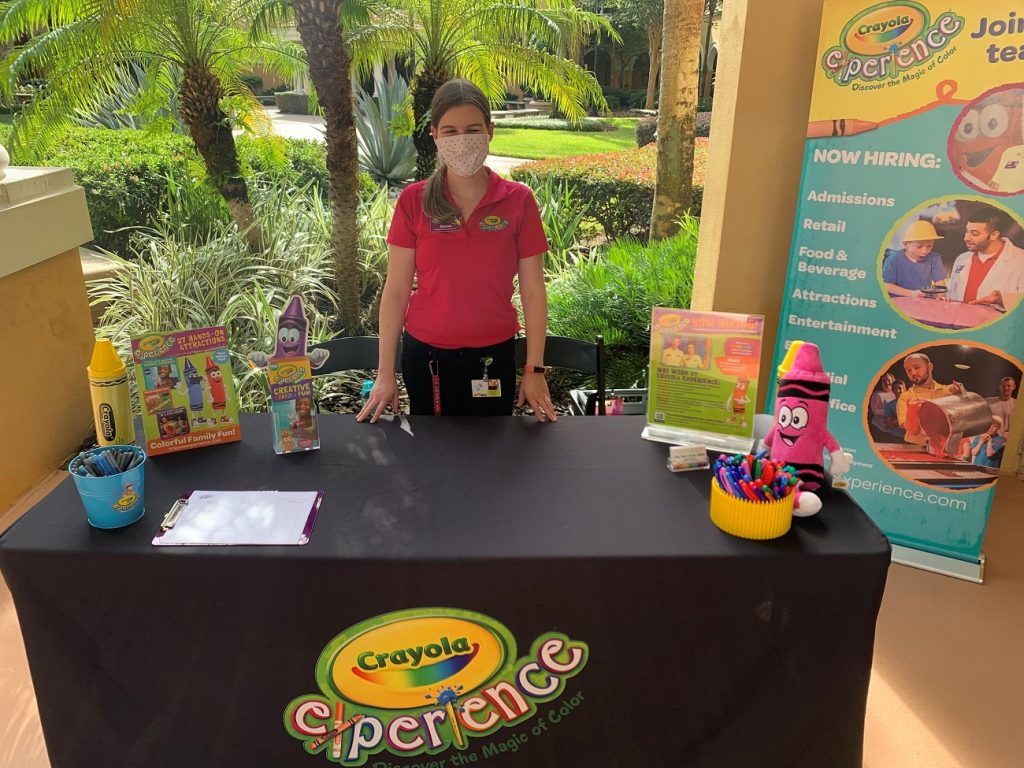 Build brand recognition by hosting an information table at the UCF Rosen College to increase visibility for your company and talk to students between classes about your internship and job opportunities!  Tabling is conducted outside in Rosen College Courtyard (covered breezeway area) Monday – Thursday, 10 a.m. – 2 p.m. UCF Rosen College can host three to five (3 – 5) employers for tabling at a time.  SPOTLIGHT TABLING is for only one employer tabling on that particular day (subject to date availability).
To submit a tabling request click HERE.
Once we have received the request a representative from our Events Team will reach out to confirm your scheduled date. For additional information and questions please contact Jessica Wickey at Jessica.Wickey@ucf.edu .
For more information on engagement opportunities read THIS.
Please note the following:
Forms are due at least ten (10) business days before the requested date to provide time to promote to students
We provide a table and two chairs.  Please bring a company tablecloth and other career related material to share with the students
Your tabling request will be processed in 2-4 business days
Cancellations must be communicated no less than three (3) days before the scheduled tabling date
Keeping our UCF community safe and informed is our top priority. Though on-campus recruitment has resumed we will be maintaining physical distancing protocols. wearing face-coverings and sanitizing our hands frequently. 
************
Sharing Career Information
Rosen College is proud to partner with employers and organizations to prepare the future leaders of the hospitality industry. Please take a moment to review the various ways we can work together and connect you with our outstanding students.
Post Internship, Full-Time, or Part-Time Opportunity: Utilize our online recruiting tool, Handshake, to post opportunities for Rosen College students and alumni. If you are already using Handshake as part of your recruitment efforts, please add University of Central Florida to your list of schools. If you are not already using Handshake, please visit UCF Career Services website for detailed instruction on creating an account.
Once approved, you will then be able to upload any job and internship postings where our students can access them and apply.
When posting a position please ensure that under "Major Category" you are selecting "Choose a specific major by school" and select our Rosen College specific majors for best posting visibility by our students and alumni.
For a reminder of what majors are currently offered please visit Rosen College Degree Programs.
Stay Connected
Thank you for your continued support of UCF Rosen College students. During this period of dynamic change and unprecedented challenges, our students, faculty, and staff members keep Charging On.
Virtual Events & Recruitment
While in-person recruitment events resumed in January 2021, we do welcome employers to continue to connect with UCF Rosen College of Hospitality Management students virtually.
Here are some alternative options:
Virtual Webinars and Information Sessions
Virtual Networking & Q&A Sessions
Job Postings
Virtual Recruiting
Support Education


Scholarships and Academic Initiatives
Want to learn more about supporting hospitality management education through scholarships and/or academic initiatives? Click here for more information.
Would you like to participate in


our bi-annual Career Fair?
UCF Rosen College of Hospitality Management hosts two hospitality career fairs each year, in the fall and spring.  This career fair typically attracts over 95 hospitality, events, entertainment, attractions and tourism specific employers and over 900 UCF Rosen students and alumni seeking internship, full time, and part time opportunities in the hospitality industry. For more information about the career fair, email rosencareerfair@ucf.edu .
If you would like to sign up to receive announcements regarding the career fairs and updates from UCF Rosen College please click here.
Leadership Workshop Series
Developed in the Spring of 2017, the Leadership Workshop Series is a series offered to all internship students. We created this series to develop our students into effective leaders, and more marketable candidates. After analyzing Employer's Feedback, we took the constructive comments and created topics to address the areas of improvement. Industry partners facilitate a 45 minute workshop on various topics. So far, the series has been a phenomenal success! We have mentored over 10,000 students with the collective efforts of our industry partners!
Each Leadership Workshop starts with a brief introduction of your career path, followed by your presentation on a leadership topic, ending in Q&A with the students. The workshops are mandatory for all internship students (they must attend 2 workshops per semester), as well as open to all current students and alumni.
Fall 2021 Leadership Workshop Series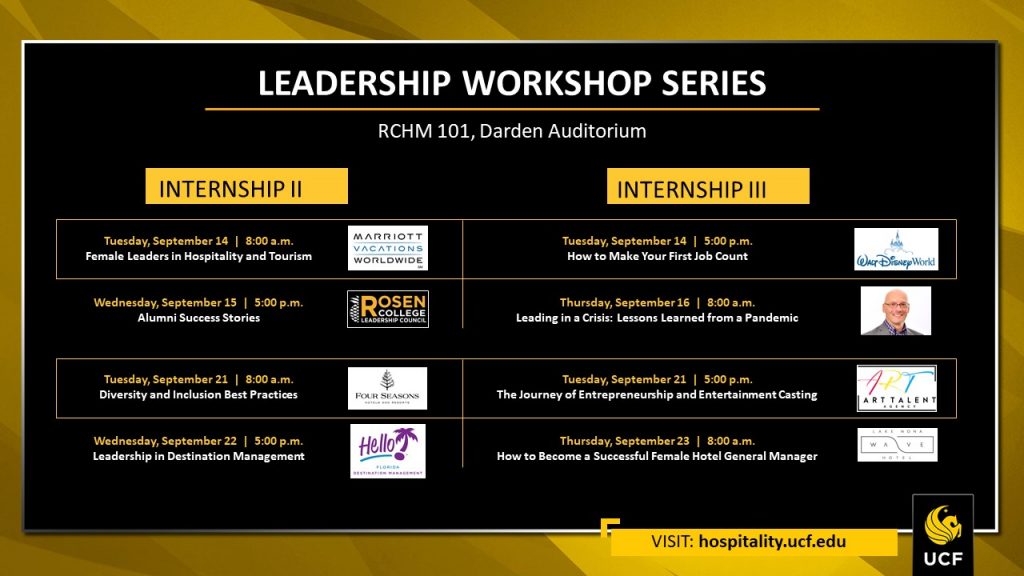 If interested in participating in a Leadership Workshop, please email Internship Program Director, Jessica Wickey, at Jessica.wickey@ucf.edu.
**Workshops are held in the Darden Auditorium, Room 101, on the Rosen College campus. The auditorium is equipped with presentation technology**
Click HERE to see the schedule we shared for the Spring 2020 Leadership, Professional Development and Job Search Workshops.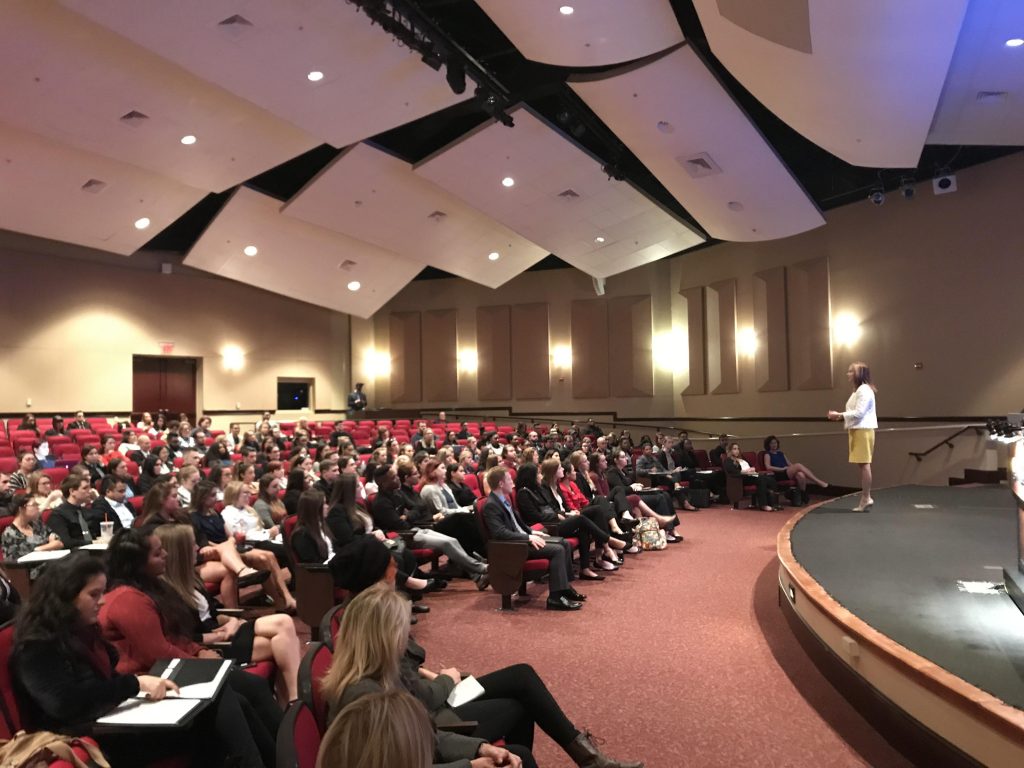 Previous Topics include:

Personal Branding – Who AM I?
Characteristics of a Leader
How to be Successful in the Entertainment Industry
Sports Entertainment and Success
Loyalty to your Employer – Longevity for YOUR Career
Accountability in the Workplace – Own YOUR Mistakes
Safety Leadership: Risk Management in Theme Parks
Networking, Utilizing Social Media and Professional Associations
Multi-generations in the Workplace
Talent Development and Music Distribution
Cruise Industry: The Nomadic Life of Choosing a Seagoing Lifestyle
Professionalism, including Attire, Communication, Time Management and Social Media
Professional Development – FIVE Year strategic plan; do you have one?
Employer panels for Entertainment Management, Event Management, Lodging, Restaurants, Theme Parks
Interviewing and Preparation, Choosing the Right Candidate and Salary Negotiation
Leadership and Professional Development – What is my Elevator speech?
Managing Change in Myself and Others
Leading is NOT Managing
Setting Expectations and Delivering Feedback
Relocation and Recruitment: How being Mobile Can Drive YOUR Career
Empathy in the Workplace

Previous Industry Facilitators for the Workshops include:

Amazon Restaurants
American Traveler
ARDA
AT&T
Axis Events
Carnival Cruise Lines
Chick-Fil-A
CW Hotels
Drury Hotels
Edgefactory
Entertainment Technology Partners
Herschend Family Entertainment
Hilton Worldwide
Holland America Cruise Lines
Integrated Insight
Kennedy Space Center
Loews Hotels
Marriott Vacations Worldwide
Merlin Entertainment
Orange County Convention Center
Orlando Magic
Parallon
Red Lobster
Royal Caribbean Cruise Lines
SeaWorld Parks and Entertainment
Seminole County Tourism
Staying Sain
Tavistock
The Breakers Palm Beach
Walt Disney World
Westgate Resorts
A Student/Industry Partnership
Rosen College students have partnered with wheelchairjimmy.com to document handicapped accessible hospitality and tourism venues in Central Florida. Take a look at their work.
Thank you to the 2021 Spring Virtual Career Fair Employers!   
| | |
| --- | --- |
| Atria Senior Living | Loews Miami Beach Hotel |
| Bar Harbor Hampton by Hilton | Marriott International |
| Bluegreen Vacations | Marriott Vacations Worldwide |
| Buckeye International | Melia Orlando Celebration |
| Cedar Point | NorthStar Memorial Group |
| Club Med Sandpiper Bay Resort | Northwestern Mutual Greater Orlando |
| Drury Hotels | Paramount Hospitality Management |
| E. & J. Gallo Winery | Pursuit – Glacier Park Collection |
| Enterprise Holdings | Republic National Distributing |
| Four Seasons Resort Orlando at Walt Disney | Shore Lodge Whitetail Club |
| Greystar | St Joe Club Hospitality |
| Gringos Locos | The Breakers Palm Beach |
| Hershey Entertainment & Resorts | The Little Nell |
| HHS | THE WENDY'S COMPANY |
| Highgate Hotels | TLC Family Of Camps |
| Hillstone Restaurant Group | Troon Golf |
| Hyatt Hotel Corporation | Venue 1902 |
| Integral Senior Living | WESS |
| Jason's Deli | White Lodging Services |
| Kiawah Island Golf Resort | |
| | |
A Look Back!
Thank you to the industry partners who participated in the fall 2020 Career Fair on Thursday, October 29, 2020. Our first virtual career fair was a success with more than 600 students and alumni in attendance virtually and 25 employers conducting interviews for jobs and internships.
*****************************************************
Thank you to all our industry partners and employers who attended the March 5, 2020 Spring Career Fair. A photo album from Career Fair is available on the UCF Rosen College Facebook page. Share the memories.
*****************************************************
Thank you to all our industry partners and employers who attended the November 14, 2019, fall Career Fair fall . We were ready to launch our careers and you helped us blast off and set the course to our futures. A photo album from Career Fair is available on the UCF Rosen College Facebook page. Share the memories.
****************************************************
Thank you to all the industry partners and employers who attended the spring Illuminate the Knight Rosen College Career Fair on March 7, 2019. More than 1,000 students met with 95 employers. Take a look at some photos from the event in the Facebook Album!