Grab Your


Passport

Immerse yourself in diverse cultures, enrich your education and cultivate your worldwide hospitality network through a variety of opportunities.

Are you ready to start your study abroad journey? We strongly suggest you begin the planning process as early as possible.  Take a look at the featured programs in Hospitality for Study Abroad. You'll want to schedule an advising appointment, but before scheduling the appointment, we suggest performing a self-assessment. This includes:
Meeting with your academic advisor to decide what remaining coursework may be taken abroad.
Evaluating your existing financial resources and financial aid dependence by utilizing our Budget Sheet here.
Considering the program duration and location that best suits your needs and goals.
Once you have conducted the self-assessment steps above, you should attend a Study Abroad 101 session.
Visit the UCF Abroad website for updates and information. See the programs available to Hospitality student at-a-glance HERE. Students considering Study Abroad will need to create a profile in the system. Scholarships are available for Study Abroad. Email Fazal.Jameer@ucf.edu to learn more.

UCF IN LONDON STUDY ABROAD


Exploring the Entertainment Industry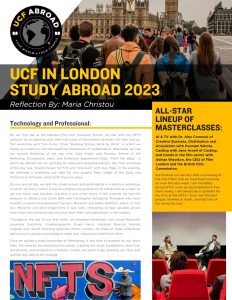 In the captivating Summer of June 2023, a group of talented and aspiring students embarked on a remarkable journey that would forever change their perspective on the entertainment industry. Hosted by the prestigious National Film & Television School (NFTS), this immersive program offered an exclusive opportunity for students to delve into the mesmerizing realm of film and television production in the heart of London.
Guided by the expertise of highly accomplished industry professionals, the students were bestowed with hands-on experiences, allowing them to acquaint themselves with the cutting-edge technologies shaping the future of entertainment. The tutelage they received was nothing short of exceptional, with a focus on fostering a profound understanding of the intricate dynamics that govern film and television production.
Throughout their adventure, the students found themselves engrossed in the artistry and intricacies of filmmaking at both the illustrious NFTS Beaconsfield Studios and the vibrant NFTS London base located in the iconic Soho district. In these state-of-the-art facilities, they were able to translate theoretical knowledge into practical skills under the watchful guidance of their mentors.
However, the journey was not confined to the studio walls alone. Enriching their experience further, the students embarked on captivating field trips to legendary entertainment landmarks, gaining a comprehensive behind-the-scenes perspective of London's entertainment industry. These excursions served as a source of inspiration, allowing them to witness firsthand the profound impact of film and television on the cultural landscape.
The Summer of June 2023 had left an indelible mark on the students' lives, equipping them with the necessary skills, knowledge, and a network of like-minded individuals to confidently step into the dazzling realm of the entertainment industry. As they bid farewell to London, they carried with them a foundation that would undoubtedly shape their futures and enrich the world of entertainment with their unique creative flair.
Want to read Maria Christou reflection of the trip, click the image on the right side
or View Here!
Summer 2024 – Short-term Study Abroad
Rosen College students, do you want to taste some of the best Europe has to offer? Apply for the Taste of Europe Study Abroad program for summer 2024. You'll travel May 8-24, 2024. The deadline to apply is Tuesday, October 31 2023.
For more information and to apply, check the program website https://bit.ly/2CdD0H5 or contact:
Dr. Diego Bufquin, Associate Professor, E-mail Diego.Bufquin@ucf.edu, Phone 407.903.8209
Click on the image to download the full Study Abroad flyer for A Taste of Europe.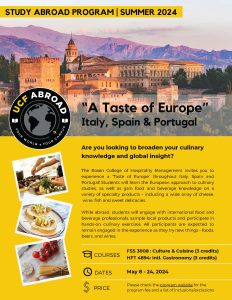 Hospitality Exchange Programs
Plan ahead for an education overseas. Increase global employment options and earn credit toward your degree by spending a semester overseas with one of our partner institutions:
For details, applications, scholarships and more, visit the Office of International Studies or contact Fazal Jameer at UCF Rosen College by emailing Fazal.Jameer@ucf.edu. You may also visit Mr. Jameer in the Student Services suite at UCF Rosen College in Room 201C.
Immigration Advising
International Students, please contact UCF Global for immigration advising needs by clicking HERE for more information.