Register for Career Fair Fall 2021
The fall 2021 Career Fair will be held in-person on Wednesday, October 27, 2021, 10 a.m.- 2 p.m. There will be a virtual career fair on Thursday, October 28, 2021, 10 a.m. – 2 p.m. Students and Alumni, click the button above to register NOW!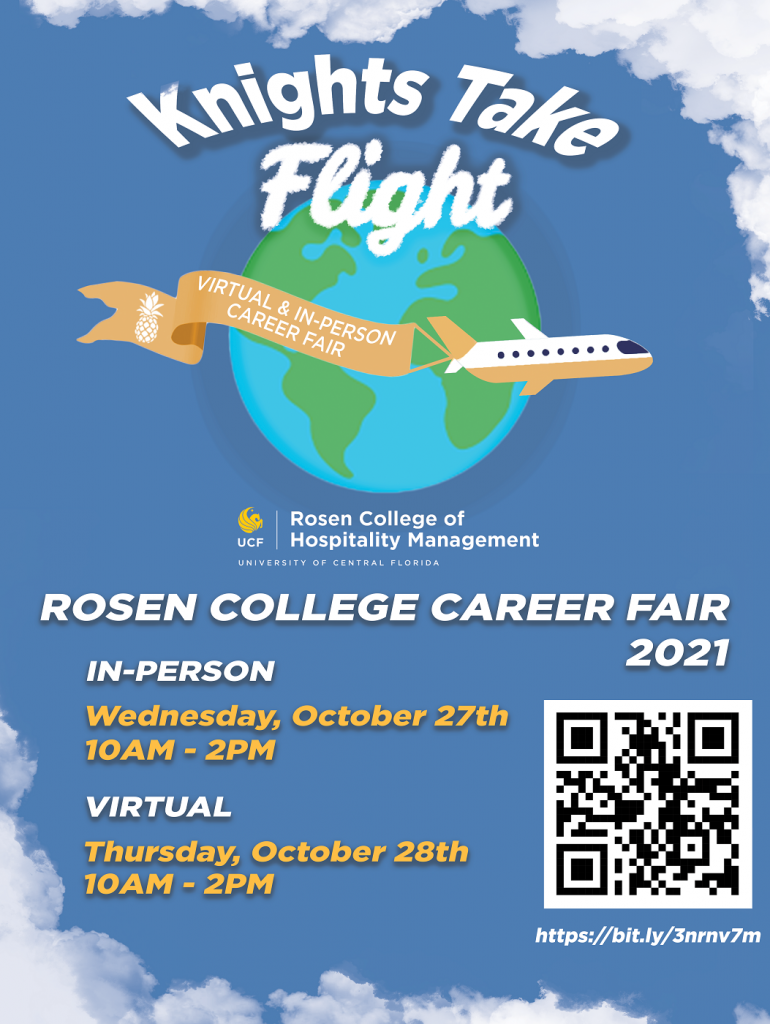 Employer partners, please see information below on how to register to participate in the career fair.
Get Ready for the Career Fair Fall 2021
Dear Employer Partners:
The University of Central Florida (UCF)'s Rosen College of Hospitality Management and UCF Career Services are pleased to invite you to recruit at the Fall 2021 Rosen Career Fair. This event will be held in person on October 27, 2021 from 10:00 a.m. to 2:00 p.m. and virtually on October 28, 2021 from 10:00 a.m. to 2:00 p.m. In the past, our career fair has attracted over 95 employers and over 900 students and alumni seeking full-time, professional positions.
Wednesday, October 27 from 10a-2p EST: In Person Career Fair (Exterior Booths Only – Spots are Limited)
Thursday, October 28 from 10a-2p EST: Virtual Career Fair via Career Fair Plus
 Career Fair Plus Virtual Career Fair App
UCF Career Services and Rosen College have once again partnered with Career Fair Plus to help manage this hybrid event. All online employer registrations must be submitted via Qualtrics, approved, and paid in Eventbrite using the registration information below. In your registration, you will indicate whether you plan to attend the in person day, the virtual day, or both days.
Once your registration has been approved and paid for, you will receive additional instructions/tutorials via email from Career Fair Plus on how to setup and manage the recruitment process virtually if you're attending the virtual day (i.e. How to setup rooms, video, chat, load documents, etc.) before and during the event.
Registration Deadlines for the Career Fair: October 15, 2021
Registration Fees:  
IN PERSON Standard registration fee: $425.00 (includes Eventbrite fee) + 6.5% sales tax
VIRTUAL Standard registration fee: $350.00 (includes Eventbrite fee) + 6.5% sales tax
BOTH Standard registration fee: $600.00 (includes Eventbrite fee) + 6.5% sales tax
Refund Request Deadline: September 28, 2021*
*Registration Cancellation & Refund Policy: Registrations cancelled at any time are subject to a $25.00 cancellation fee. Registrations cancelled after September 28, 2021 will not be refunded.
 Registration & Payment Policy
Payments are due at the time your registration is approved/invoiced by Eventbrite. Failure to provide payment will cause those with unpaid balances to be cancelled from the event list.
To ensure your participation and inclusion in all related publicity, please submit your online registration by the registration deadline. Changes to your registration must be submitted in writing to rosencareerfair@ucf.edu no later than October 15. No changes will be made after this date.
To reserve your space, please complete your online registration through this Qualtrics form.
We look forward to having your organization participate in the 2021 Fall Rosen Career Fair. We will do our best to ensure that your participation will be an enjoyable and worthwhile experience.
Sincerely,
Rosen Career Fair Team
rosencareerfair@ucf.edu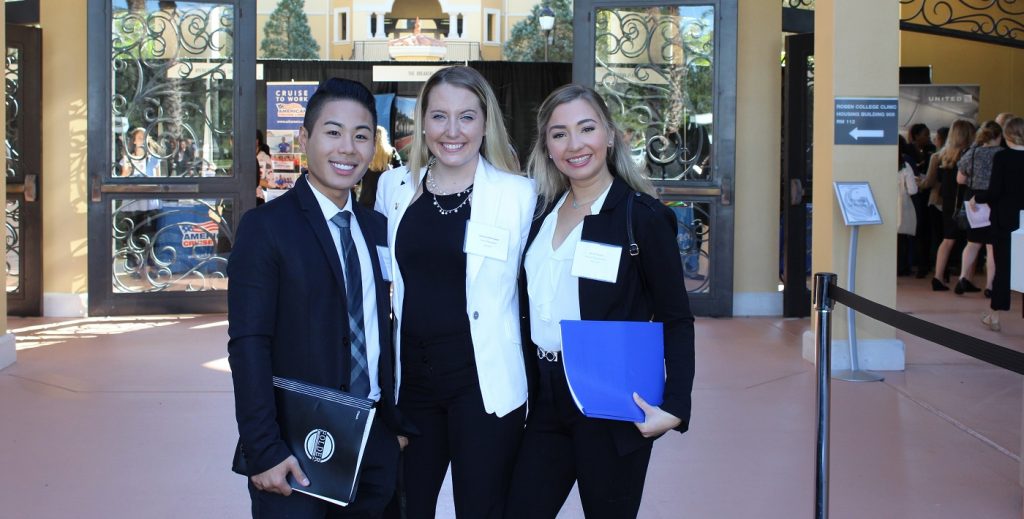 Our Career Fair for fall 2021 will be in-person and virtual.  
We will use the Career Fair app to set appointments with employers for our first virtual career fair.  Here are instructions for the Career Fair App process:
To create an account and book meetings at the fair, you will need to do this on the app. Once you have created an account and booked meetings, you can login through app.careerfairplus.com to view your scheduled meetings and join the video meetings on the day of the fair. Please follow the steps below for account creation:
Download the Career Fair Plus app to your phone. 
Open the app, select Student/Candidate if asked for your role, and then navigate to the organization/school and the fair you are attending
You can start looking through the employers that will be attending your virtual fair without needing to create an account.
When you're ready to start scheduling meetings, you will need to create an account and build your profile.
Watch this video to see how to create an account.
Make sure you build a complete profile that includes your resume as well as other relevant information. This is the profile employers will see when you book meetings with them, so you want to make a good impression!
For help and tips on how to prepare for the Career Fair or interviews with a potential employer, contact UCF Career services at http://career.ucf.edu
| | |
| --- | --- |
| Meet the Fall 2021 Career Fair Employers! | |
| | |
| --- | --- |
| American Hospitality Talent Acquisition | HHS Exceptional Hospitality, LLC |
| Aramark | Hillstone Restaurant Group |
| Aspen Square Management | Holland America/Princess-Alaska Land Operations |
| Big Cedar Lodge | Hyatt Hotels |
| Castle Group | Jason's Deli |
| Ciccio Restaurant Group – Local Brands | Kiawah Island Golf Resort |
| Cuba Libre Restaurant & Rum Bar | Kimpton Vero Beach Hotel & Spa |
| Delaware North/Patina Restaurant Group | Kolter Hospitality |
| Dignity Memorial | Lake Nona Wave Hotel |
| Dollywood | Loyal Source Government Services |
| Drury Hotels | Manor Vail Lodge |
| E&J Gallo Winery | Marriott International |
| Encore | Marriott Vacations Worldwide – Resort Operations |
| HHS | Manor Vail Lodge |
| Exploria Resorts | Old Edwards Hospitality Group |
| Freeman Co. | Pinstripes |
| Four Seasons Resort Orlando at Walt Disney World® Resort | Puff ' n Stuff Catering |
| Four Seasons Resort Palm Beach | Southern Glazer's Wine & Spirits |
| Greystar | Southern Hospitality Internship Program |
| Hello Florida Destination Management | St Joe Hospitality |
| Hershey Entertainment & Resorts | Westgate Resorts |
| | Wyndham Grand Orlando Resort Bonnet Creek |
Students and Alumni, register now to meet employers and industry partners for Fall 2021.
Thank you to the industry partners who participated in the fall 2020 Career Fair on Thursday, October 29, 2020.  Our first virtual career fair was a success with more than 600 students and alumni in attendance virtually and 25 employers conducting interviews for jobs and internships.
Career Fair Photo Albums
Career Fair Spring 2020: An International Event concluded on March 5, 2020! Thank you to our industry partners for making this day a success! See the Facebook photo album!
Thank you to all our industry partners and employers who attended Career Fair fall 2019. We were ready to launch our careers and you helped us blast off and set the course to our futures. A photo album from Career Fair is available on the UCF Rosen College Facebook page. Share the memories.
Thank you to all the industry partners and employers who attended the spring Illuminate the Knight Rosen College Career Fair on March 7, 2019.  More than 1,000 students met with 95 employers. Take a look at some photos from the event in the Facebook Album!
Thank you to everyone who participated in the November 8, 2018, Fall Rosen College Career Fair. More than 800 students attended to meet with 95 employers. Photos from the Fall Rosen College Career Fair held on November 8, 2018, may be found HERE!