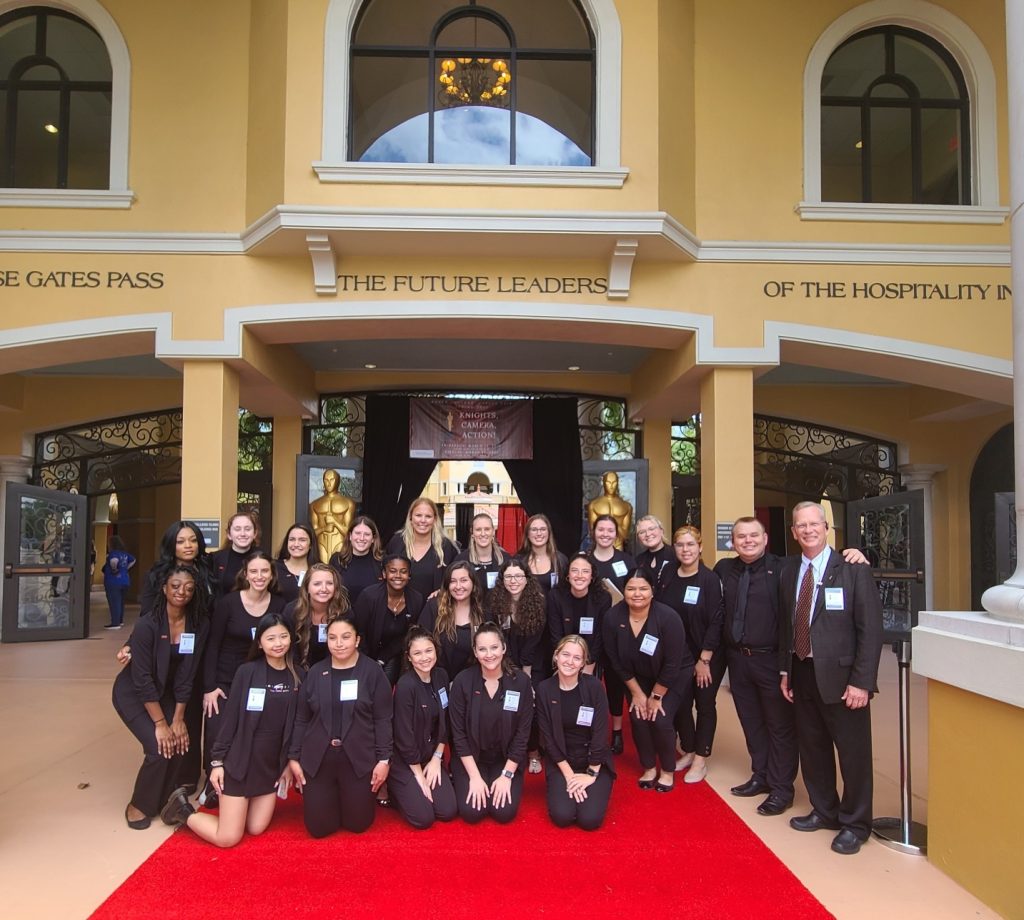 A HUGE special thank you to everyone, who joined us for Knights, Camera, Action! spring 2022 career fair on March 16, 2022, in-person and March 17, 2022, virtually via Zuddl!
You can see an album of photos from career fair HERE!
Thank you to all of our amazing industry partners and employers from coast to coast and around the globe,  students, volunteers, staff, and the event management class headed by Professor Steve Brinkman for the execution of an excellent in-person recruitment event!
Save the dates for the fall 2022 Career Fair
Wednesday, October 26, 2022, in-person career fair 
Thursday, October 27. 2022, virtual career fair.
For information contact: Heather Pfingston, Assistant Director, Employer Relations, UCF Career Services at (407) 903-8077 or email Heather.Pfingston@ucf.edu. We look forward to your participation in the fair and your continued support of the UCF Rosen College of Hospitality Management!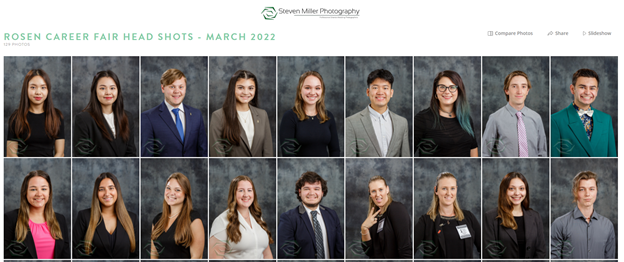 Rosen College Career Fair Headshot Gallery – Spring 2022
If you took a headshot at the career fair you can access them through the link below or by clicking on the image.
https://stevenmillerpix.shootproof.com/gallery/17816649/
Anyone who visits the gallery will need to use their email address to 'login'. This allows the visitor their own individual 'cart', favorites folder, etc.
You may order prints from this gallery if you wish.
Downloads are open to all visitors.  There are two forms of downloads, both high-resolution, and web-resolution, depending on what the image is used for.
Spring 2022 Career Fair Employers – In-Person
Note: * next to industry partner name denotes virtual recruitment also
recruiters as of 3-15-2022
4R Restaurant Group, LLC
ACCESS Destination Services *
Addison Reserve Country Club *
American Hospitality Talent Acquisition
Areas *
Arnold Palmer's Bay Hill Club & Lodge *
Aspen Square Management
Atrium Management Company *
Auro Hotels
Bartaco
Big Cedar Lodge *
Bluegreen Vacations *
Boca West Country Club
Caribe Royale Orlando & Buena Vista Suites *
Carnival Cruise Line *
Cedar Point
Celebration Restaurant Group *
Centerplate
Club Med Sandpiper Bay
Country Club Management of Orlando *
Crayola Factory Experience
Crown Plaza Orlando – Universal Blvd. *
Davidson Hospitality Group*
Delaware North *
DoubleTree by Hilton at SeaWorld
Drury Hotels *
E&J Gallo Winery
Embassy Suites Orlando International Drive
Embassy Suites Orlando LBV South
ENCORE *
F&G Hospitality Consulting *
Four Seasons Hotel and Residences, Fort Lauderdale
Four Seasons Resort Orlando at Walt Disney World
Four Seasons Resort, Palm Beach *
Freeman *
Fun Planner
GF Management
Guest Services, Inc
HEI Hotels and Resorts *
Hello! Destination Management
Hershey Entertainment & Resort *
HHM – Holiday Inn Resort Orlando Suites – Waterpark *
Hilton Orlando Buena Vista Palace
Holland America/Princess-Alaska Land Operations
Home2Suites Orlando Airport
Hotel Equities
Hyatt Hotels
Interlachen Country Club
Jason's Deli
Kiawah Island Golf Resort
Kimpton Hotels and Restaurants
Kolter Hospitality
Loews Hotels *
Loyal Source Government Services *
Marriott Vacations Worldwide *
Marriott Vacations Worldwide – Marketing & Sales Division *
Melia Orlando Celebration
Ocean Properties Hotels Resorts
Omni Orlando Resort at Championsgate
Pacesetter Technology
Panera Bread *
Paramount Hospitality Management
Peachtree Hotel Group *
Pinstripes
Ponte Vedra Resorts
Quail Valley
Red Lobster
Republic National Distributing Company (RNDC)
Reunion Resort & Golf Club
Rosen Hotels & Resorts *
RWS Entertainment *
SeaWorld Parks & Entertainment *
ShotVet *
Southern Hospitality Internship Program (Sevier County)
Steamstrong Resort
St. Joe Hospitality
Techtronic Industries – TTI *
The Boca Raton
The Breakers Palm Beach *
The Kessler Collection *
The Walt Disney Company *
Timbers Company *
Tim Webbers Events
Universal Orlando Resort *
U.S. Coast Guard*
Waldorf Astoria Orlando & Signia Hilton Orlando
Westgate Resorts *
Willwork Global Event Services
Wyndham Destinations
Spring 2022 Career Fair Employers – Virtual Only 
see in-person recruiters list for additional participants in the Virtual Career Fair; a * indicates virtual recruitment also
recruiters as of 3-15-2022
Aramark
Boosterthon
Country Club Mgt. of Orlando
Cullasaja Country Club
Entertainment Technology Partners
First Coast YMCA
Fun Spot America
Hampton by Hilton Bar Harbor
Hillstone Restaurant Group
Hilton Grand Vacations
KFC-Yum Brans
Mitsukoshi U.S.A
Picerne Real Estate
St. Andrews Country Club
The Little Nell
Validus Senior Living
Walmart
Quail Valley
Thank you to our Industry Partners and Employers from around the globe who joined us for the two days of the fall 2021 Career Fair, Wednesday, October 27, 2021 and Thursday, October 28, 2021, 10 a.m. – 2 p.m.
You can see photos from the Fall 2021 Career Fair Rosen College Knights Take Flight in the Facebook album.
Students and Alumni, if you attended the career fair and took a headshot, you may find them through this Dropbox link.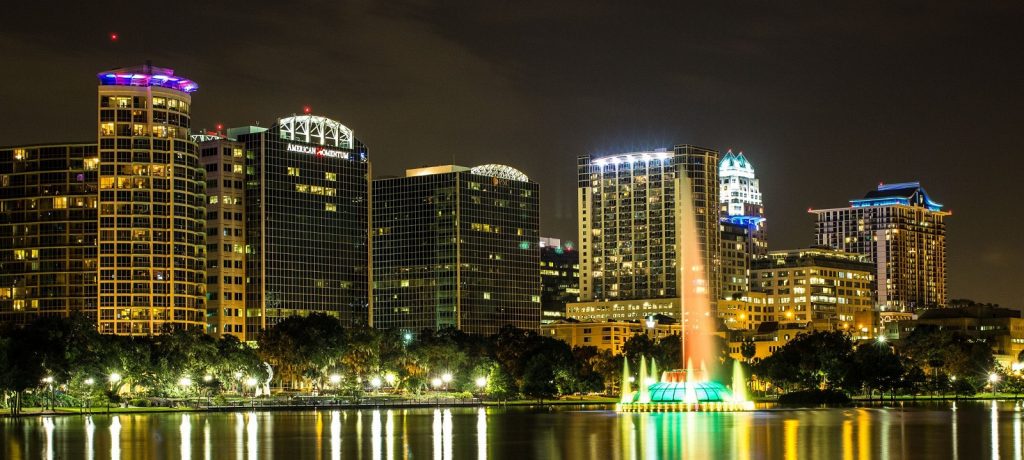 Thank you to the industry partners who participated in the fall 2020 Career Fair on Thursday, October 29, 2020.  Our first virtual career fair was a success with more than 600 students and alumni in attendance virtually and 25 employers conducting interviews for jobs and internships.
Career Fair Photo Albums
You can see photos from the Fall 2021 Career Fair Rosen College Knights Take Flight in the Facebook album.
Career Fair Spring 2020: An International Event concluded on March 5, 2020! Thank you to our industry partners for making this day a success! See the Facebook photo album!
Thank you to all our industry partners and employers who attended Career Fair fall 2019. We were ready to launch our careers and you helped us blast off and set the course to our futures. A photo album from Career Fair is available on the UCF Rosen College Facebook page. Share the memories.
Thank you to all the industry partners and employers who attended the spring Illuminate the Knight Rosen College Career Fair on March 7, 2019.  More than 1,000 students met with 95 employers. Take a look at some photos from the event in the Facebook Album!
Thank you to everyone who participated in the November 8, 2018, Fall Rosen College Career Fair. More than 800 students attended to meet with 95 employers. Photos from the Fall Rosen College Career Fair held on November 8, 2018, may be found HERE!