Financial Aid Information
For specific questions regarding your family's financial aid package, please contact the UCF Office of Student Financial Assistance at finaid@ucf.edu or call 407-823-2827.  A list of financial aid FAQs (including COVID-19 related impact) visit https://www.ucf.edu/financial-aid/faq/
For questions relating to third-party billing and tuition payments, including Florida Prepaid, please contact UCF Student Account Services at tpbilling@ucf.edu or visit www.studentaccounts.ucf.edu.
For questions relating to merit scholarships, please contact the UCF Office of Undergraduate Admissions Scholarship Committee at scholarships@ucf.edu.
Scroll down the page to review all opportunities


for Financial Assistance and Scholarships.
Fund Your College Education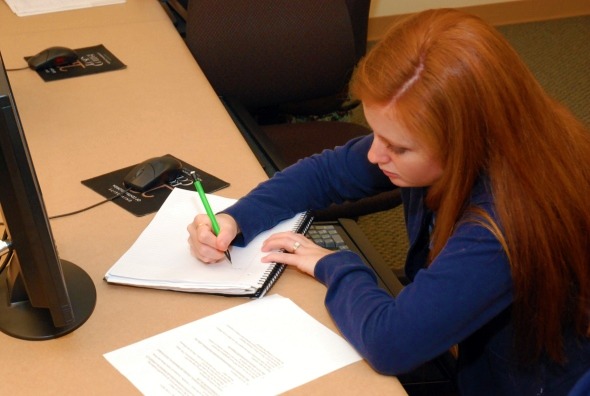 First things first — how much is your education going to cost? Click here to view UCF's estimated cost of attendance. You can also use this tuition calculator to break down tuition and fees.
Students can receive financial assistance through scholarships, grants, loans, fellowships and assistantships. Full details and application information are available through the Office of Student Financial Assistance. For information on fellowships and assistantships, please visit the Office of Graduate Studies website.
FAFSA information: Opens Oct 1. Complete by December 1. www.fafsa.gov ; UCF School Code 003954
Financial Aid Services at the Rosen College of Hospitality Management will only be available on Tuesdays and Wednesdays during the first three (3) weeks of each academic semester and during the early registration period for each academic term, unless otherwise noted. Financial Aid will be located in room indicated next to the date and time.
Students are encouraged to contact the main campus Office of Student Financial Assistance via email at finaid@ucf.edu for assistance. The office is committed to responding on a timely basis. Additional information is available on the Office of Student Financial Assistance website at finaid.ucf.edu .
Information on scholarships for hospitality students is listed below. Please scroll down the page!
Rosen College Scholarship Opportunities
The scholarship application period is open Jan 31, 2020 to March 15, 2020. Please CLICK HERE to apply for Rosen College Scholarships through the A2O system. For general information on the A2O scholarships visit: https://ucf.academicworks.com/opportunities
Rosen College awards numerous scholarships each year. In 2019 the college awarded more than $250,000 to deserving students.  The Rosen College Scholarship Committee is responsible for the application process, reviewing applications and awarding scholarships to current Rosen College students and new/incoming students that have declared undergraduate majors in Hospitality Management, Event Management, Restaurant and Foodservice Management and Entertainment Management. Scholarships are also available to students in the Master's and Ph.D. programs, though they are limited. Both domestic and international students may apply for these scholarships. Scholarships are awarded on the basis of academic criteria as well as any combination of financial need, campus/community activities, leadership positions and work experience.
All applications will be considered seriously based on the criteria of academic performance, industry experience, and philanthropic activities. You may need an Unofficial Transcript to apply for the scholarship opportunities.
Search for scholarship applications through Access to Opportunities or as its commonly known A20 .  Check A2o for Study Abroad Scholarship information. 
UCF Scholarship Opportunities
Scholarship and Financial Aid opportunities can be found HERE!
Each year UCF Alumni Engagement and Annual Giving awards more than $50,000 in scholarships to UCF students demonstrating strong academic ability and significant extracurricular and community involvement.  Applications are now available on A2O: Access to Opportunities (https://ucf.academicworks.com/). You are encouraged to apply for as many scholarships for which you are eligible.
How to apply through A2O:
Read all scholarship criteria online at https://ucfalumni.com/scholarships to determine which you may be eligible for.
Log in to A2O: Access to Opportunities (https://ucf.academicworks.com/).
Complete the general application if this is your first time logging in.
Browse available scholarships > click "Opportunities" and select "Ours" then search for the specific scholarship you are looking for.
Complete and submit application(s) and all required supporting documents.
*No paper applications will be accepted. Scholarship applications are only available online through the A2O portal. You will only see scholarships for which you meet the basic eligibility requirements.
IMPORTANT! Please read each scholarship application carefully to make sure you meet ALL of the specific criteria required for each scholarship before applying. Criteria used to determine eligibility includes, but is not limited to: GPA, class standing, academic program and campus involvement. If you do not see a particular scholarship, you do not meet one or more of the basic eligibility requirements (refer to our FAQs at https://ucfalumni.com/students/scholarshipfaq.
Scholarships Available:
– Charles N. & Frances Millican Scholarship – senior serving in a leadership role
– Jack & Monica Thorsen Veteran Scholarship – any class standing, served in the U.S. Military
– Phoenix Scholarship – non-traditional student, junior class standing
– St. Onge Family Leadership Endowed Scholarship – undergrad, sophomore or junior class standing serving in a leadership role
– UCF Alumni Fellows Leadership Scholarship – any class standing
– UCF Alumni Legacy Scholarship – undergrad, any class standing, parent/grandparent/legal guardian are UCF graduates
– Amy G. Buchman, '95, Memorial Endowed Scholarship – any class standing, permanent resident of Pinellas/Hillsborough counties in Florida
– College of Business Administration Alumni Chapter Scholarship – junior, senior or graduate student class standing enrolled in the College of Business Administration
– Debbie K. Phillis Space Coast UCF Alumni Chapter Endowed Scholarship – any class standing, permanent resident of Brevard County in Florida
– Dr. William K. Grasty Memorial Scholarship – undergrad, junior or senior in the Nicholson School of Communication
– Lee A. Dumas Memorial Endowed Scholarship – any class standing, permanent resident of Volusia/Flagler counties in Florida
– UCF Regional Alumni Chapter/Club Scholarships:
+Jacksonville UCF Alumni Club Scholarship – any class standing, permanent resident of Duval, Clay, St. Johns or Nassau counties in Florida
+Southeast Florida Knights Scholarship – any class standing, permanent resident of Dade or Broward counties in Florida, preference to those who are incoming freshman
+Tampa Bay Knights Legacy Scholarship – any class standing, permanent resident of the Tampa Bay Area, preference to those whose parent/grandparent/legal guardian are UCF graduates
There are also scholarships available for Study Abroad. Check the A2O listings for information on scholarship opportunities.
Award recipients will be recognized at the 26th Annual Joseph C. Andrews Mentoring Celebration to be held on Monday, February 3, 2020, at 8:00 a.m. in the Student Union, Pegasus Ballroom.
External Scholarship Opportunities
James Beard Foundation Invites Applications for 2020 Scholarship Awards
Deadline: June 11, 2020
The James Beard Foundation is a nonprofit organization with a mission to celebrate, nurture, and honor chefs and other leaders making America's food culture more delicious, diverse, and sustainable for everyone.
To advance this mission, the foundation is inviting applications for its 2020 Scholarships. Established in 1991, the scholarship program assists aspiring and established culinary professionals who plan to further their education at a licensed or accredited culinary school or hospitality institution, college, or university. A number of scholarship opportunities will be available in 2020, including JFB's National Scholars program. Launched in 2016, the program provides ten high-impact scholarships of $20,000 each to food-focused candidates of exceptional talent. Candidates are selected according to academic merit, as well as personal and professional recommendations, and one awardee will be selected from each of the ten geographic regions defined by the James Beard Foundation Awards.
Additional scholarships to be awarded this year include:
Andrew Zimmern's Second Chances Scholarship — One scholarship of $10,000 will be awarded to students faced with extreme challenges to provide them with a second chance to overcome their hardships.
Bern Laxer Memorial Scholarship — Two scholarships of $11,400 will be awarded to Florida residents to support their culinary studies, hospitality management, or viticulture/oenology.
Miljenko "Mike" Grgich's American Dream Scholarship — One scholarship of $5,000 will be awarded to an applicant for a wine studies program.
Robert Mondavi Winery Memorial Scholarship — One scholarship of $10,000 will be awarded to an applicant who is planning to enroll or is currently enrolled in a beverage, wine studies, or hospitality management program, or a master sommelier program at an accredited culinary school, hospitality institution, college, or university.
See the James Beard Foundation website for complete program guidelines and application instructions.
NEWH Sunshine Chapter Scholarship
NEWH Sunshine Chapter is awarding up to $30,000 in scholarships to students pursuing a major and career objective within the Hospitality Industry (interior design, hospitality management, culinary, architecture, etc.). Scholarship submission deadline extended to Friday, May 29, 2020.  
Link to NEWH Scholarship flyer
Link to NEWH Scholarship information letter
NEWH Scholarship Criteria:
Actively enrolled student: 2-year program freshman and above, 4-year sophomore/second year and above, or graduate level attending college in: Northern/Central Florida or Mississippi
3.0 GPA (cumulative) overall "B" average or grade percentage of 83% – 86% equivalent
Financial need through college for past/current/upcoming tuition or program approved books/supplies
Major and career objective within a hospitality related field (interior design, hospitality management, culinary, etc.)
NEWH Did You Know…:
NEWH membership is not required but is FREE to students + full-time educators
Students may apply for scholarships by email, mail or online: www.newh.org (Scholarship/Chapter Scholarship Application/Sunshine)
Link to NEWH Scholarship Application
Questions and/or to submit application/documents: newhsunshinescholarship@yahoo.com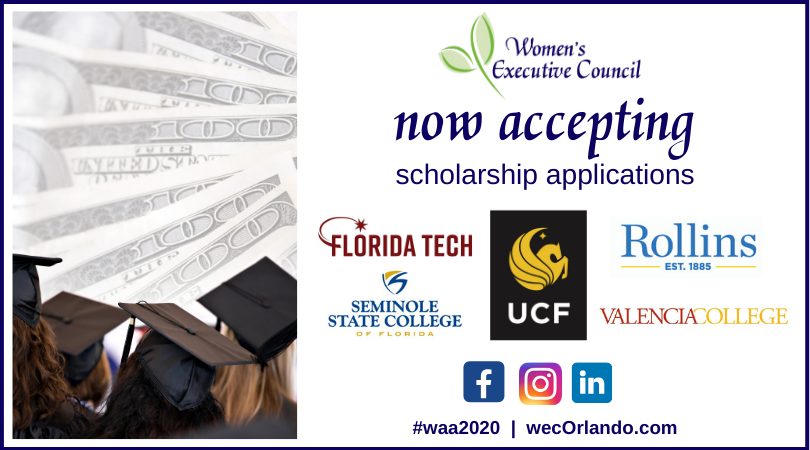 WEC Scholarship Program
The application submission deadline is May 31, 2020.
Beginning in 1987, the Women's Executive Council has granted scholarships to deserving women who are entering or attending colleges in the Central Florida area. This year the Women's Executive Council will be awarding scholarships of $1,972 each. The $1,972 scholarship commemorates the founding year of WEC – 1972.
ELIGIBILITY REQUIREMENTS 
The applicant must be registered for at least 12 hours at the University of Central Florida, Rollins College (including the Hamilton Holt School evening division), Valencia College, Seminole State College, Florida Institute of Technology. High School students must be a Senior and registered to attend one of the above-stated Colleges/Universities for Summer or Fall 2020.
The applicant must have at least a 3.2 GPA pursuing an Undergraduate, Master's, or Doctorate Applications will not be considered without a transcript (official or unofficial) e-mailed directly to WEC: scholarships@wecOrlando.com (as a PDF with the school contact information listed). An unofficial high school transcript is required if the applicant is entering college for the first time.
The application and all attachments must be received by the WEC Scholarship Committee by the deadline noted below to be considered.
Please review your package before your submission, as an incomplete package will NOT be considered. 
IMPORTANT DATES
Application and all attachments must be e-mailed by end of the business: May 31, 2020.
Notification of award selection July 1, 2020. ONLY Winners will be notified and listed on our website. Please be prepared to submit a short biography and high-resolution professional photo by July 15, 2020 if you are selected.
If you are interested in applying for a scholarship, please follow the directions at this link and submit your materials by the May 31, 2020 deadline: https://www.wecorlando.com/Scholarship-Application-Information/
Professional Tennis Management Grants and Scholarships
A career in tennis has never been easier to achieve than with a Professional Tennis Management (PTM) track through the Hospitality Management degree at UCF Rosen College.  There are grants and scholarships available for PTM students through the USTA Foundation at www.ustafoundation.com  and click on the grants and scholarships tab at the top of the page. Additional questions, please contact Jill.Fjelstul@ucf.edu Director of  the PTM program at UCF Rosen College.