What is PREP?
Unique to UCF Rosen College of Hospitality Management, the Professional Rosen Experiential Portfolio empowers students to take advantage of a unique, wide range of personal and professional development, internship, volunteering and mentoring, undergraduate research and leadership opportunities designed to enhance the student experience and ensure progressive engagement toward career readiness upon graduation.
Designed to help students showcase their unique skills and experiences and stand out in the crowd, PREP provides a menu of 1,000 hours of opportunities for each student.
Interwoven with 750 hours of progressive professional development through three internship courses, PREP provides students with a flexible 250 hours of opportunities for them to select those activities that best fit their needs and ambitions in an integrated and seamless manner.
Students who take full advantage of PREP will be confident, resourceful and resilient, well networked, industry connected, and most importantly, career ready upon graduation!
Paired with a comprehensive curriculum, the skills and experiences obtained from PREP will help students shape their career, define their leadership, and direct their future.
All students have to do is sign up and enroll in the many opportunities open to them and PREP FOR YOUR NEXT STEP!
For further information please watch the PREP Introductory Video and/or read the Introduction to PREP PDF.
Still have questions? You may email prep@ucf.edu.
See the In This Section drop down menu for a link to Internships and P.R.E.P. Connect.
How to begin Your PREP Journey
Your participation in PREP is encouraged from your very first day at the Rosen College. By visiting one of our many experienced Academic Advisors or visiting Rosen Life you are free to join one of the many clubs or student organizations featured at the Rosen College Campus as well as those located at UCF's Main Campus. You can also check the current semester's workshops and employer events that are open to all students at all times.
The evidence is clear nationwide that the more you participate and engage in extra-curricular activities throughout your time at college, the more PREPared you are for career upon graduation. So step up to PREP and take full advantage of all the opportunities open to you to progress.
Your 250 hours of open opportunities in addition to your 750 hours of internship opportunities will enhance your student experience and ensure progressive engagement toward career readiness upon graduation
The full list of Registered Student Organizations and Clubs, personal and professional development, internship, volunteering and mentoring, and leadership opportunities can be found on the Office of Student Involvement (OSI) website. You may also find a list of Registered Student Organizations and clubs by following this path in Webcourses Rosen College HUB. The page is in Modules – Additional Resources – Student Groups.
This is a small sample of Registered Student Organizations (RSO) and Clubs
Volunteering and Mentoring
Admitted Student Welcome Event
Pineapple Pantry Volunteer Program
Pineapple Pals Program
Pineapple Podcast (recently teaming up with RCLC)
POMP- KnightThon
POMP- Rent a Pup
POMP – The Rosen College Peer Outreach Mentoring Program (pomp@ucf.edu)
Rosen Life
RISE – International Student Support Group
UCF Rosen College Alumni
Leadership
 Study Abroad Opportunities
 Self-Learning
Undergraduate Research Opportunities
Career Services and Experiential Learning Workshops and Events
Career Fair (Spring and Fall on Rosen Campus)
Career Services Workshops
Experiential Workshops (Lunch and Learns included!)
The Role of Internships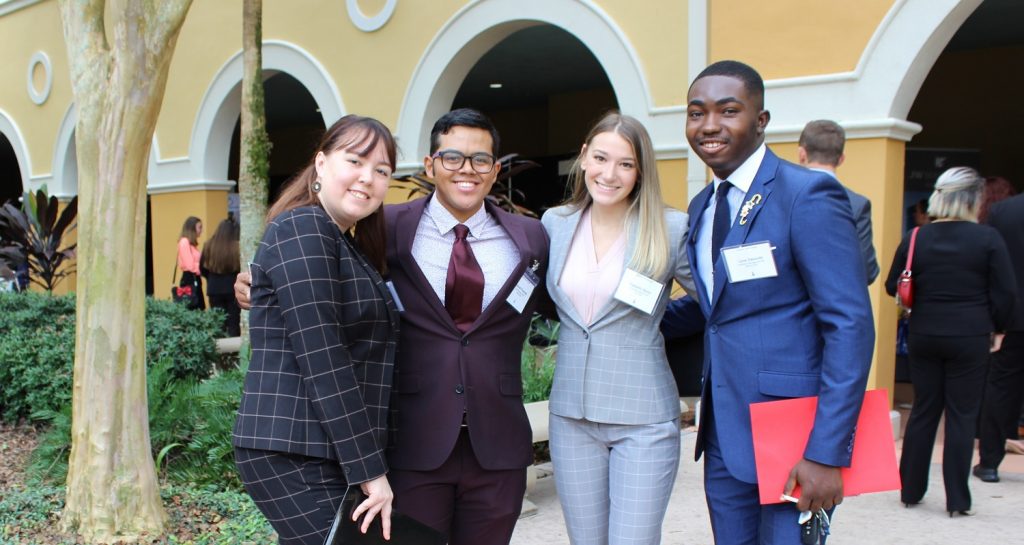 The internship experience is central to the PREP program as it provides 750 of the 1,000 required PREP hours and represents the vehicle by which your engagement with the various opportunities open to you is recorded and rewarded.
We have a highly experienced internship and career services team at the Rosen College who will work with you to help fine-tune your internship progression as you advance through your academic studies.
The foundations of PREP are built on your engagement with four distinct elements:
Open 250 – 250 hours of engagement with Rosen College or UCF clubs or student organizations, paid or unpaid internship hours, volunteering and mentoring, leadership opportunities or applied student research that you think will enhance YOUR student experience and ensure progressive engagement toward YOUR career readiness upon graduation.
250 hours is the minimum (and that which is necessary for graduation) with most students exceeding this amount to demonstrate they are fully PREPed for their futures. Remember that ALL PREP activity makes for excellent résumés!! Your Open 250 hours of engagement will be reported/assessed as you participate in our progressive internship program as follows.
Internship I – 250 hours of Personal and Professional Development class-based activity with a focus on professional development with no verification of employment required. Yes, this means that you do not have to have an internship/job to take this course! The course will include professional communication, networking and interviewing skills, résumé and letter writing, time management skills, job search strategies and soft skills. Internship I is now your "development" class to help you find the most meaningful opportunities, as you start your progression through your internship experience and eventually launch your career. The goal is for you to have the best chance of obtaining the internships/jobs of YOUR choice. In addition, you will check in with your Open 250 hours progress so far.
Internship II – 250 hours of Exploring Your Career Path with verification of employment required. The course will include participation in leadership workshops, use of verbal and written communication skills, mentor identification, demonstration of guest service skills and self-learning training plus an update on your Open 250 hours progress to date.
Internship III – 250 hours of Launching Your Career with verification of employment required. The course will include further participation in leadership workshops, the development of critical thinking skills, interpretation of employer feedback (i.e. personality tests, social media presence) and utilization of networking skills (i.e. salary negotiations, benefits, relocation and recruitment) to acquire a position in your chosen field. The course concludes with assessment of your Open 250 hours and award of your 1,000-hour PREP certificate!
Launching in Fall 2020 – put some PREP in YOUR Step!!