UCF Rosen College Hosts Florida Board of Governors' Dinner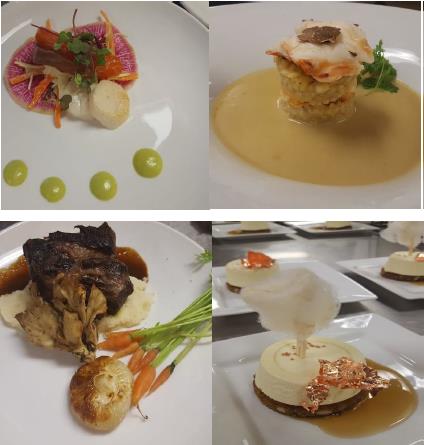 "Be our guest" took on new meaning in the Disney Dining Room at UCF Rosen College of Hospitality Management on Wednesday, November 8, 2017, when the College and the dean, Dr. Abraham Pizam, hosted the Florida Board of Governors at a spectacular dinner.
Compliments from the Florida Board of Governors included: "the dinner was the best meal they ever had", and "well worth the drive from Tallahassee", as well as "amazing".
The four-course meal prepared by UCF Rosen Chefs/Instructors Chef Robb Seltzer, Chef Renee Bence, Chef Cesar Rivera Cruzado and Chef Jay Judy, with dessert crafted by Chef Tom Brassil, was a feast for the palate and the eyes. The gourmet meal menu was presented as follows: 
Rosen College of Hospitality Management
Florida Board of Governors Dinner
The Cure
Honey Cured Loch Duart Salmon and Deep Sea Scallop Carpaccio
Florida Watermelon Radish, Carrot, Heart of Palm
Champagne 2006
Fall Vegetable Landscape
Gently Pickled Cauliflower, Chioggia Beet, Golden Beet and Brussels Sprout
House Made Buttermilk Ricotta
Florida Lobster Duet
Alba White Truffle & Florida Spiny Lobster Risotto
Spiny Lobster Bisque, Fresh Seasonal Alba White Truffles
Chablis 2013
Farmhouse Style Braised Beef
Wagyu Short Rib and Oxtail, Celeriac Puree, Roasted Wild Mushroom, Cipollini Onion, Carrot
Margaux 2009
Dessert
Frozen Smoked Black Tea Soufflé
Foie Gras Cotton Candy
Sauternes 2010
Assorted Chocolates
Drs. Frank Juge and Robin Back, professors who instruct on wine and spirits, designed the wine presentations with an assist from J.J. Torres. The Florida Board of Governors was served by Rosen College Catering and Events staff including Nicolis Marsili, Melissa Baxter, and four students who are learning restaurant and food service management, Caitlan Sherman, Anna-Stephanie Stoychev, Emma Haines & Violetta Gir.
Our thanks to the Florida Board of Governors for giving us the distinct honor and pleasure of hosting them at our campus.
— (November 14, 2017)