Culinary Medicine – A Partnership in Hospitality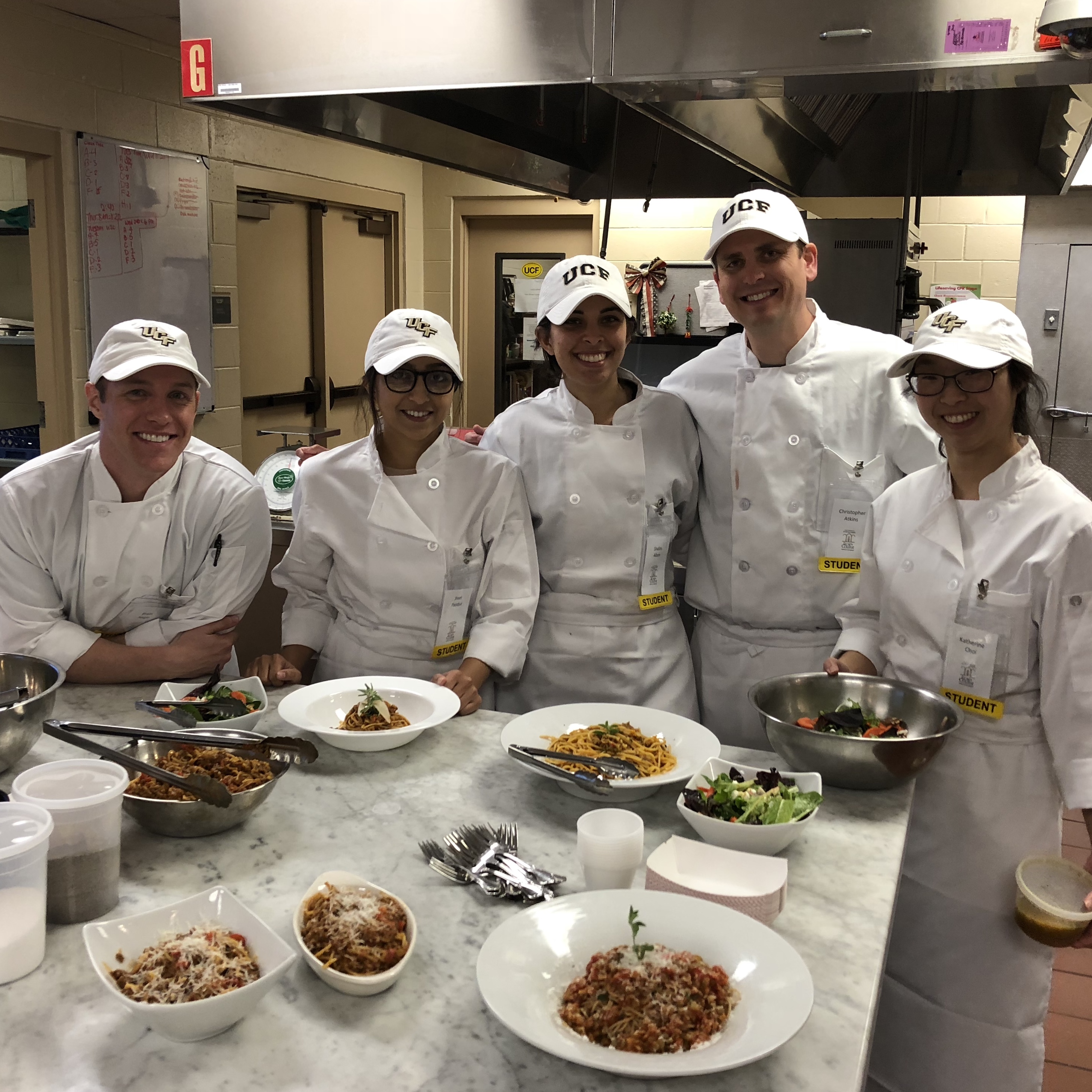 They wear white coats and white hats! They are definitely the good guys and they're fighting against obesity, heart disease, high blood pressure and other illnesses that are often the result of poor diets. The good guys in this case are 13 fourth year medical students from UCF College of Medicine, They are about to take on the world in their residencies all across the country and here is Central Florida, and they are armed not only with the knowledge of medical practitioners, they are also trained in Culinary Medicine.
The 13 students were part of a partnership program between UCF Rosen College of Hospitality Management, UCF College of Medicine, Nemours, the YMCA of Central Florida and a host of dietitians and farm to table food purveyors.
"It's a four-week elective, we review two modules per week, eight modules in total," said Dr. Rob Karch, a pediatrician at Nemours and instructor at UCF College of Medicine. "We're offering the course just months before these medical students become physicians, so this is a wonderful opportunity for them to learn and develop skills that they wouldn't otherwise have, that they can take with them into their future practices, but also into their personal lives to remain healthy through residency and into their professional careers."
This course is modeled after the Tulane University Goldring Center for Culinary Medicine program. There are approximately 20 other medical schools running similar programs.
The program at UCF Rosen College in partnership with UCF College of Medicine has just joined the ranks of medical schools that have incorporated this program into their curriculum.
The med students have book-learning time in classrooms about the benefits of healthy eating. Then they take that knowledge into the kitchen with trained chefs and registered dietitians to practice what they have been taught by preparing recipes that promote healthy eating.
(l-r, Trish Kellogg, MS, RD, LDN; Dr. Rob Karch, Pediatrician, Nemours; Gary Appelsies, YMCA of Central Florida; Chef Robb Seltzer, UCF Rosen College)
"Future doctors need to do a better job talking to their patients about nutrition, food and eating," said Dr. Rob Karch, a pediatrician at Nemours and instructor at UCF College of Medicine. "Because the diseases of lifestyle that they are likely going to encounter or that they will encounter in the future are influenced heavily by diet. Like Diabetes, like obesity, like hypertension and coronary vascular disease and heart disease."
Karch worked diligently along with Chef Robb Seltzer at UCF Rosen College to make the Culinary Medicine program a reality and developed the necessary partnerships with other health professional in the food industry to launch this first of its kind program in the state of Florida.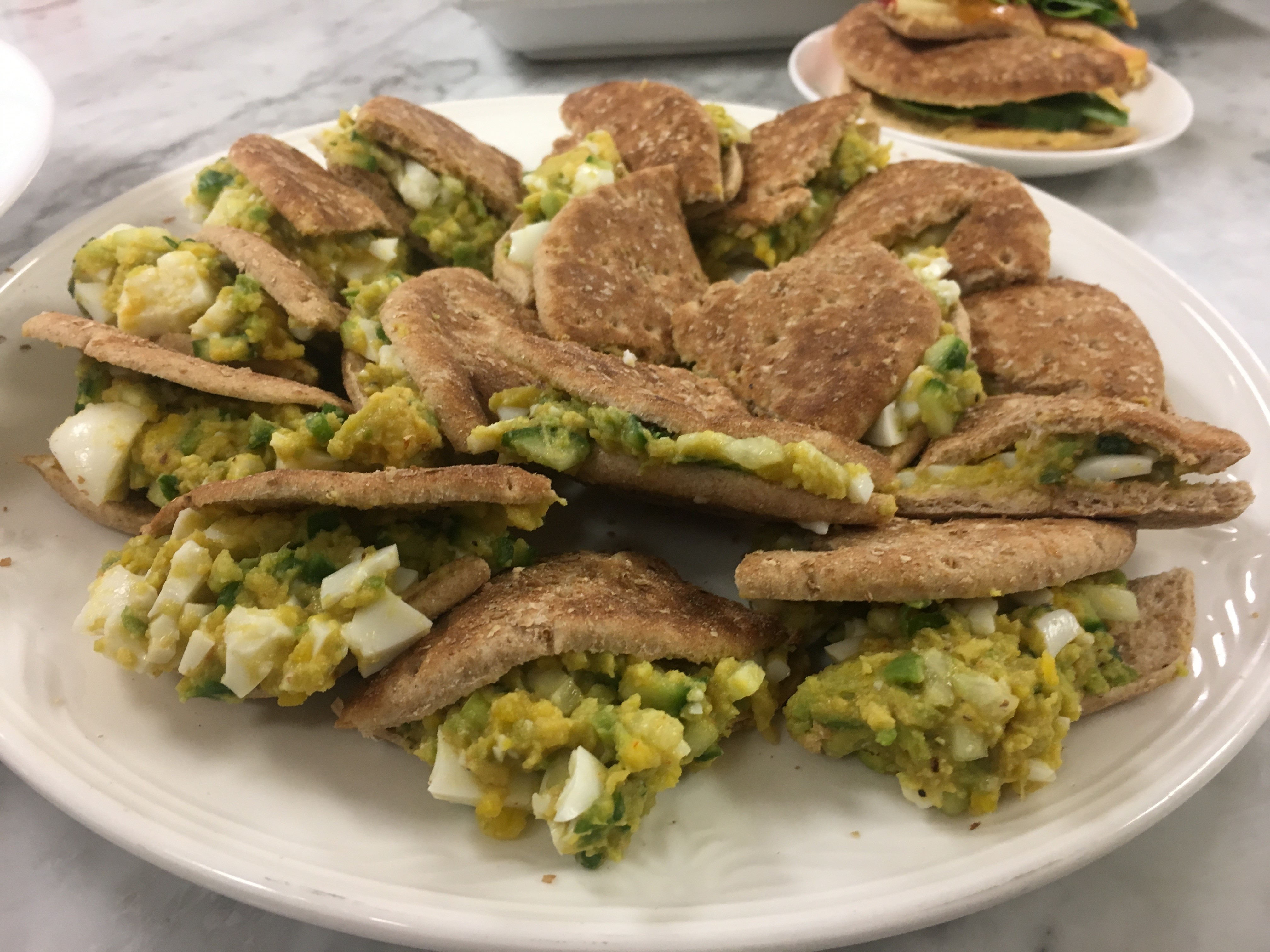 "There so many amazing local food programs and people working to deliver healthy food to our population in Orlando," said Chef Seltzer, the Associate Director of Food & Beverage Operations at UCF Rosen College. "Through the recipes we are cooking, I learned how much I did not understand about the Mediterranean Diet and how it is the diet for life."
While in the kitchen labs at UCF Rosen College, the med students worked with Chef Kate Wilson, an instructor who is a favorite among the college's students. She demonstrated how to make a pizza using cauliflower as a crust and seasoning with garlic, spices and very little cheese, along with a host of other dishes including sandwiches, salads and even dessert, a frozen banana pudding made from overripe fruit.
"The students will have a better understanding of the difficulties patients have with eating proper healthy diets due to medical conditions. This is often due to a lack of knowledge of preparation techniques and affordability," said Chef Wilson. "The students will be able to counsel and even demonstrate proper techniques and menus that will satisfy the tastes and desires of patients that often feel punished by having to keep a healthy diet."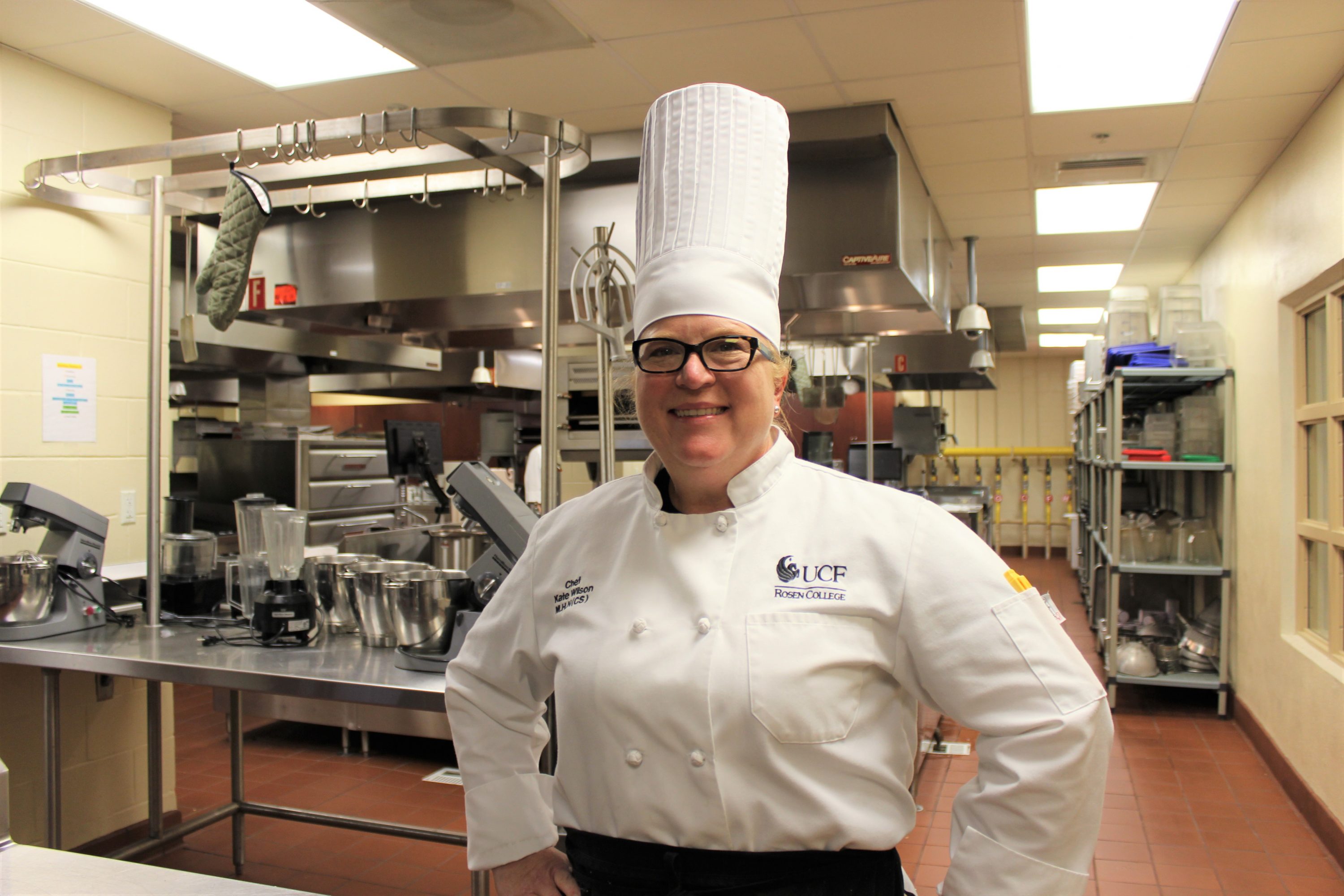 In securing product for the hands-on meal prep, the program worked with SEED2SOURCE a local food system. The idea was to demonstrate that farm-to-table can help in treating illnesses with freshly prepared ingredients.
"There is a true disconnect in the role of local, fresh produce as a means of which to treat and support healthy lifestyles (Food-as-Medicine). Many of the chronic conditions the population is plagued with can be traced to dietary lifestyles," said Jennifer Waxman, Founder & Managing Partner of SEED2SOURCE. "All food is not created equal, therefore simply consuming fruits and vegetables that are devoid of any nutrients is an indicator of poor health. Those treating patients need to have an understanding of the true role of nutrition and the consumption of local, freshly harvested, produce."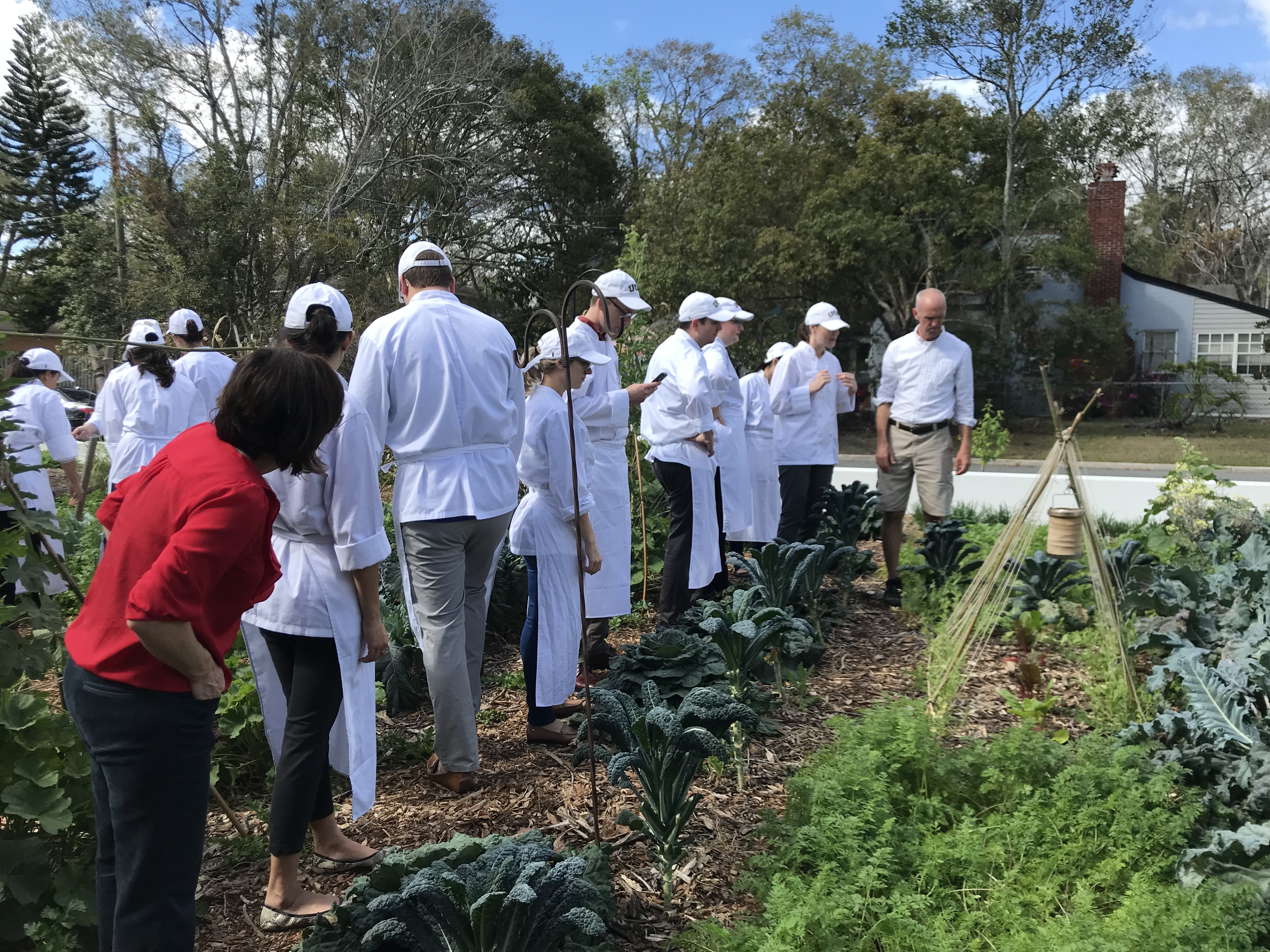 Some days of the course found the med students and instructors down on the farm with the tools they would use to create meals, other days they went into the community at the YMCA of Central Florida and worked with guests to demonstrate the benefits of healthy eating. This year's pilot Culinary Medicine program was such a success, there is a wait list for the elective next year and considerations are being made to have two sessions in order to accommodate more fourth year medical students.
These partnerships will certainly benefit many Americans who will encounter these physicians in the future.
###