Decades of Service Awards Honor Faculty and Staff at Holiday Luncheon
On December 7, 2018, UCF Rosen College of Hospitality Management hosted a holiday luncheon, to not only celebrate the season, but to highlight outstanding faculty and staff members as well. Several faculty and staff members were recognized with the Decades of Service award, to honor individuals that have devoted 10, 20, 30, or even 50 (or more) years of service, specifically to the Rosen College and hospitality management education. These awardees have served years of service with no gaps in time whatsoever.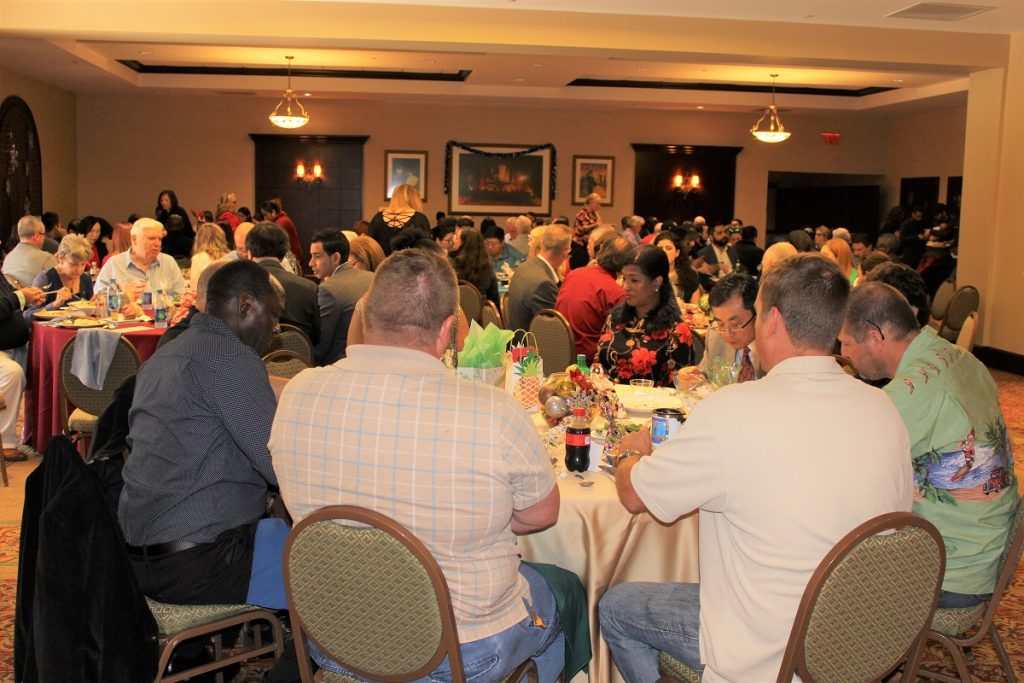 The Decades of Services Awards marks the beginning of a new annual tradition at the college, where people who have worked hard to make Rosen College a prestigious institute of higher education, will be highlighted. The award demonstrates gratitude and appreciation to the faculty and staff, and commends them for exemplifying the three pillars of Rosen College: Leadership, Professionalism, and Service.
While the Rosen College of Hospitality Management has only been open for 14 years, the roots of the hospitality degree programs at  UCF run much deeper. The programs have been a part of the university well before the standalone campus opened. Dozens of deserving honorees received the Decades of Service awards, but there was only one who had served 50, or more years. Dr. Frank Juge has been with the UCF hospitality management degree program for approximately 51 years, contributing to the college and UCF in many ways. This semester (Fall 2018) marks Dr. Juge's final semester with the college. He is one of three charter faculty still at UCF.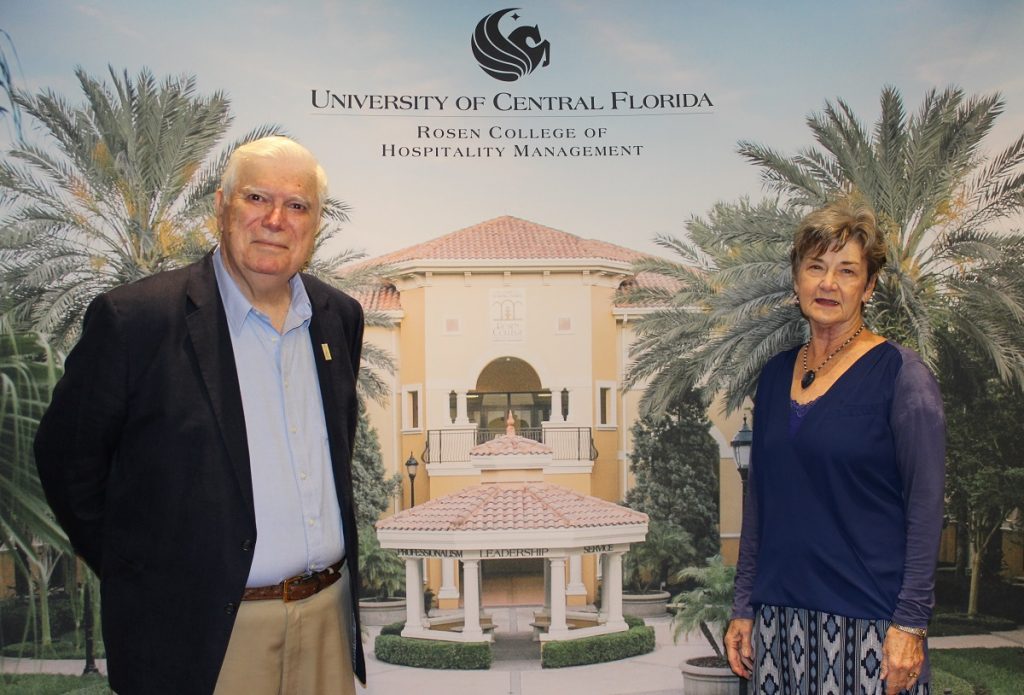 Over the past 46 years, Dr. Juge has held the rank of Professor, served as Dean of Graduate Studies, Associate Vice President, acting Vice President for Research, Vice Provost and Acting Provost. He is proud of his role in establishing the Burnett Honors College, the Karen Smith Faculty Center for Teaching and Learning and web-based learning at UCF.
In 1975, Dr. Juge taught the first course at UCF featuring the chemistry of wine and winemaking. A certified Advanced Level Sommelier, he has also grown a grape arbor and made wine as a hobby. He has visited the major wine regions of the world, including the French Loire Valley, Alsace, Burgundy and Bordeaux, the Rhine region of Germany, Spain, Australia, Chile, Japan, South Africa, the many important wine regions of the United States from south to north and east to west, Western Canada, Switzerland, Austria, Greece and Italy, specifically Tuscany, Piedmont and Veneto.
In May of 2012, Dr. Juge was recognized by Orlando Magazine with a Lifetime Achievement Award and inclusion in their Dining Hall of Fame. He is an active member of the Society of Wine Educators and a regular speaker at UCF events for the Burnett Honors College and LIFE at UCF, an educational program for senior citizens.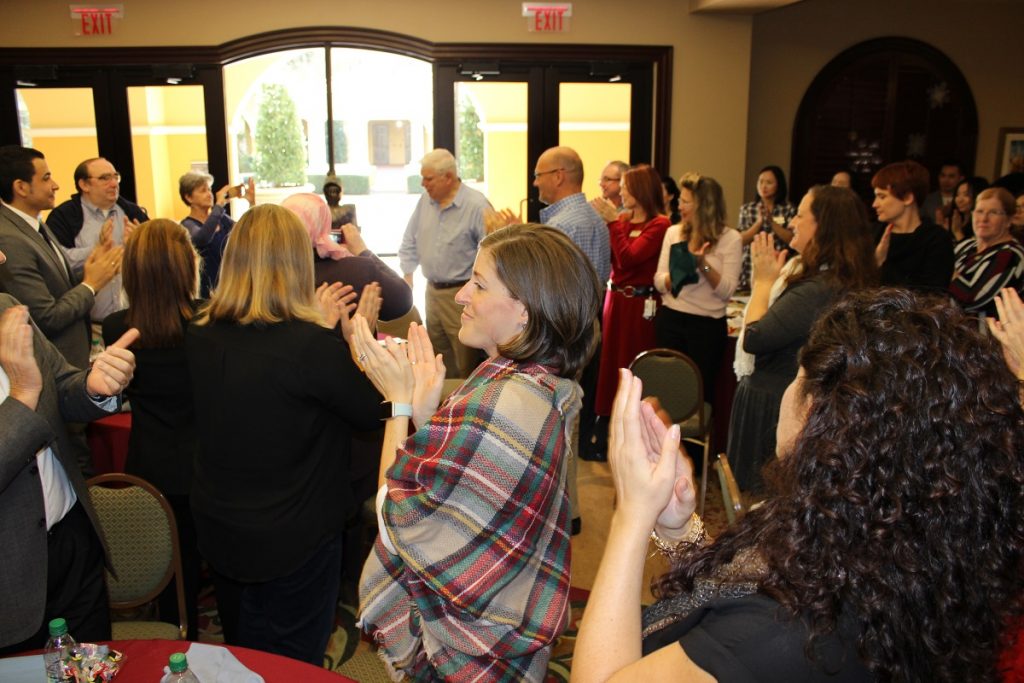 During the ceremony, a few faculty and staff members reflected on Dr. Juge's impact on UCF and spoke of how he has comforted and supported his colleagues, and been commended by his students. The room was so moved by Dr. Juge's contributions to the college that the faculty and staff gave him a standing ovation.
Afterwards, the college presented Dr. Juge with a plaque and cake to honor his work in the hospitality degree program at UCF for over 50 years. Dr. Juge has more than proven that he is a very integral part of the UCF Rosen College family, with his background and knowledge on the industry, as well as an exceptional record of performance.  Dr. Juge's wife, Eta Juge, joined in the celebration.
Additional photos from the Decade's of Service Awards Holiday Luncheon can be found on the Rosen College Facebook page: https://www.facebook.com/pg/rosencollege/photos/?tab=album&album_id=10156954083134339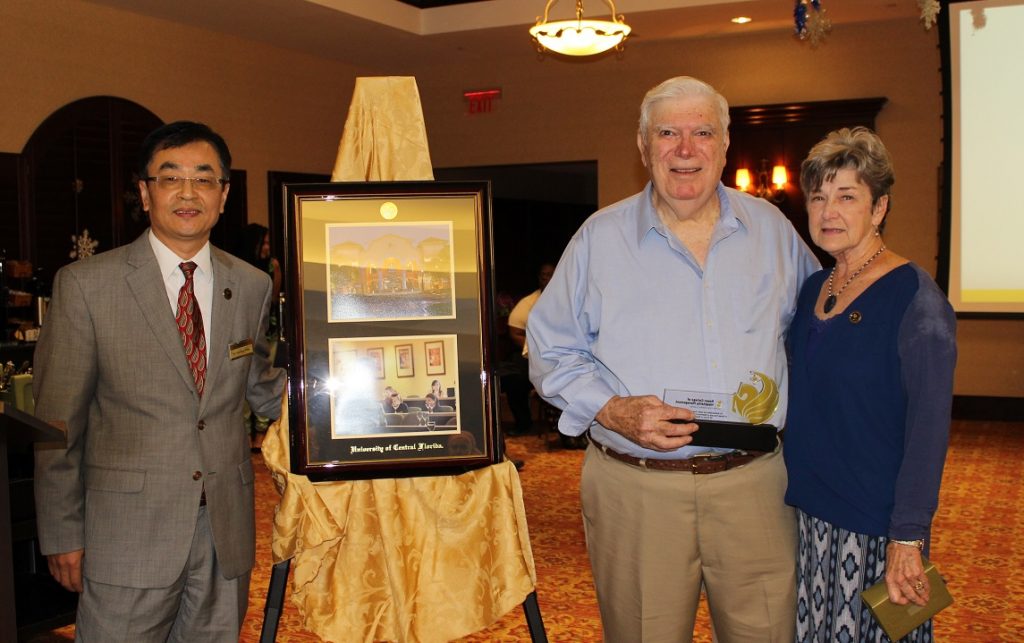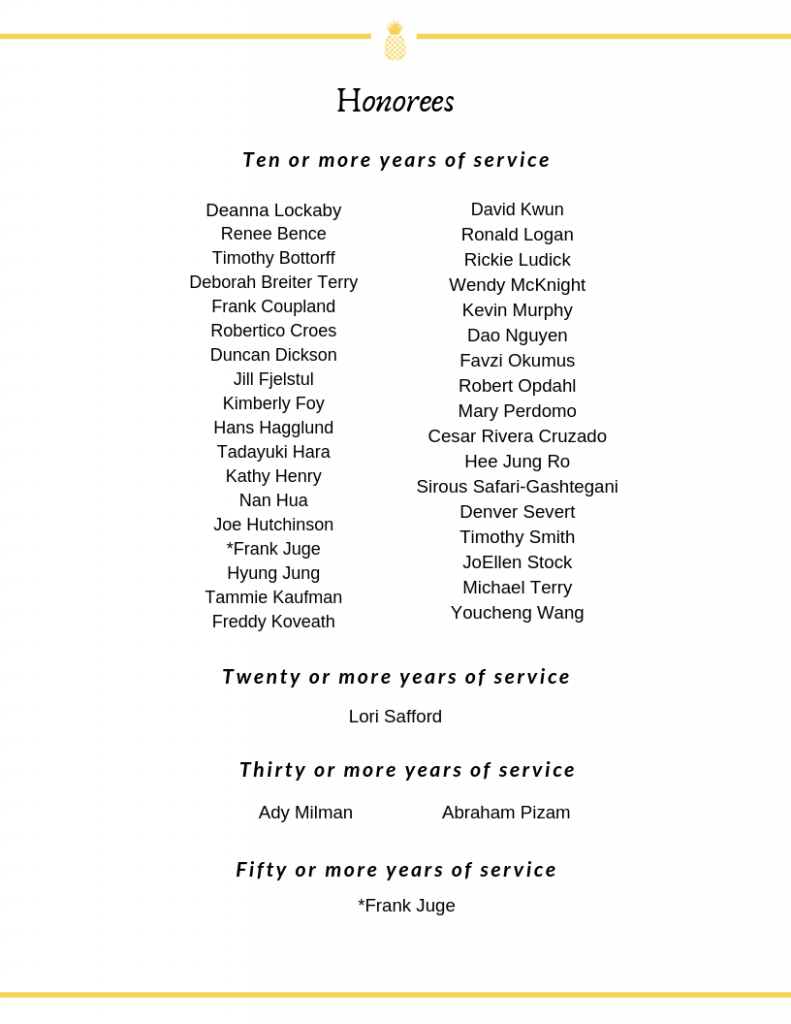 ###
— Joseph Sardone, PR Intern