Rosen College Dean's Star Award – Jessica Wickey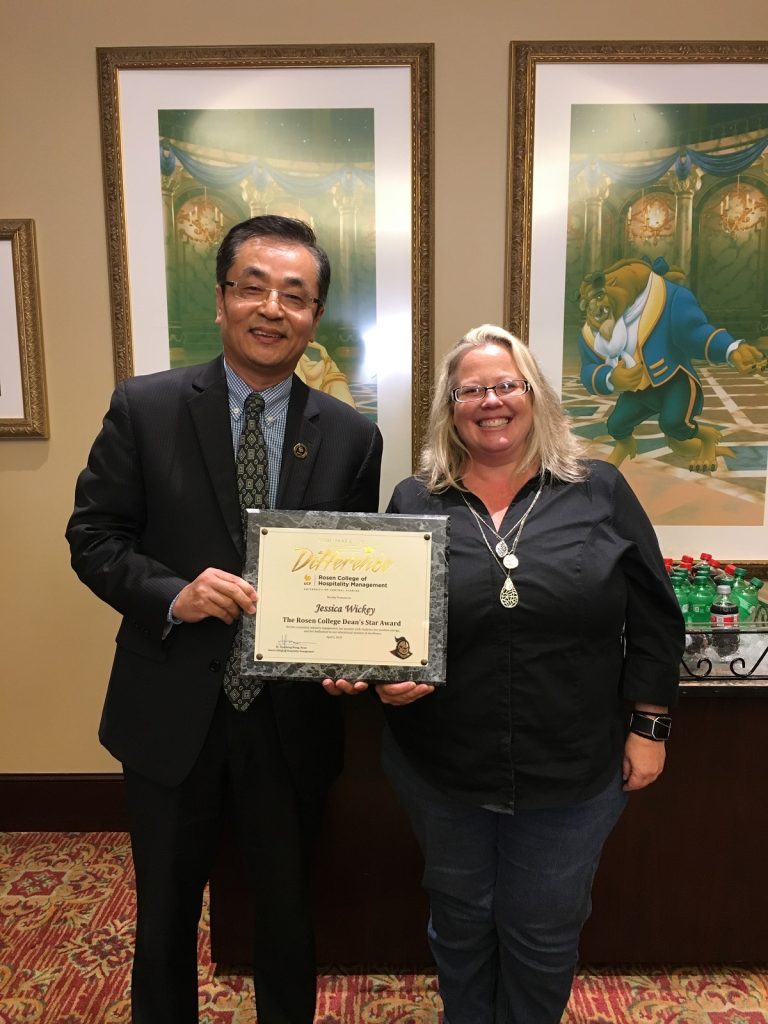 On April 5, 2019, Dean Youchneg Wang presented the third Rosen College Dean's Star Award to Jessica Wickey, Program Director for Rosen College Internships.  Jessica is a UCF Rosen College of Hospitality Management alumna, graduating with her Master's in Hospitality and Tourism Management in 2013. Ms. Wickey has 25 years of experience in the hospitality industry, including restaurants, resorts, events, convention centers, non-profit fundraising, and live entertainment. Ms. Wickey is an avid sailor, completing her pilot's license and enjoys volunteering in the community.
Here are the qualities that led the dean to choose Jessica for the Star Award:
At any elite educational institution, there is a very small level of difference amongst top educators. So, what is that special something found in a leader? Perhaps the answer is an expert knowledge of policies and procedures, or possibly the effort to get to know each colleague, student and industry partner that crosses paths with them. This person has not only mastered all of the above but is redefining what it means to lead. The most proper answer to this question is incessant positivity, the ability to lift others, the selflessness to go above and beyond job responsibilities and the difficult work of breaking barriers and going into uncharted territory where nobody has been before. 
Their dedication of leading by example epitomizes their true character of wanting to make a genuine difference.  They also exemplify the power of our scale by the endless pursuit of excellence and the commitment to change the world one student at a time. When you hear someone's name, you often make a connection to goodness or sometimes greatness, and in some cases even with mediocracy. In this instance, the common reaction to this name is that of being star struck. When this person is around, you are for sure to be surrounded by a strong force of positive energy and every one in the room will feel it.  If you are meeting this force of nature for the first time, your question will be "are you THE WICKEY"?"  
Congratulations Jessica!