International Internships in hospitality and tourism set Rosen College of Hospitality Management apart from other colleges and universities that teach similar courses and have similar degree programs. Dr. Tad Hara started the conversation of paid internships for Rosen College students many years ago. He cultivated relationships with the Japanese Ministry and Japan Hoteliers, forging a partnership for both employers and our students. Starting in the academic term of 2013-2014, Dr. Hara, the Internships Team, and Sheila Perez prepared all the required Certificate of Eligibility's and VISA's and sent the first few Rosen College Students to Japan.
So far, Rosen College Students are working in paid internships with Japanese Hotels, Tourism, and Events. Our current Japanese partners are the Ritz-Carlton Kyoto, KPG Hotel and Resorts Kafuu Resort in Okinawa, the Japanese Association of Shrines and Temples in Tokyo, Hotel Rivage Akebono in Fukui, Takami Bridal in Kyoto, the Marriott in Tokyo (part of the Mori Trust Hotel Group), and Hotel Granvia in Kyoto (part of the Japan West Railway hotel group). As of this year, 52 Rosen College Students have worked in paid positions for either three or six-month internships in Japan. Starting in May 2020, we welcome the Ritz-Carlton Tokyo and Shangri-La Tokyo as paid six-month internships.
Jessica Wickey, Director of the Internship  Program at Rosen College, recently took a journey to Japan. Below are details of the visit to the far east. For a complete travelogue with an abundance of photos click here.
Japan Itinerary – Jessica Wickey, David Wixted, and Tad Hara, Ph.D.
May 17 – May 29, 2019 Travel Dates
May 17th – Depart USA,  May 18th – Arrive Tokyo, Japan, May 29th – Depart for USA
 
Day 1: Travel and rest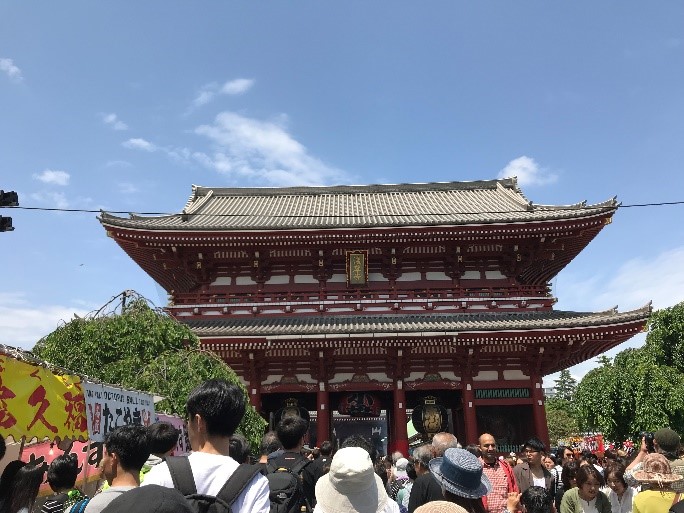 Day 2: Tokyo!
Tokyo was amazing today! We toured the Imperial Palace grounds, walked the streets of Akakusa and saw a festival parade at the Demboin Temple Garden. We walked the grounds of the oldest Temple in Tokyo, Senso-ji. We took a boat ride down the Sumida River to Tokyo Bay then walked the beautiful Sumida Park. Ended the day strolling through Giza, the fashion district. Thanks Tadayuki Hara for giving us the VIP tour.
Day 3: Tokyo!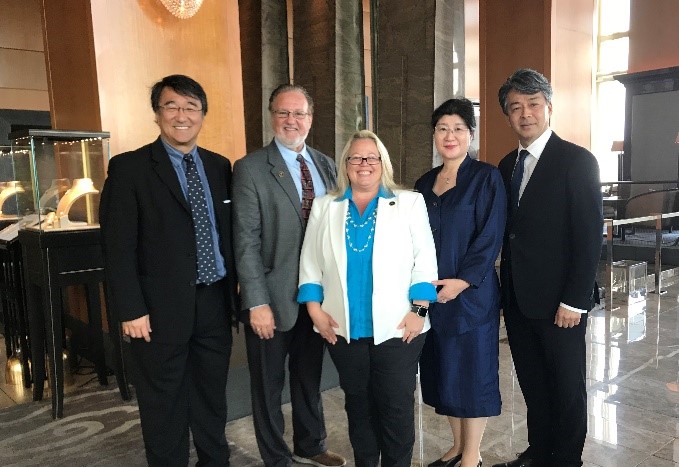 MORNING:
What a day! We met and discussed paid internships for our students with these organizations:
The Ritz-Carlton Tokyo

Yuji Tanaka, Multi Property Vice President Luxury Japan and General Manager of Ritz Carlton Tokyo
Sophia Mayumi Kumagawa, Director of Human Resources

Mori Trust Marriott Tokyo (where four of our students are starting June 10, 2019)

Makoto Yamashita, Acting General Manager
Kuniko Watanabe, Operations Department Human Resources and Learning and Development Manager

Shangri-La Tokyo (one of only 5 hotels in Japan with a 5 STAR rating!)

Setsuko Takeo, Director of Human Resources
Orie Matsushita, Human Resources, Talent Acquisition Manager
Day 3: Tokyo!
EVENING:
We delivered a presentation to 20 future hotel partners on our paid internship program at the Yadoya Daigaku Business School for the Hospitality Industry; arranged by the Managing Director, Mr. Hirokazu Kondo and the Course Director, Mr. Kenji Hiraga. In attendance was Mr. Tsuguyoshi Shimizu, the President of the Japan City Hotel Association. Mr. Shimizu is also CEO for Hotel Rivage Akebono in Fukui, Japan. Last summer he hosted one of our students in a paid internship at his hotel. She worked for the hotel, as well as with the tourism office in Fukui. Afterwards the hoteliers joined us for a traditional Japanese dinner at a Chinese restaurant. The food and conversation were incredible.
Day 4: Tokyo!
We were interviewed by the Editor-in-Chief, Mr. Tatsuya Kanazawa from the Monthly Magazine, "Hotel Ryokan" about our internship program. David and I gave an hour-long interview, while Dr. Hara translated.
We then met with the House of Representatives Member, Mr. Kozo Yamamoto and thanked him for all his support with sending our students to paid internships in Japan. We toured the government office and the House of Representatives floor. It was incredible! We dined in the National Diet with members of Mr. Yamamoto's team.
In the afternoon, we met with the Japan Tourism Agency Deputy Director, Mr. Soichi Taguchi and Special Official Human Resources Development Office, Mr. Takafumi Makino to discuss our program and future partnerships.
The final meeting for the day was with the Japanese Association of Shrines and Temples (JTAST):
Takayuki Hirose, Executive Director
Takuma Yamazaki, Secretiriat
Miwa Yamamoto, Secretariat
JTAST has been hiring our students for four years! Two students start June 10, 2019 for this summer! All the English content on JTAST's webpage http://sanpai-japan.com/about-us/ was created by our Rosen College Students! The students create written content and video blogs for use by English speaking tourists. We ended the evening with an incredible dinner with our friends at JTAST.
Day 5: Kyoto!
We traveled via high-speed train this morning from Tōkyō to Kyoto. It was awesome! All the trains in Japan are on time, and most at fast speeds. Travel the JR West Green Car for reserved comfortable seats!
First meeting of the day!
Japan West Railway and Hotel Granvia

Shinnosuke Sasakura, Manager General Affairs & Personnel Group
Daisuke Okada, Chief General Affairs & Personnel Group
Rika Hisamoto, Chief, Human Resources
They hired their first intern this year! She starts on July 1st. They were looking for a student who was bilingual in English and Spanish, and we received many resumes to fill the competitive spot! Japan West Railway owns multiple properties around Japan and plan to hire more interns next year.
Second meeting of the day:
Ritz-Carlton Kyoto:

Mark Neukomm, General Manager
Mayuko Okoshi, Director of Human Resources
We enjoyed a delicious lunch, and warm conversation. They have been hiring our students for five years now. The Ritz-Carlton is another of the 5 star properties (only 5 in all of Japan)! They host six-month internships from July-December and January-July each year. Students who have this work experience on their resume makes them top candidates for recruiters.
Third meeting of the day was with the family owned and operated organization:
Takami Bridal

Mio Zushi, Recruiter
Rika Takakura
Takami Bridal is the largest Wedding Event Company in Japan, hosting hundreds of wedding and social events each year. They also have offices in Hawaii! Takami Bridal have been hiring our students for the last three years. The student this summer just arrived Saturday and we were able to surprise her!
We ended the day touring the UNESCO World Heritage site of Shimogamo-jinja Shrine. Amazing!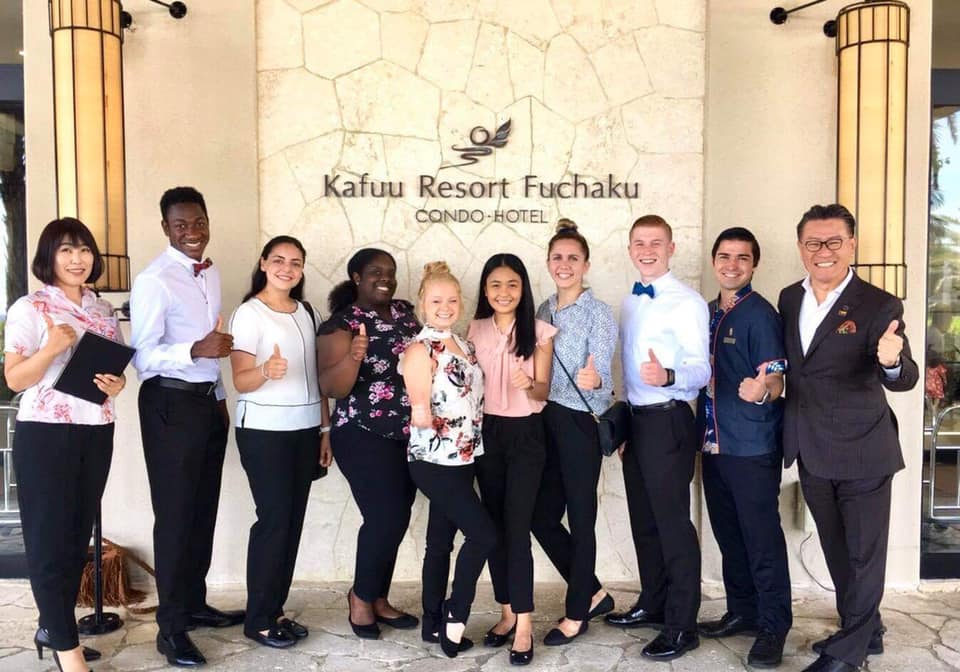 Day 6: Kyoto!
What a beautiful city. We toured an amazing Konchi-in Temple. It was so serene and zen. Great way to start day six of our Japan adventure!
We then travelled by high-speed train to Osaka, to Doshisha University. We were honored to sit on a panel discussing paid internships for students in Japan with Tadayuki Hara, the Ritz-Carlton Osaka and Kyoto; all arranged by the American Chamber of Commerce Osaka. Steve Iwamura, President for the ACOC Osaka moderated the panel. NHK World News captured the event for the Japan news media. The US Consulate General's Commercial Officer, Mr. Harold Lee Brayman was in attendance, along with many hotels in the Osaka and Kyoto region looking to start paid internship programs with the Rosen College. MGM Grand, Hilton, and the Crown Plaza were some of the hoteliers at the event. Also in attendance was one of our current Rosen College students who is working in a paid internship for Takami Bridal in Japan!
Day 7: Osaka!
Amazing food and a beautiful city! We toured the shopping district, the financial district, and enjoyed cold beverages on the river.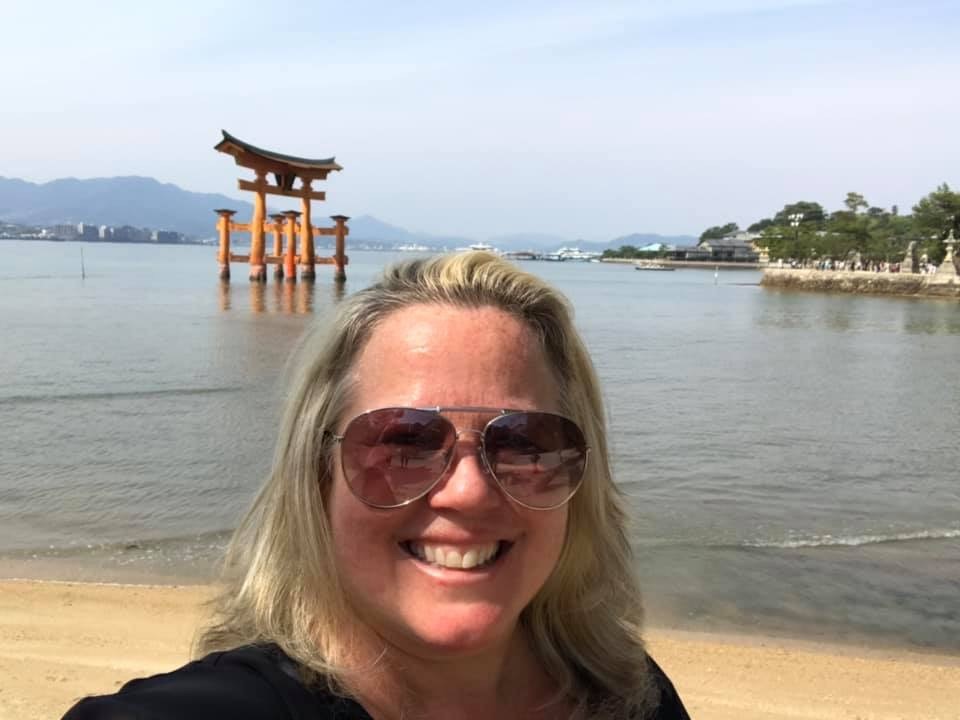 Day 8: Hiroshima!
We travelled to Hiroshima in the morning. Then off by way of ferryboat to the island of MiyaJima. This beautiful island is the home to an UNESCO world heritage site, the Itsukushima Shinto Shrine and many other Shrines and Temples. The Torii Gate is the entrance to the Shinto Shrine, symbolically marking the transition from the mundane to the sacred. The island is full of friendly deer that mingle with the tourists!
Ms. Hashiguchi, the President of Okeiko Japan wants to hire our internship students at Tokuju-ji Temple. Opportunities to translate maps and tourist information into English, as well as signage at the Temples would be a great summer internship!
Day 9: Hiroshima!
MORNING:
The day started somberly touring the Atomic Dome. The epicenter of the atomic bomb. Very sad time in history. This is an important place to visit, and I highly recommend touring the museum and grounds.  Our last train ride in Japan, we are off to Fukuoka to fly to Okinawa.
Day 9: Fukuoka and Okinawa! EVENING:
Planes, trains and automobiles! We traveled from Hiroshima to Fukuoka, to Okinawa. Paradise on earth…..I'm never leaving! We enjoyed a delicious dinner, and live entertainment from a Traditional Okinawan musician. Excellent!
Day 10: Okinawa!
One Two Smile Chairman and CEO Tony Yoshikazu Higashi met us for an incredible meal at Blu Restaurant at Kafuu Resort. Joining him was Naoto Kato, Director of Okinawa Tourist Service, Tony Sakuda, President of the American Chamber of Commerce Okinawa, and other members of their teams. It was a delicious experience of Japanese meats and dishes. More internships for our students were discussed tonight! Okinawa is similar to Hawaii in culture and temperature. Our students love it here! Seven of our students started their Summer PAID INTERNSHIP today! Yoko Negoro, Director of Human Resources for Kafuu Resort (and Rosen College Alumna) conducted their orientation. Thanks Yoko for all your support of our students!
Day 11: Okinawa!
MORNING:
We spent the day at the Okinawa Churaumi Aquarium. The entire park is right on the Pacific Ocean…..and they have TWO WHALE SHARKS!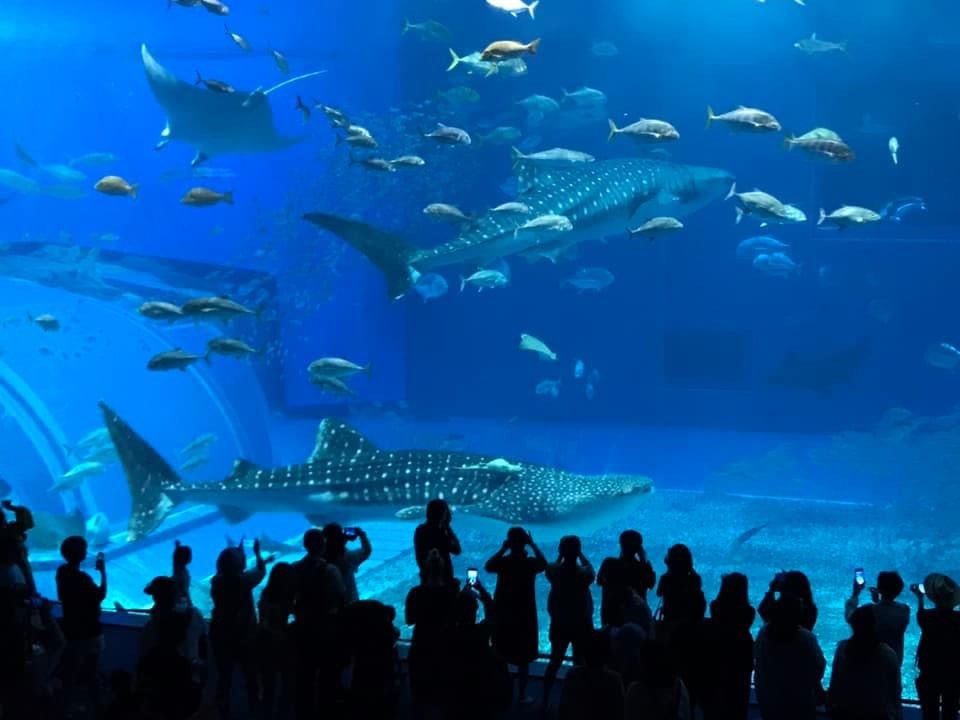 Day 11: Okinawa!
EVENING: Tonight is our last night in Japan. Mr. Masao Tanaka, CEO for KPG Hotel and Resorts and Yoko Negoro organized a welcome dinner party for our SEVEN students that are interning here this summer. Tadayuki Hara, David and Diane Wixted and I were honored to attend the event.
Since the 2013-2014 academic year, KPG Hotel and Resort, the Kafuu property have welcomed 20 of our students. They are cross-trained in multiple departments, taught culture and language training, and provided FREE accommodations while completing their PAID INTERNSHIPS! These opportunities provide our students with cultural diversity and bring them to the top of recruiter's employment offers at graduation.
None of this would be possible without the ongoing efforts and partnership that Dr. Tadayuki Hara has cultivated; and with the support of Mr. Tanaka and Ms. Negoro each student is able to learn and grow into an international world. Thank you does not convey the expression of thanks I feel. I am forever in your debt for changing the lives and careers paths of our students. THANK YOU TEAM KPG AND KAFUU! Thanks to Mr. Masao Tanaka, we were interviewed on the Okinawa media; covering the welcome dinner hosted by Mr. Tanaka. Our students were interviewed and their stories were covered for local media!
The 40 seconds clip says in summary that it is the 6th year for Kafuu Resort to accept paid internship students from Florida; and that Mr. Tanaka believes this poses great opportunities for his hotel staffs to broaden their views by working with those internship students. It also says that American students are interested in learning world-famous Japanese style of guest services with attentions and anticipation in detail (called in Japanese "omitenashi" spirits) during their stay in Okinawa.
https://www.facebook.com/tadayuki.hara/videos/10109312941522382/
Mr. Carl Bastian, Governor and Chairman of the Tourism & Hospitality Committee with the American Chamber of Commerce Okinawa, and Advisor for Kafuu Resorts was the master of the welcoming ceremony. We have worked with Carl since the inception of the paid-internship program back in 2013. This year was record breaking with seven students being chosen to intern at Kafuu. When I asked the reason they choose so many students, the answer was straight to the point – THEY WERE ALL SO AMAZING WE HAD TO HAVE THEM. Mr. Tanaka said he would have hired even more students but they are out of room at their dormitory housing!
It is wonderful that such a cordial welcome party was given to our students who just arrived a couple of days ago. If you come to a foreign country with some anxieties, this surely mitigates such anxiety to be replaced with a welcoming feeling as team members. We highly appreciate such efforts by hour host. Thank you very much!
Note from Masao Tanaka, CEO of KPG Hotel and Resorts:
It is my pleasure to have welcome dinner for the seven internship students from University of Central Florida tonight. Appreciated Tony san who is a President of American Chamber of Commerce in Okinawa attended this special evening. Thank you very much for your participation. It's the 6th year of this program. It was so much fun! The Entertainment Mr. Rice Ling was also a nice pāfomansu!
Day 12: Okinawa and Tokyo!
Our Japan adventure has come to an end. Goodbye Okinawa! Japan you have won my heart ❤️ I cannot wait to come back.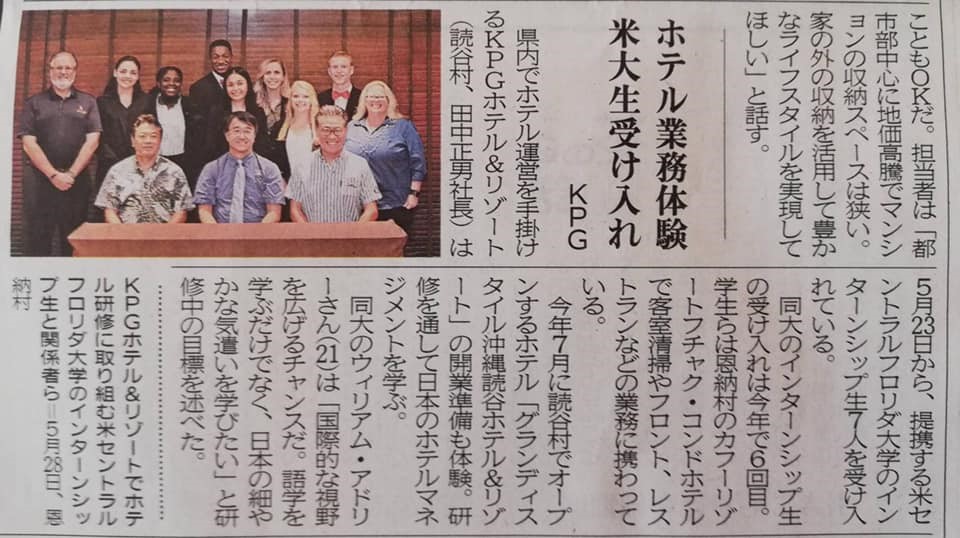 Day 13: HOME:
Three planes, one train, one bus, two cars and 28 hours later I am finally home ❤️ it was worth every minute!
Japan is an amazing country, full of beautiful people with warm hospitality in their hearts. The culture is rich in tradition and excitement to share it with foreigners. The public transportation system is the best in the world. The toilets are the best I have ever seen! They play music, heat the seats, and offer a full array of other amenities not offered on traditional toilets. The food is fresh and very affordable. From traditional dishes, to street food, each time we ate, it was incredible. The idea that Tokyo is the most expensive city in the world is just a myth. It's affordable and delicious. Visit the small towns and villages, and travel to the islands (Okinawa is top notch!).
Japan has won my heart and I cannot wait to go back. I hope everyone will travel to Japan one day, and spend time together with the wonderful people. Visit the temples and shrines, travel on the high-speed train, and taste each regions soul food. It will change your life ❤️ JAPAN.