Disney Cohort Wraps 10th Successful Year
Five months flew by as 35 Disney Cohort students wrapped up their time studying at UCF Rosen College of Hospitality Management and working at the Walt Disney World Theme Parks & Resorts. A graduation ceremony was held on June 12 that celebrated accomplishments and milestones.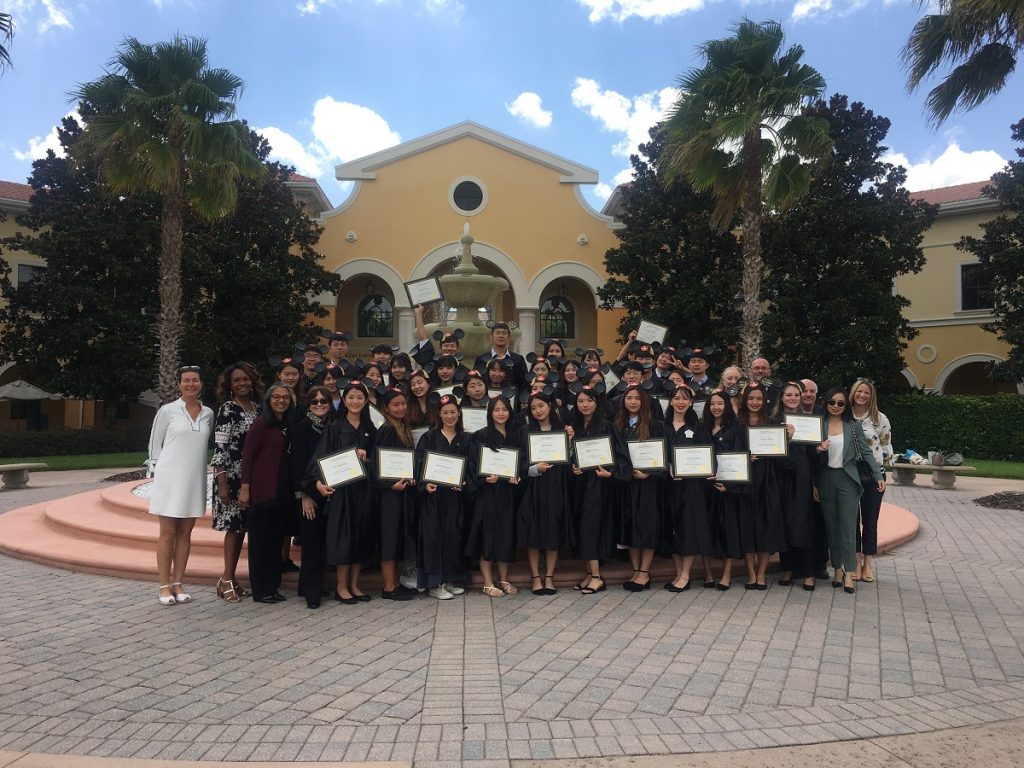 The 35 students arrived on January 22, 2019:  20 from China (Beijing International Studies University, Sun Yat-sen University, Nankai University, Jinan University); 14 from S. Korea (Kyung Hee University, Sejong University);  one from Japan (Rikkyo University). They all took courses, Entertainment Arts & Events, Culture & Cuisine, Hospitality HR Management & the Academic Internship, to earn a certificate that will contribute to their academic evaluations upon graduation in their home countries.  While studying at Rosen College, the students worked up to 37.5 hours a week, in various roles at Disney.  The Disney Cohort program left a lasting impression on some  of the students, many of whom had never traveled to the United States to study or work.
"My communication skills that I learned through this program will help me to perform better when I communicate with coworkers and guests in future workplaces. Lastly, experiencing a multi-cultural work environment helped me to have wider perspective and better understanding towards the world. This once-in-a-lifetime experience affected me in various way and I am truly grateful for the opportunity.  ~ Ju Hyun Kim
To have been able to work for a company like Disney and to study at a school like UCF was a great honor for me. It was a very special opportunity that only very limited people could get. During the program, I could mainly learn what hospitality in life is like. It was my first official job for me to be in the hospitality field and it was so interesting to see how my attitude can change the guests' satisfaction. In addition, I could improve my English; I could learn the real expressions that natives use and my listening and pronunciation got much better. In addition, I could meet many valuable friends from all over the world and share my feelings and experiences. The experience was truly amazing and life changing for me. ~ Yuna Song
When I first decided to come here, it felt like it was one of adventure that I had to take to galvanize myself; just like Pinocchio diving in the mouth of Monstro or Hercules going through numerous quests. I believed it would make me a better person. I think the belief came true. No matter how overwhelming it is, adventure or transition becomes daily life. I learned there is really nothing to be so afraid of because it is going to turn out to be ordinary in the end. With this lesson, I would readily overcome other challenges that I would be facing in the future. ~ Min Seok Kim
Frankly speaking, this project is the most challenging but significant experience I have ever faced in my life. When I first came to the United States, because of cultural and linguistic differences, it was very difficult for me to adapt, but then gradually into a better situation, I grew up in many ways. Every day I work at Disney gives me new thoughts. I am learning hotel management, Disney's many management methods and corporate culture can be a good management case. I feel very lucky to have such an internship experience, so I deeply understand the essence of "service". ~ Qianwen Xu
The 35 Disney Cohort students lived in Disney's four apartment complexes with roommates from all over the world. They also had the opportunity to participate in a wide range of activities at Rosen College including the spring Career Fair, Rent-a-Pup event (for a donation you get to cuddle a dog), a BBQ and kayaking event on the main campus, and a student panel, in conjunction with the Peer Outreach Mentoring Program (POMP) followed by a scavenger hunt.  Several interesting field trips took them to places like the Amway Center Arena and Rosen Hotels & medical center.  On their own free time students took advantage of many of Disney's social activities, and one student even joined the UCF competitive Frisbee Team and competed with them regularly.  Of course, the students enjoyed lots of time at the many Central Florida parks and attractions, and some even took short trips or cruises on their days off.  There was no time to waste, and they didn't waste a minute!  Congratulations to the Disney Cohort class of 2019.