December 2019 Dean's Star Awards Go to Events and Culinary Wizards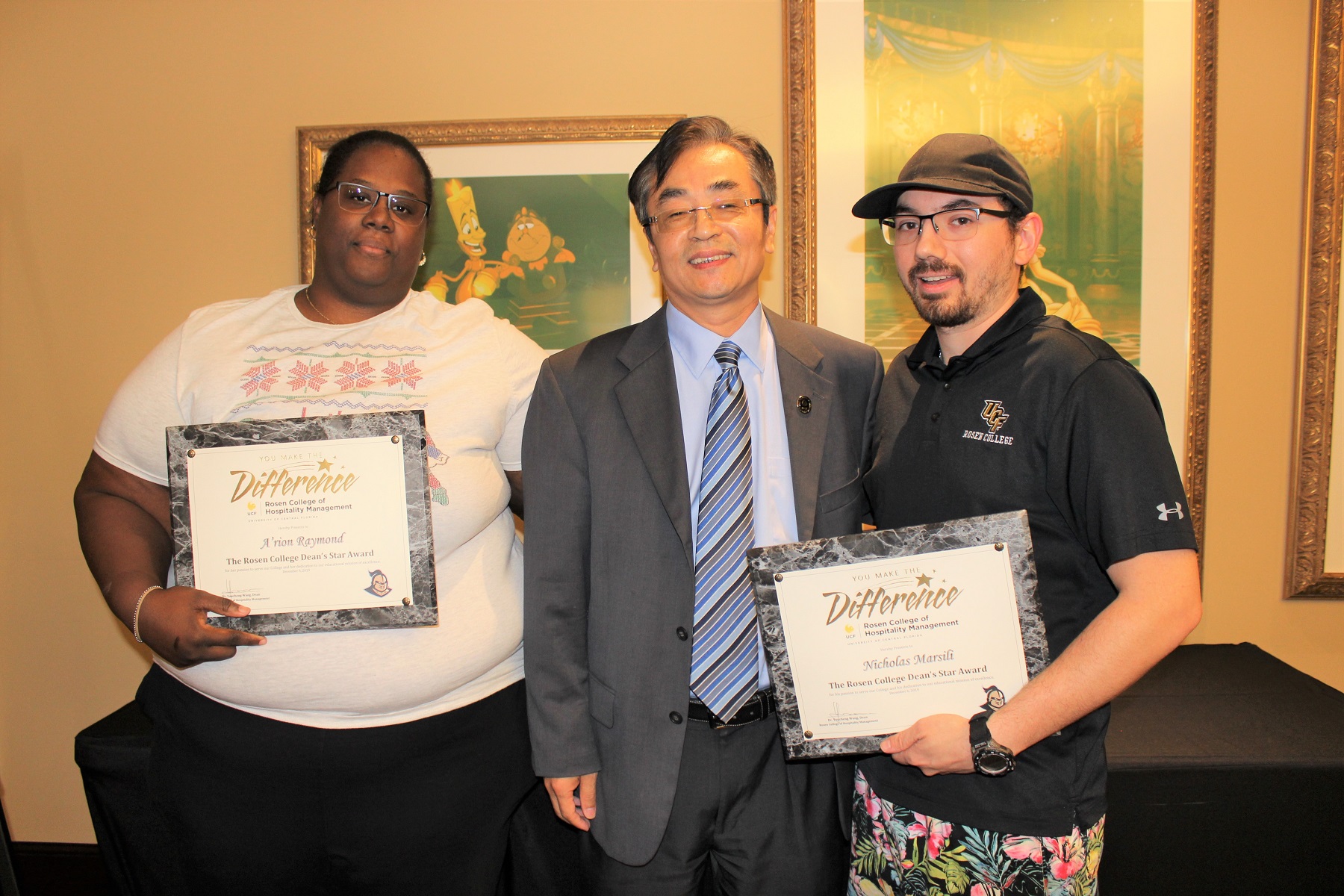 Events Manager and Adjunct Instructor A'Rion Raymond and Culinary Assistant Nicholas Marsali were the two recipients of the December 2019 Dean's Star Awards.   Here is what was said about the two leading up to the surprise award presentation at the faculty and staff holiday luncheon:
"A hallmark of great hospitality organizations is the "never say no" culture. Exceptional customer service is a result of exceptional employees, in our case staff, students and faculty. At the Rosen College we not only teach hospitality but lead by example and the "never say no" mentality is a big part of our formula for great hospitality. This month the Rosen College Dean's Star Award is being given to not one but two members of our organization. Together they exemplify the "never say no" culture of hospitality and work alongside to produce success in everything they do.
Our first recipient has been with the College for close to 10 years and has had a positive impact on thousands of our students and all of our faculty and staff. An organizer of everything and forgetful of nothing, our star helps to keep the Rosen College in front of the University, the Industry and the Community. There is not a stronger supporter of the College and the hospitality industry to be found.
Our second recipient has been with the Rosen College for over 5 years and also has supported over a thousand students on their way to success and assists faculty and staff with a multitude of requests on a daily basis. A mover and a shaker, this star is the oil in our engine, keeping things running smooth from behind the scenes. Technology is not a problem, and if you need help with your Android device just ask, or if you need a Spotify channel recommendation you now know who to go to.
Together these two Stars are a team to be reckoned with and it is our pleasure to acknowledge them with the December 2019 Dean's Star Award. This month's recipients are A'Rion Raymond and Nick Marsili."
Congratulations A'Rion and Nick.  You both make the events and culinary world a much better place at UCF Rosen College.