Assistant Director of Alumni Relations Honored with Dean's Star Award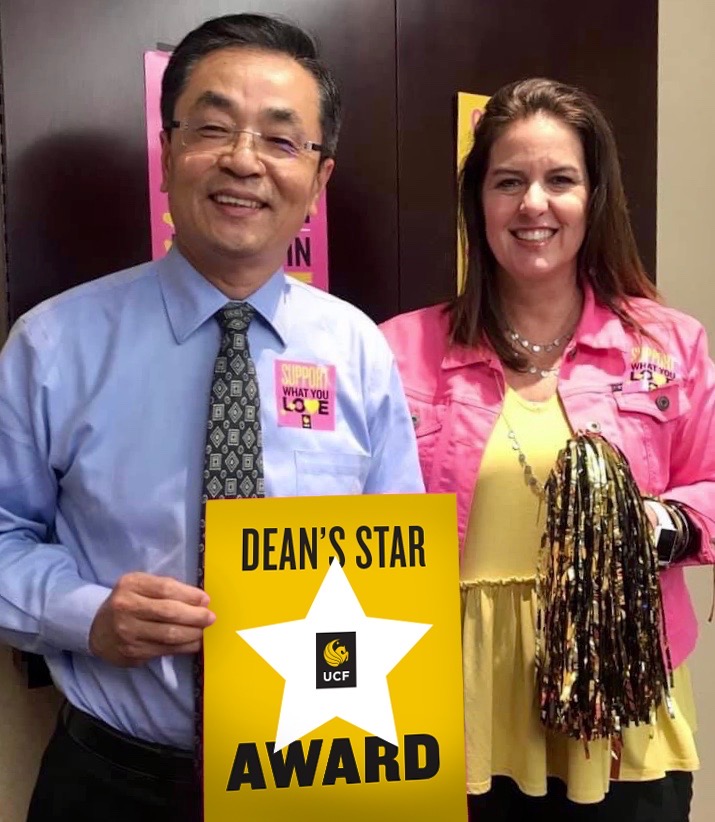 Fondly known as Susan two, but first in the hearts and minds of Rosen College's 10,000 plus alumni, Susan Boucher was honored as the recipient of the October 2020 Dean's Star Award. Dean Youcheng Wang announced the award on Friday, October 2, 2020, during the virtual faculty/staff meeting.  Here's the narrative that accompanied Susan's award presentation:
This person is a leader in the UCF community, and professionalism is one of her strengths. She has been instrumental in the development and delivery of the Rosen College webinar series "Rosen Research, Recovery and Reskill", a program designed to help our alumni and community deal with the impact of the COVID-19 pandemic. She has also taken our UCF alumni chapter and revitalized the group. She oversees the mentor/mentee program, with over 100 pairs each year. Moreover, with her guidance, the UCF Alumni Facebook page is now active and utilized. She oversees the UCF Rosen College Alumni Committee, and in the fall of 2019 started the first ever UCF Rosen College Dean's Alumni Board. This Board is committed to enhancing the experience for Rosen College students, and engaging with our current administration. This group of alumni she has put together is a testament to her commitment and her passion. The Alumni Board has already made an incredible impact here at the college, with initiatives we talked about in the meetings, already implemented.
Her knowledge of marketing strategies, consumer engagement, corporate development, and fundraising strategies has enhanced our Rosen College strategic plan. She has committed to the pillar of Service, for many years. Susan assists the Winter Park High School Career and College Center, providing her guidance to the future leaders. She donated her time to the Boys and Girls Track and Cross Country Teams, and held the position of Booster President for eight years, giving her time and resources to the athletes. She also supports and mentors the Central Florida Gliders Youth Track and Cross Country Club as their Team Manager for five years. She gives back to her community, and supports the youth of our community. She is simply a delightful addition to our Rosen College family. She is driven, hardworking, passionate, exceptional at her job, and is a model employee overall deserving of this award. I am delighted to grant the October 2020 Dean's Star Award to Susan Boucher.
Congratulations Susan!