Dean's Star Award for August 2021 Recognizes Adjunct Instructors
Five members of UCF Rosen College of Hospitality Management's Adjunct faculty instructors were recognized with the August 2021 Dean's Star Award. The Dean's Star Award is a monthly award presented to UCF Rosen College faculty and staff that is hand-selected by Dean Youcheng Wang. The individuals who receive the award go beyond the call of duty to serve our college, faculty, staff, and students.
The following adjunct faculty were honored: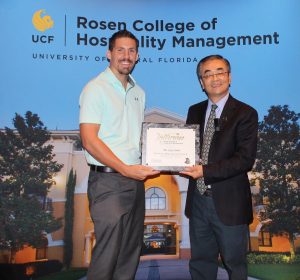 Dr. Gary Deel has served as adjunct for both TEA and HS departments with his ability and energy to deliver courses across the full spectrum both impressive and much appreciated by busy department chairs! Gary is a polyglot and has a diversity of interests and experiences that clearly engage the students as his SPI feedback is always so positive! Not once has Gary ever tuned down an invitation, or plea, to help out with his positive and welcoming personality, an almost permanent fixture at the Rosen College. His loyalty and devotion to the College is exemplary with his teaching talents and empathy with our students, a lesson for all of us. Gary quite simply is a dedicated and most professional of adjuncts that we are so honored to have! Thank you Gary for your contribution to the Rosen College!!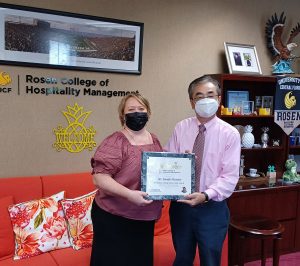 Ms. Jennifer Hostetter has worked as an Adjunct Instructor at UCF Rosen College since Spring 2018, and quickly became a valuable member of the College across two departments: Foodservice & Lodging Management (her home department) and in the Department of Tourism, Events, & Attractions. Jennifer has taught a variety of courses over the last 3 years. Jennifer is widely esteemed by her students, evidenced by consistently high SPIs in the FLM Department and in the College. She is well-liked and respected by our colleagues across the two departments, and is a pleasure to work with. Jennifer is always willing to teach new courses, and is very versatile in this regard, having worked in the hospitality and services industries in many different roles and capacities since 1995. Jennifer is a key instructor of History and Culture of Wine in the new UCF Beverage Management Certificate, having been trained with a Masters in Food Culture & Communications at the Universita degli Studi de Scienze Gastronomiche in Colorno, Italy. During the pandemic last Spring 2021, she piloted the outdoor wine tastings so that students could begin to return to the classroom. This was a major hit and a positive experience for students to re-engage in community. She brings much passion and integrity to her teaching, and always conveys a positive "can do" attitude no matter what is asked of her. We are so thrilled that Jennifer is in the FLM Department, and that she is highly capable of teaching large interactive classes throughout the College.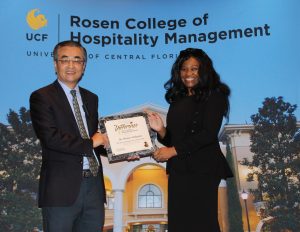 Ms. Precious Makuyana JD: This candidate is a distinguished professional in tourism and travel, with extensive unparalleled experience, and international exposure attained from working for Airlines, Hotels, Entertainment, and Corporate Law Firms based abroad and locally. She is originally from Zimbabwe and has played a significant role in supporting local community developments. She attained a Juris Doctor in Law with Honors and is currently an Adjunct Professor teaching Tourism and Hospitality law, Entertainment Law, Consumer Behavior, and varied classes at the University of Central Florida (UCF)-Rosen College of Hospitality Management. As a UCF-Rosen College of Hospitality Management student, she was featured in various publications with the Governor after she won a prestigious award the Iris D. Larson Award for "academic excellence and demonstration of selfless spirit towards serving the hospitality industry." As an associate then at Rosen Hotels and Resorts she won the Environmental Steward Award for the research she did in demonstrating sustainability goes beyond recycling. As an advocate for sustainable development, she completed a Legal Fellowship as a Law Clerk in a unique lawsuit by youth plaintiffs who are fighting for their constitutional and human rights to a sustainable future in a habitable climate.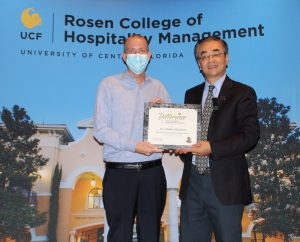 Mr. Andrew McGovern: This candidate has been with Rosen College since 2015 and been consistently well received by students. While bring real life challenges and experiences into the classroom, he is the Senior Vice President of Global HR Operations for Marriott Vacations Worldwide and is responsible for both strategic and tactical HR across all the vacation ownership brands. His career in Hospitality spans nearly 25 years.  He started his career in in 1996 in Operations for Marriott International while he completed his undergraduate degree. He has received both his B.S., Restaurant and Resort Management (1999) and MBA (2011) from Colorado State University. He has served in a variety of roles within HR and Operations over the years and has worked in/for most of the Marriott brands during that time.  Over the years his role has taken him to countless destinations across the globe and as a result his knowledge of the customs, cultures, and international employment law has grown exponentially.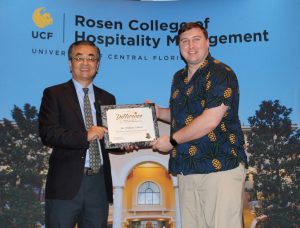 Mr. Bill Zanetti is a familiar face to many within the Rosen College with his commitment to the delivery of entertainment and theme park courses for the TEA department most commendable and appreciated. Bill is one of those adjuncts that has continued to help us out, often at very short notice, with his knowledge and passion for all things "theme park" most impressive. Bill has a unique style which is always well received by the students with his extensive network of industry professionals contributing to lively, contemporary and impactful guest lectures and events on campus. Bill always goes "over and beyond" in his sense of duty to the Rosen College and is passionate about its continued success. It is hard to imagine over the past year especially how we could have thrived in the delivery of many courses with Bill's valuable input. Thank you Bill for your contribution to the Rosen College!
Congratulations to all the August 2021 recipients of the Dean's Star Award.