December Brings Four Dean's Star Awards to Faculty and Staff
As the fall 2021 semester ended, four members of UCF Rosen College of Hospitality Management's faculty and staff were honored with the Dean's Star Award. Usually presented monthly, the dean chose to recognize the honorees during the annual holiday luncheon when many faculty and staff came together after being apart for many month due to the Covid-19 pandemic.  The Dean's Star Award is hand-selected by Dean Youcheng Wang. Individuals who receives this award go beyond the call of duty to serve our college, faculty, staff, and students.
Here is what was said about each person who was honored: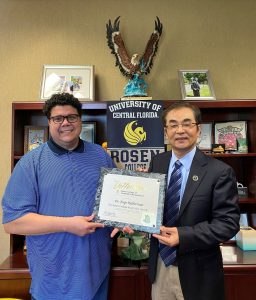 Dr. Jorge Ridderstaat : Systematic, rigorous, and hardworking are the typical three words used to describe this person in our Rosen College family. Bringing over 20 years of work experience in the banking sector, this person makes a strong addition to our elite economist team. A rising star in hospitality and tourism research, this individual has been recognized over time by the national and international scholar community for his publications, presentations, and review activities. He is also known for his active participation in a variety of service opportunities and his leadership to ensure the successful approval of a critical restricted elective course for our college. It is my great pleasure to grant Dr. Jorge Ridderstaat the Fall 2021 Dean's Star Award.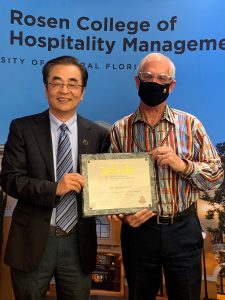 Dr. Robin Back: This faculty member has made a significant contribution to a highly specialized area, which has added value to the curriculum not only for Rosen College students, but also to undergraduate students across UCF. Over a two-year period, this faculty member has coordinated with several other faculty members within the department to strategize a series of courses which has resulted in a certificate program that offers a competitive advantage for graduates who will work with, or touch upon, food and beverage. This specialized certificate has re-invigorated student interest and has opened up new career paths and strategic industry partnerships. This faculty member is also going above and beyond to seek scholarship opportunities for our students. In addition, he has constantly responded to many other calls to service frequently asked of him. It is my great pleasure to grant Dr. Jorge Ridderstaat for the Fall 2021 Dean's Star Award. It is my great pleasure to grant Dr. Robin Back the Fall 2021 Dean's Star Award.
Dr. Carissa Baker: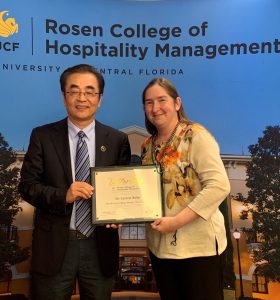 This faculty member joined the Rosen College in Fall 2019 with her hard work, great sense of collegiality and commitment to diversity impressing everyone from her very early days. Although from a non-traditional hospitality background, her passion for theme parks is evident for all to see, as she makes a big impact on her students whether in class or in student organization events and activities. This energy, passion and commitment to a quality education for all is most impressive with her serving as an ideal faculty member to lead the team within TEA in the development of a new B.S. Theme Park & Attraction Management. Although at an early stage in its development, her interactions across the Rosen College and across UCF have helped bring other potential collaborators across UCF to support the project. It is for these many reasons that I have the pleasure of granting Dr. Carissa Baker the Fall 2021 Dean's Star Award.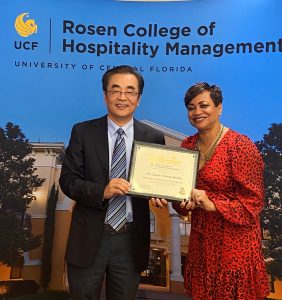 Susan Vernon-Devlin, MS: The value of this person is reflected by the all in one relentless efforts she has made to make the Rosen College look good and all stakeholders associated with Rosen College look good, despite some challenging times due to Covid-19 in the last two years. She is talented, multi-tasking on a daily basis between sharing communications and marketing for all Rosen College degree and certificate programs, college-life events, partnership engagement and recruitment programs, all the way to supporting messages and events from the Dean's office including the Communique from the Dean's Desk, Rosen College Hospitality Happenings internal newsletter, the State of the College Address, the annual Scholarship Recognition and Award Ceremony, just to name a few. I assume she has to jump across multiple channels between online and offline, between website and social media, and between work and life, and she does a good job with that. With all this in mind, it gives me great pleasure to grant Ms. Susan Vernon-Devlin the Fall 2021 Dean's Star Award.
Congratulations to all the fall 2021 recipients of the Dean's Star Award.