Get Connected. We are Here to Help You!
Are you prepared for the real world? Career Services can help you gain the career readiness skills needed to start your career. We offer self-assessment instruments, print and online resources for career research, resume and cover letter assistance, interview coaching and networking advice.
Explore and Grow
Discover ideal careers based on your interests, skills and personality, through the Myers Briggs Type Indicator and the Strong Interest Inventory®. Participate in workshops offered on the main campus.
Visit Career Services
Our career professional Sheila Perez is located in the Student Services Suite 201 on the second floor on the UCF Rosen College campus. Appointments and walk-ins are based on availability.
For more information about Career Services, please contact Sheila Perez at Sheila.Perez@ucf.edu
Handshake
Handshake is the new way to connect with the career opportunities that matter most to you. With Handshake, students can:
Search job opportunities
Schedule a Career Services appointment
Sign-up for events and interviews
Submit applications and resumes for opportunities
Visit www.csel.ucf.edu for instructions on accessing your account.
Appointments with Career Services:
Career Development appointments are offered at both the UCF Career Services and at the UCF Rosen College Campus by appointments via Handshake.
Appointments can cover:
Major & Career Exploration
Career Counseling
Resume Review
Interview Preparation
LinkedIn Critique
Job and Internship Search Strategies
And more…
To view availability and schedule an appointment at the Rosen Campus:
Visit www.career.ucf.edu , click on "Handshake" and sign in with your NID and password
Be sure to complete the Terms & Conditions survey to activate your account
Once your account is active you can schedule an appointment by clicking on "Career Center" (top right) and then "Appointments"
From there "Schedule a New Appointment" and select "Rosen College of Hospitality Campus- Career Services" (there are more availability when booking a 30 minute General Career Advising Appointment)
Please note appointments at the Rosen College are limited. If you do not see an appointment time that works for you please email Sheila.Perez@ucf.edu.
If you need something sooner here are some ways additional ways of having your resume seen:
Walk-In Appointments
Walk-in resume, cover letter, and LinkedIn profile critiques are available Mon-Fri: 10am-4pm in the Career Services building at the UCF Main Campus. Walk-In appointments are no longer being offered at the UCF Rosen College campus at this time.
Workshops
Career Services Events & Workshops– Resume and additional career development related presentations, and employer led events can be found on the Events section of Handshake
For information on additional resources please contact Sheila.Perez@ucf.edu
Rosen College Career Insider
Are you receiving the Rosen College Career Insider email? UCF Career Services sends out a weekly email to current UCF Rosen College students and alumni regarding upcoming career services events, career fairs, employer on-campus recruiting and a listing of part-time, full-time, and internship opportunities. If you are not receiving these emails, please reach out to Sheila Perez at Sheila.Perez@ucf.edu to start receiving these emails.
Career Guides & Academic Improvement Resources
Jump-start your career planning with our resources: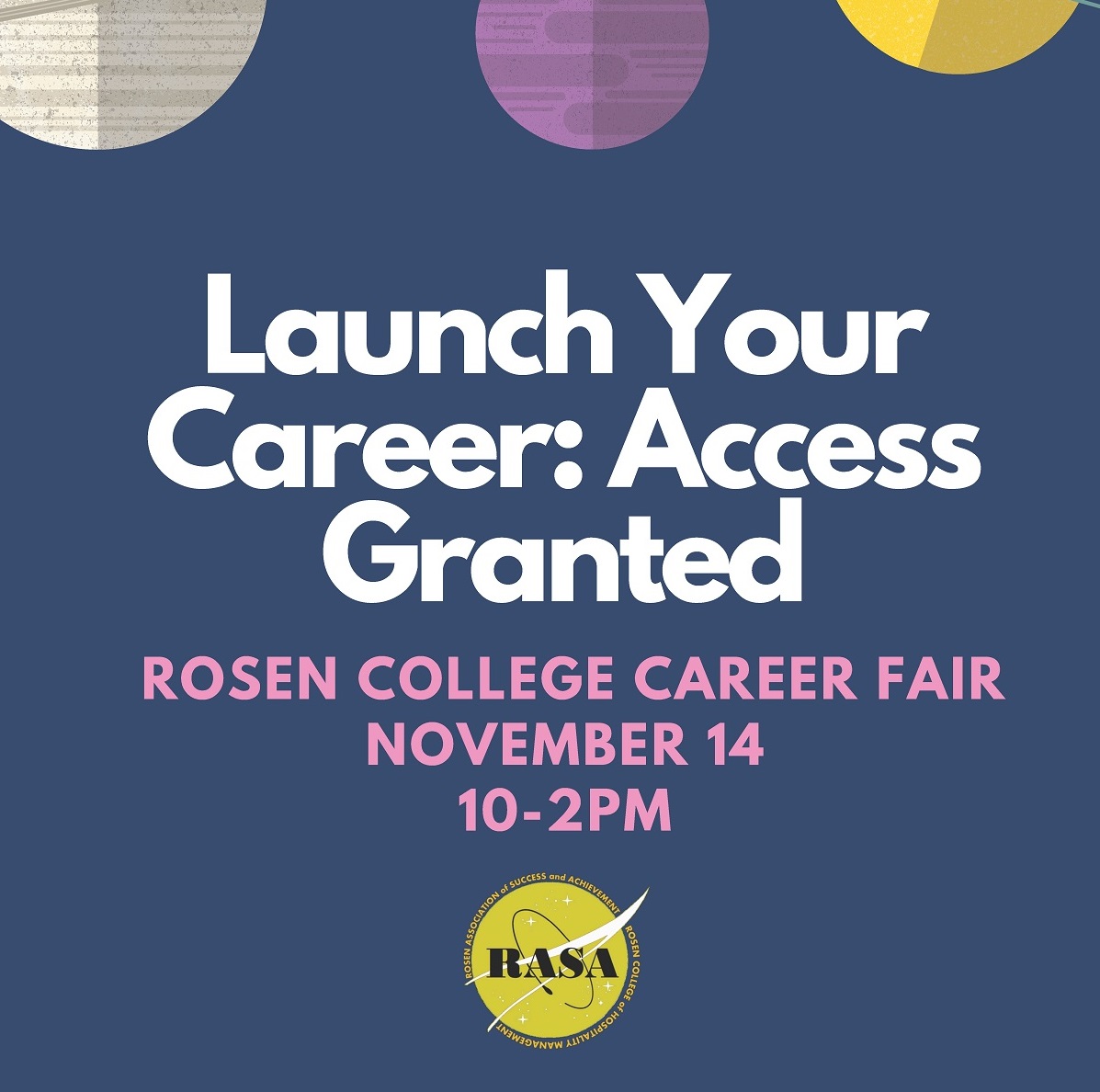 Attention: The date of the Spring Career Fair is set for Thursday, March 5, 2020,  from 10 a.m. to 2 p.m.
Thank you to all our industry partners and employers who attended Career Fair fall 2019. We were ready to launch our careers and you helped us blast off and set the course to our futures. A photo album from Career Fair is available on the UCF Rosen College Facebook page. Share the memories.
Please uninstall the old Career Fair Plus App and download the new one. This will provide an application that is compatible with all devices to give you access to employers,the career fair map and more.