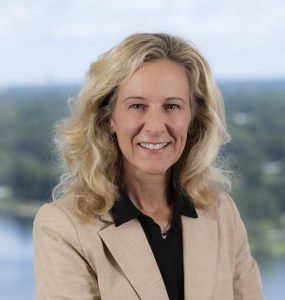 Caryl Barnes serves as Managing Director of Asset Management for Bridge Seniors Housing Fund Manager LLC.
Prior to that appointment, Ms. Barnes served as Senior Vice President of Operations for BayBridge Senior Housing from 2012 to 2015 where she led the creation of their operating entity, BayBridge Senior Living. During her tenure, the portfolio grew from 12 owned assets to 40 owned and 21 operated senior residences.
Prior to BayBridge, Ms. Barnes served as Senior Vice President of Operations for Sunrise Senior Living from 2009 to 2011, where she advanced quality care, occupancy, and profitability. Ms. Barnes was Regional Vice President of Operations at Sunrise from 2008-2010, developing effective senior and front-line leaders and aligning teams across the portfolio to improve standards of care. A senioroperations executive in the senior care industry, Ms. Barnes also held the positions of Vice President of Operations, Area Manager of Operations and Executive Director at Sunrise, where she worked for 13 years.
Prior to Sunrise, Caryl served in hospital administration and community services for 12 years. Ms. Barnes received her Bachelor of Arts degree from Iowa Wesleyan College and her Master of Arts in Human Services from Roosevelt University.