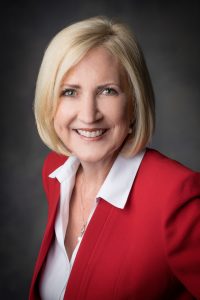 Barbara Bowden is the Complex Managing Director for Loews Sapphire Falls Resort and Loews Royal Pacific Resort at Universal Orlando, a position she has held since October 2015. She oversees the operation of these two resort hotels, comprising 2,000 rooms and nearly 250,000 square feet of connected meeting space which make up the Loews Meeting Complex at Universal Orlando.
Bowden was previously Managing Director of Loews Hotels at Universal Orlando and was responsible for the daily operations of the campus on-site hotels, overseeing local campus contracts and capital planning, as well as engineering, laundry, telecommunications, information technology, security and reservations.
Prior to joining Loews Hotels at Universal Orlando, Bowden served as general manager of the Orange County Convention Center, the second largest convention and tradeshow facility in the United States. Before that, she spent 27 years with The Peabody Orlando, starting as a front desk supervisor and worked her way through the ranks to become general manager in 2010, and then vice president in 2013. During her role as vice president/general manager, Bowden was responsible for operations of the 1,641-room hotel and helped lead The Peabody Orlando's $450-million expansion.
In addition to her role as general manager, Bowden was responsible for the creation and implementation of the corporate revenue management and distribution infrastructure for Peabody Hotels, including organizational structure, strategy, supporting processes and operations, internal education and training.
Bowden serves on the Florida Restaurant and Lodging Association Board of Directors and is the Vice Chair of the Education and Training Committee. She also serves on the Rosen College of Hospitality Management Advisory Board. Previously, Bowden served as Chairperson of the Americas Board with Hospitality Sales and Marketing Association International. She was a member of the American Hotel and Lodging Association, Women in Lodging Executive Board and Visit Orlando Board of Directors.
Bowden is a graduate of Missouri State University.