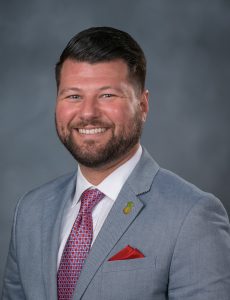 Robert Agrusa, a Florida native and leading advocate for the Central Florida business community, has served as the President/CEO of the Central Florida Hotel and Lodging Association since February 2021. CFHLA is one of Central Florida's largest and most influential trade groups with a membership that includes nearly 80% of the more than 125,500 hotel rooms in Orange, Seminole and Osceola counties, and nearly 500 supplier organizations doing business with the hospitality and tourism industries.
Prior to his tenure at CFHLA, Agrusa served as the President/CEO of the Apopka Area Chamber of Commerce and the Executive Director of BusinessForce – the political action arm of the Orlando Economic Partnership. Under his leadership, Agrusa built strong relationships with federal, state and locally elected officials, as well as civic, business and nonprofit leaders in Central Florida and throughout the state. Additionally, the Apopka Area Chamber saw a significant growth in new membership, a drastic increase in membership retention, and the creation and implementation of a brand-new public-private partnership with the City of Apopka, which is the second largest city in Orange County. This public-private partnership was the first time in the 100-year history of the Chamber that a partnership of this type had been approved.
Additionally, Agrusa moved to Central Florida in 2011 to serve as the chief political liaison between Florida Senator Andy Gardiner's legislative office and his responsibilities as Florida Senate President Designate.
Agrusa holds a Bachelor of Arts degree in Political Science from the University of Florida and his community involvement includes his service on the board of directors for the Tiger Bay Club of Central Florida, Visit Orlando, Experience Kissimmee, and the Rotary Club of Apopka.
Lastly, Agrusa is a graduate of Leadership Orlando, Class 91, the 2013 Central Florida Political Leadership Institute, and received his designation as a Florida Certified Chamber Professional (FCCP) in 2020.