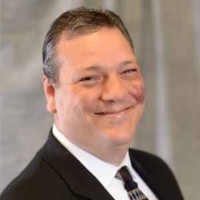 Originally born in Dordrecht, Netherlands, Dean Treuren moved to the U.S. at a young age.  As such, he is fluent in both Dutch and Spanish.  Currently, he resides in Orlando with his wife Aidbimari and two children, Jacob and Deanna.
Dean is a graduate of the University of Central Florida.  He holds a Bachelor's of Science Degree in Business Administration, with a specialization in Hospitality Management.  During his time at UCF, Dean worked on campus and was a member of the Campus Activities Board and the Consultants for Effective Leadership.  Through his participation with these organizations, he gained valuable experience in public speaking and special event management.  At the same time, he worked on campus and in 1997, opened the Student Union. Upon graduation in 1998, he joined the Orange County Convention Center (OCCC) team as a Security Representative on the midnight shift.  At the end of his (2) years in Building Security, Dean was hired as an Assistant Event Coordinator.  Eventually he worked his way up and became a Senior Event Manager within (5) years.
He was then hired as a Convention Services Manager at the Gaylord Palms and worked there for (8) months.
After his brief stint at the Gaylord Palms, he rejoined the OCCC team again in 2006 and worked as a Senior Event Manager for (2) years.  He was then promoted as the Guest Services Administrator for the OCCC.  In 2013, he was transferred back to Event Services to assist with special projects related to the Event Management Department and officially became the Supervisor of the Department in 2016.
In his current role as Event Management Administrator, Dean is tasked with overseeing the day-to-day operations of the Event Management Department.  He currently has a team of (20) that he supports in the execution of events at the OCCC.
Dean is a Certified Meeting Professional (CMP) as well as a Convention Services Professional (CSP).