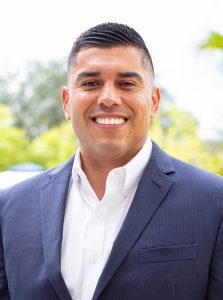 Over the past 18 years, Joseph has worked in nearly every hospitality industry sector, holding such roles as Front Desk Agent and Supervisor, Director of Sales, Operations Manager, Assistant General Manager, and General Manager for both corporate and franchised Marriott Properties. He began his career in 2003 at the Courtyard by Marriott Las Vegas-Henderson as a Front Desk agent while earning a B.S. in Business Management from Nevada State College. From there, he worked for multiple Marriott International properties throughout California from 2009 through 2013.
In September 2013, Joseph began working under Pinnacle Hotel Management as General Manager of the Residence Inn by Marriott Sacramento, CA. Then in January 2019, he moved to Tampa, Florida, to assist in opening The CURRENT Hotel, Autograph Collection. Shortly after, he joined the Celeste Hotel and was appointed General Manager of that property in April 2021.
Originally from Sacramento, CA, Joseph grew up very active in sports and played college baseball for two years. He is currently striving to become a seasoned cyclist and enjoys traveling and exploring new places.