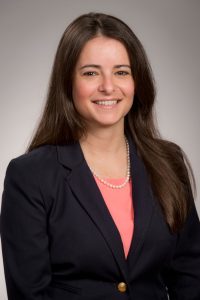 Kristy began her career at the Jewish Federation of South Palm Beach County serving as an Events Specialist in the Foundation Department. In 2015, she joined the Toby & Leon Cooperman Sinai Residences Boca Raton, a new Continuing Care Retirement Community that was in its final stages of construction. She assumed the Director of Administrative Services role overseeing the Concierge Services team and creating policies to open a new community.
In March 2022, she was named Vice President of Independent Living overseeing the operations of 345 Independent Living apartments with a focus on resident satisfaction, lifestyle and safety. Kristy is in close communication with residents and family members cultivating relationships. Kristy has a clear sense of purpose on the job each day – contribute, serve residents, and make a difference.
Kristy graduated from Florida Atlantic University and received a Bachelor's of Science in Education. In 2019, she married her husband Matthew and have a Goldendoodle named Rusty.