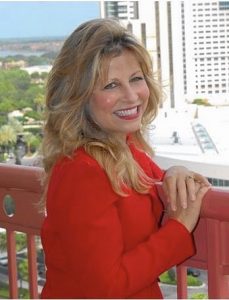 Maria Triscari is the President and CEO of the International Drive Resort Area Chamber of Commerce.  The International Drive Resort Area Chamber of Commerce represents the International Drive Resort Area and the myriad of hotels, restaurants, retail outlets, attractions, and major theme parks including SeaWorld, Universal Orlando, and the Orange County Convention Center, the 2nd largest Convention Center in the country.
Maria was hired as Executive Director of the Chamber in 1989 when the Chamber was first formed.  Maria has lead the Chamber since its inception, over 30 years, making her one of the longest running heads of any organization in Central Florida. When Maria started with the Chamber, the Chamber had less than 30 members. She was given a phone and a piece of paper that stated "We invite you to Join". Now a thriving organization with hundreds of members and an impressive list of accomplishments, Maria has built one of the most active, powerful and a highly respected organizations in Central Florida, and has made an indelible impact on Central Florida's tourism industry.
Through the years, Maria has worked closely with government and elected officials on projects to enhance the International Drive Resort Area and the tourism industry. Her influence has resulted in many accomplishments including; I-Drive illuminated street signs, I-Drive exit signage on I-4, an ordinance to prevent Adult Entertainment in the Tourist/Commercial Zoned Areas, an Ordinance to reduce the size and amount of signage on I-Drive, a sidewalk installment under the Beach Line and a traffic signal at Carrier Drive to make the area a safer place. Recently she spearheaded the effort that resulted in the adoption of a new towing ordinance that regulates and prevents predatory tow operations and a Pedi Cab Ordinance which regulates Pedi Cab operators.
The Chamber has a strong influence regarding the use of the Tourist Development Tax and the Chamber holds a seat on the Tourist Development Council. In the area of education, Maria created the Chamber's highly acclaimed "Tourism Orlando Leadership Program".  Now in it's 18th year, and with close to 1,000 graduates, this amazing 10-month program allows participants to experience the vast components and aspects of the tourism industry while networking with fellow participants.   Today, the Chamber's Tourism Orlando Leadership Program is considered a "must do" in the tourism industry as well as with elected officials.
For over 30 years, Maria has worked closely with law enforcement and supports their efforts to reduce crime in our area.   Through Maria's leadership, the Chamber hosts "Police Ball" every year to honor the men and women of law enforcement.  Now in it's 23rd year, this spectacular gala has raised thousands of dollars for special law enforcement programs.
Maria's dedication and passion for the tourism industry began 35 years ago when she was a Seamaid at SeaWorld and a pearl diver in SeaWorld's Japanese Village. Maria worked at SeaWorld throughout college and earned a Bachelor's degree in Journalism from the University of Central Florida with a minor in marketing. Maria has received many awards for her work in the tourism industry including recognition from Orange County Public Schools for outreach programs, the Orange County Sheriff's Office Citation Award for her work with law enforcement, is an Orange County Sheriff Honorary Deputy. She is the recipient of the Orlando Police Department Good Citizenship Award, and in 2015 Maria was inducted into the UCF Rosen College of Hospitality Management Hall of Fame.  Maria is a volunteer for numerous charity organizations and serves on various boards including Dr. P. Phillips Hospital Hospitality Council and the UCF Rosen College of Hospitality Management Board of Directors where she also serves as a student mentor.