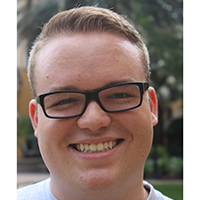 Hometown: Gurnee, Illinois
Graduation Year: 2019
Double Major: Hospitality Management – Theme Park Track and Entertainment Management.
Theme Park Track
Why did you choose to study at UCF's Rosen College?
I chose to study at Rosen because of the quality of the hospitality program as well as the proximity to all of the great Orlando attractions.
What is your most memorable experience while studying at Rosen College?
My most memorable experience would definitely be the "Behind the Scenes" tours that are offered to Rosen students. I loved the SeaWorld site visit the best.
What are your career goals and how has the Rosen College internship requirement helping you meet your goals?
My goal is to be the director of an entertainment department of a theme park, with no specific park in mind. I loved working and performing in the entertainment departments of various theme parks over the past couple of years and I have been lucky enough to discover that this is what I want to do for the rest of my life.
What advice would you give to a new or prospective student?
Get involved! Go to the programs offered at Rosen College. Live in the Rosen College Apartments. Attend meetings for a club that interests you. And remember to have fun while you are here!
What has been your favorite class at Rosen College
My first class at Rosen College was Intro to Hospitality and I absolutely loved it. The class was a perfect preview for the rest of my Rosen career and my professor was (and still is) the kindest, funniest, most caring person I know! Another class that was very interesting was Human Resources. I did not know much about HR going into the class and now it is something that I can seriously see myself doing as a career. My professor's experience in the industry was very impressive and the setup of the class was very different than I was used to!