UCF Rosen College of Hospitality Management's Dick Pope Sr. Institute for Tourism Studies presents monthly research colloquiums, with academic researchers from around the world delivering their latest findings.
For fall 2021, join us in-person for the colloquiums or via Zoom. See participation info below.
For some past colloquiums, you may view on the Rosen College YouTube Channel.
Fall 2021 Research Colloquiums
We are excited to announce that the November Rosen College Research Colloquium will feature Dr. Fernando Rivera, UCF Professor of Sociology and Dr. Sergio Alvarez, Assistant Professor at the Rosen College of Hospitality Management, with a theme on resilience. 
This is one of the dedicated efforts to bring an interdisciplinary perspective to UCF Rosen College through informative research talks. This year, we are innovating in hosting these talks in the Anheuser-Busch Beer & Wine Lab (Room 126). We hope that a comfortable environment, and good food, will help generate fruitful conversations and collaborative relationships.
Time and Date: Friday, November 5th, 2021, 3:30 p.m.-5:00 p.m.
Venue: in-person, Anheuser-Busch Beer & Wine Lab (Room 126)
Or via Zoom:
Meeting ID: 930 2574 7496
Passcode: 962656
https://ucf.zoom.us/j/93025747496?pwd=aC8xUlc1MFJCRzlLZFlnbm5Rb214Zz09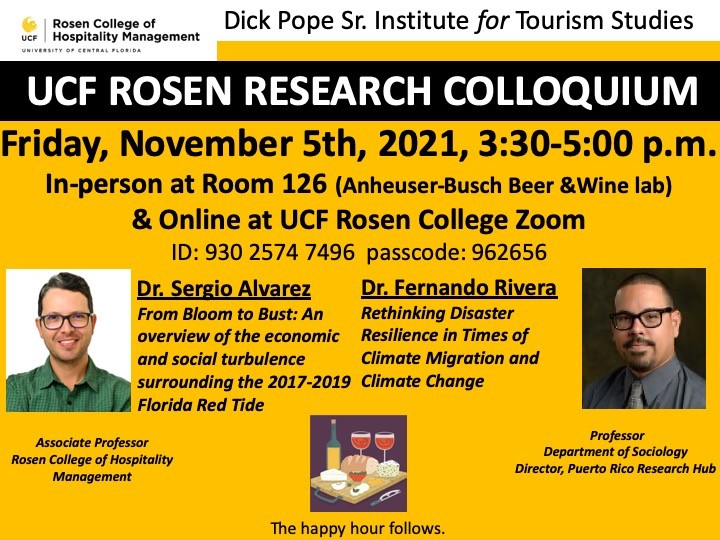 ****************************************************************************************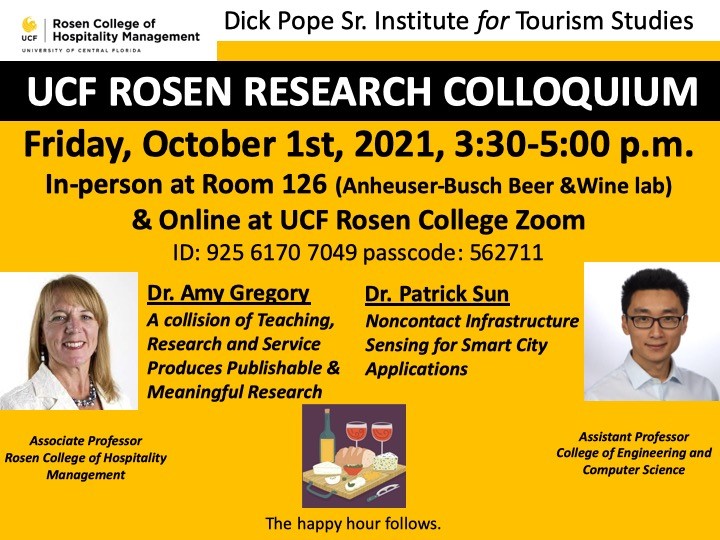 *****************************************************************************************