UCF Rosen College News
Road to F.A.M.E. Festival promises a star-studded lineup
We're diving into the exciting world of entertainment, with a focus on Live Entertainment, Television, Film, Theatre, Sports, and Music. This event promises to be more than just a passive experience; it's designed to immerse you fully in the entertainment industry.

By Holly Robbins | November 6, 2023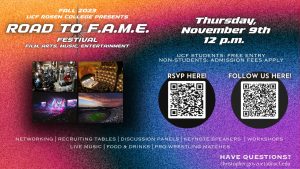 This week, the entertainment industry comes to UCF Rosen College as the highly anticipated Road to F.A.M.E. Festival takes center stage on November 9, 2023, beginning at 12 p.m. With an impressive lineup of more than 40 influential speakers, engaging workshops, panel discussions, recruitment opportunities, live performances, food trucks, and even pro-wrestling matches, the festival promises to be a captivating and enlightening experience for all attendees.
Headlining the festival is a keynote address by Joey Fatone and Joe Mulvihill. Fatone, best known for his successful music career as a member of the globally acclaimed, multi-platinum boy band *NSYNC, has garnered a massive fan base and achieved remarkable success in the entertainment industry. With a number of hit television shows under his belt, including "The Masked Singer" and "Dancing with the Stars," among others, Fatone can also be heard (alongside his fellow *NSYNC bandmates) in the upcoming third installment of the Trolls film franchise, Trolls Band Together. The group recently released a new song, "Better Place," to coincide with the film—the first in 22 years.
Joining Fatone is Joe Mulvihill, a prominent figure in the world of entertainment business and talent management. With an impressive career spanning several decades, Mulvihill has worked with numerous industry icons and contributed significantly to the success of countless artists, including *NSYNC, Boys II Men, the Jacksons, and worked with almost every major professional sports league. His expertise in talent development and strategic planning makes him a sought-after speaker, and his session is expected to provide invaluable guidance to those looking to make their mark in the competitive entertainment landscape.
The Road to F.A.M.E. Festival aims to bridge the gap between education and industry, offering students and professionals a unique opportunity to learn directly from industry leaders. UCF Rosen College Instructor Chris Goyzueta, who leads the production management class producing the festival, remarked, "This event is groundbreaking. Entertainment students used to have to travel to industry hubs like Nashville, New York, and L.A. to make industry connections. Instead, for the first time ever, the industry is coming to them."
One highly anticipated session will see two industry titans take the stage together for the first time. Jim Mallonee of Live Nation Concerts Southeast and John Valentino of AEG Presents Southeast have shaped the Southeastern US concert business for over 30 years. Though often competitors in the past, they will now share insights from their decades of experience promoting major shows in a rare joint panel discussion.
Moderated by a student from UCF's Pegasus Music Group, this unique conversation promises fascinating stories from Mallonee and Valentino's careers developing artists like The Rolling Stones, U2, and Beyoncé. As conference veterans themselves, they've never before shared a stage—making this a truly historic moment.
Running from 12 p.m. to 6 p.m., the festival schedule is packed with engaging workshops, panel discussions, and career networking opportunities in the fields of music, television/film, sports, and theater. Aspiring entertainment professionals and music fans alike can learn valuable lessons from the day's featured guests.
The Road to F.A.M.E. Festival is open to the public, offering a unique opportunity to engage with industry leaders, gain valuable insights, and expand professional networks. Tickets are required and are free for UCF students and high school students, $5 for UCF alumni, and $10 for general admission. To learn more about the festival and for tickets, please visit www.rosenroadtofame.com.