UCF Rosen College Launches Two Webinar Series
UCF Rosen College of Hospitality Management has launched not one, but two webinar series, specifically for alumni and industry professionals to aid in navigating the post coronavirus COVID-19 world of tourism and hospitality, which has been impacted heavily by the virus.
From restaurants, to cruise ships, to hotels, to attractions, to conventions and events, the two series, Research Recovery & Reskill and Research Recovery Re-scaling will deliver research-based information, data, statistics and solutions, to address the challenges facing student workers, recent graduates, mid-career individuals and even seasoned hospitality professionals.
Below is a summary of the two webinar series:

At UCF Rosen College of Hospitality Management, our mission is to train the hospitality leaders of tomorrow.  Students learn from a world-class faculty of internationally-recognized experts in research, teaching skills and professional experience. That commitment does not stop at graduation which is why we are proud to offer a series of eight (8) professional development webinars, titled Research, Recovery and Reskill, focused on sharpening skills and re-tooling for the anticipated changes in the hospitality market as a result of the novel COVID-19 virus.
Whether you are a Rosen College graduate or a UCF alumni working in the hospitality industry, you will benefit from this series.  The topics are listed below, but as we emerge from this crisis, the content may vary to stay current with the industry.
All webinars will be hosted via Zoom Meetings then will be presented on our YouTube channel at the close of each session.
To see the full list of eight Research Recovery & Reskill webinars visit the webpage.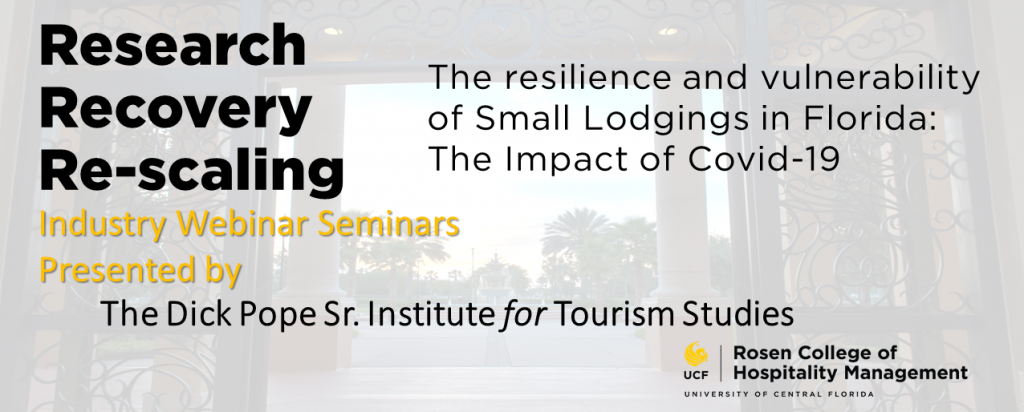 UCF Rosen College of Hospitality Management's Dick Pope Sr. Institute for Tourism Studies conducted a study explicitly tailored to understand the economic impact and coronavirus COVID-19 related challenges faced by small, independent Florida hotels, and bed and breakfasts.
This study has three pivotal goals:
Quantify the economic contributions of small, independent Florida hotels (including their direct and indirect impacts) on Florida's economy. This data will show how valuable these businesses are to their communities and the State of Florida;
Quantify the impact of the COVID-19 epidemic on the operations and finances of these businesses; and
Provide recommendations to small lodging properties to aid in their recovery
From that study a webinar series was developed to share information with our industry partners. The webinar series provides strategic business information to prepare and support business leaders for the post Covid-19 world. The series discuss different post Covid-19 scenarios, sharing current research-based information and perspectives, which could potentially impact businesses.
This study is unique because it will show the value of small, independent lodgings to Florida's economy and community.
To learn more about the Research Recovery Re-scaling webinar series visit the webpage.