Thank you for your interest in our online Bachelor of Science degree programs in Hospitality Management, Lodging  & Restaurant Management, and Senior Living Management.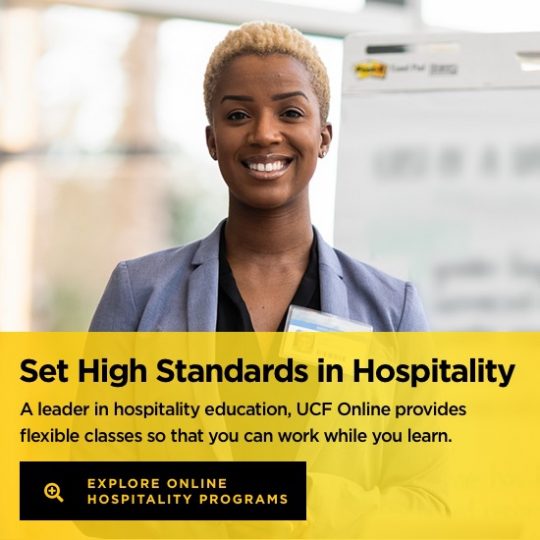 The hospitality industry is one of the largest career fields in the world
and continues to grow at a rapid pace. Our mission is to provide students
with the knowledge, skills, and ability to identify opportunities and
challenges in the hospitality industry and to apply creative decision
techniques in responding to those opportunities. The business core
foundation courses will encompass accounting, finance, operations,
guest service theory, human resources management, marketing and
strategic leadership. Specialized track options offer expertise in
select areas of focus providing a unique program of study.
Our online degree program will equip you with the knowledge and
skill-sets to join the next generation of hospitality leaders.
Please contact UCF Online for more information regarding applying to UCF and the the online degree program of your choice.
Application Process:
The Online Undergraduate Hospitality Management degree program and the Online Restaurant & Foodservice Management  degree program are both restricted access.  Applying for entrance to the University of Central Florida (UCF) starts the process. You may complete this process through UCF Online, however, admission to UCF does not guarantee admission to a restricted access program.  Interested students will need to submit a separate internal application including the following documents. All files must be uploaded in PDF, JPEG or PNG format.
Goals Statement – applicants will need to provide a one-page (500 word limit) goal statement sharing their passion for the industry, career goals and why they have chosen the online degree program option.
Resume – applicants will need to provide a detailed resume highlighting their experience in the hospitality industry and include the name and title of all supervisors
Letters of Recommendation from Three Supervisors – Each letter of recommendation must include the supervisor's title, company, address, telephone and email contact information.  The letters can be written by current or former supervisors. The letters must be on official company letter head and have an original signature.
Before submitting the Rosen College Online Application for this restricted access program, the following minimum admission criteria is required.
Admission to the University of Central Florida
Two years of industry experience
Completion of Rosen College Application
Rosen College


Application Deadlines
Fall Term- August 1st
Spring Term- December 1st
Summer Term- April 1st
Should you have any questions, please don't hesitate to email rosencollegeonline@ucf.edu
Have you been accepted to UCF? Ready to start the Rosen College internal application process? Then Click Here.