UCF has announced campus closures on Wednesday, September 28 and Thursday, September 29, 2022, in anticipation on Hurricane Ian's expected impact on Central Florida.  Please visit https://www.ucf.edu/hurricane/ for updated information. Out of an abundance of caution, UCF Admissions has decided to cancel the Friday, September 30th tour at the Rosen Campus. We invite you to visit campus at a later date, including our Rosen College Open House on Friday, October 21, 2022. Visit https://hospitality.ucf.edu/open-house-at-rosen/ for more details our upcoming Open House for prospective students.
We invite you to explore our Mediterranean-inspired, resort-style campus during a campus tour, held on most Mondays and Fridays at 1 p.m., excluding holidays. Your hour-long visit will include an information session with an Admissions representative, a tour of our 159,000-square-foot facility and the Rosen College Apartments. Reservations are strongly encouraged. Walk-ins will be accommodated on a space available basis.
Interested Undergraduate Students Should Schedule your tour HERE!  
*************
If you are a prospective graduate student interested in visiting campus, please visit our Graduate Admissions page for more information.
Open House
Our Rosen College Open House events are scheduled for Friday, October 21, 2022 and Friday, February 17, 2023. Registration is now open for the October 21st event.  Click here for more details and the registration information.
Our Open House events are designed to provide an overview of the UCF Rosen College of Hospitality Management where you will spend the day on campus learning about our academic programs, student support services and campus life. You'll meet our students, faculty and staff at various sessions and take a tour of campus that includes the Rosen College Apartments.
Group Tours
The UCF Undergraduate Admissions Office at the Rosen College Campus offers group tours for school groups and organizations that help prospective students explore their college options. Group tours are offered on Tuesdays, Wednesdays and Thursdays. Dates book up quickly and arrangements need to be made at least two weeks in advance. We encourage organizers to contact our office early to start planning a campus tour and information session. If you would like to bring a group for a tour the UCF Rosen College Campus, e-mail rosenadmission@ucf.edu for assistance.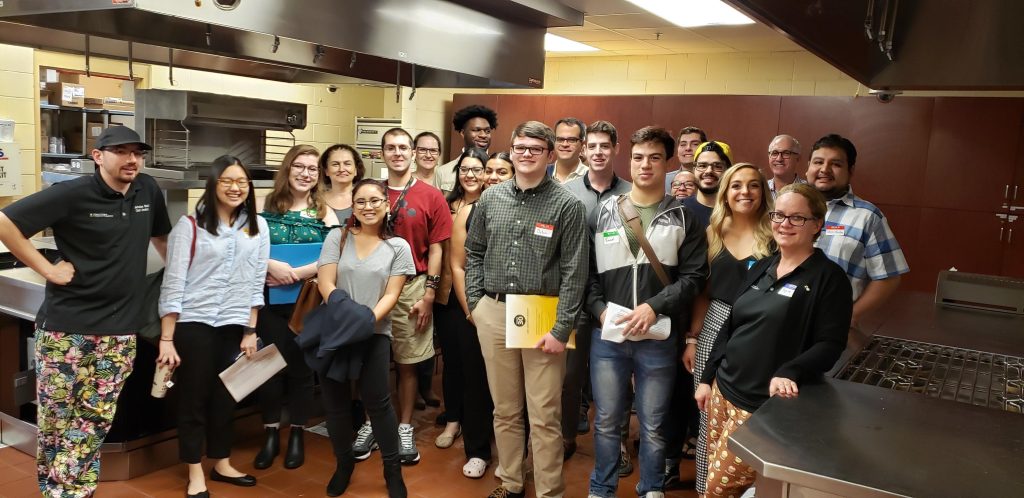 Visitor Parking
When you visit our campus, we invite you to pay for your parking online via the UCF Parking Portal. When you purchase through the portal, the permit is virtual. Your license plate will serve as your parking permit.  Visitors have the choice of two types of Daily permits:
Daily Permit:
$5 Pass Expires at 11:59 PM
$8 Pass Expires 24 hours from time of purchase
Once you purchase a Daily Virtual Permit,  you may park in any available parking space located in the "D" Parking Lot.  The "D" parking area is denoted with a green sign.
If you are visiting the UCF main campus, UCF Downtown and Rosen College on the same day, you only have to purchase the daily virtual permit once.
Campus Closures/Admissions Office Closures
UCF Rosen College of Hospitality Management's Undergraduate Admissions Office will be closed on the following dates/holidays*:
Friday, November 11, 2022, in observance of Veterans' Day
Thursday, November 24 and Friday, November 25, 2022, in observance of Thanksgiving
Wednesday, December 21, 2022 through Monday, January 2, 2023, for the winter holiday break.
UCF Campuses will close at 2 p.m. as we transition to Football Game Day operations on the following dates:
Thursday, October 13, 2022
Visit the 2022 UCF Knights Football Schedule to learn how you can cheer on the Knights throughout the season. Go Knights and Charge On!
*The Undergraduate Admissions Office at the UCF Rosen College campus will reopen at 9 a.m. the following business day after being closed for the posted holidays or  game day campus closures.