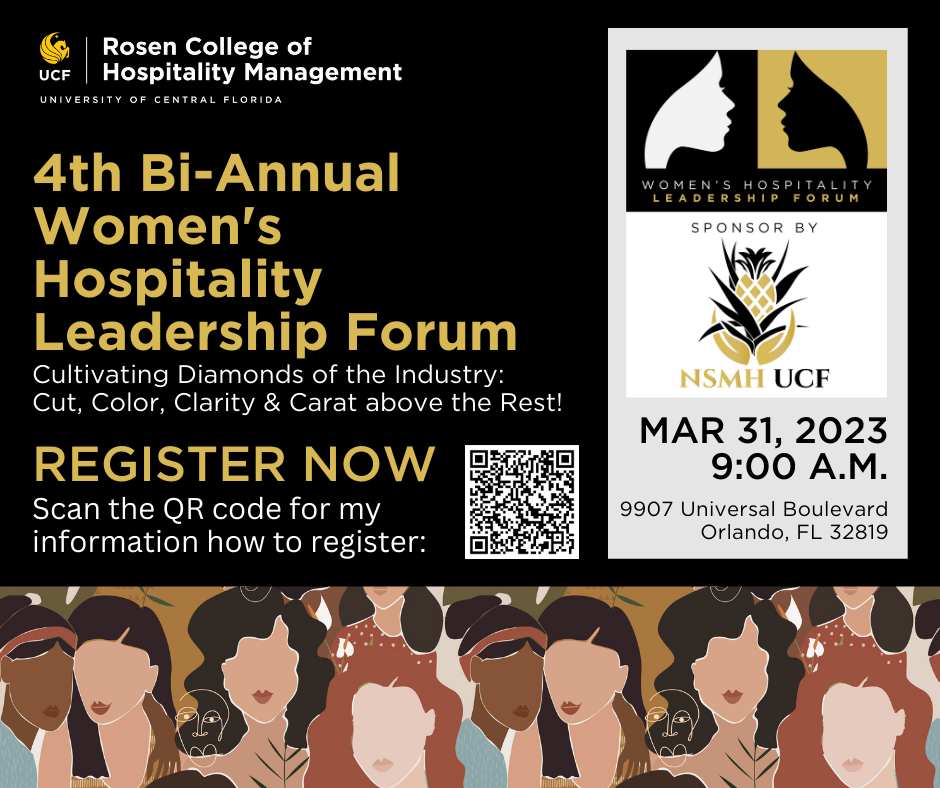 This conference is presented by UCF's Rosen College of Hospitality Management Diversity & Inclusion Committee and the National Society of Minorities in Hospitality Students (NSMH)
When: Friday, March 31, 2023
Where: 9907 Universal Boulevard, Orlando, FL 32819
Early Registration November 14, 2022 – February 4, 2023: $100
Regular Registration, starts February 5, 2023: $150
Speakers Bios
Please click HERE to see more about our speakers for the day.

Please note this schedule is subject to change.  
4th Biannual Women's Leadership Forum Agenda 

7:45 a.m. – 8:45 a.m.
Registration Check-In
Front Gates
NSMH Members
7:45 a.m. – 8:30 a.m.
Breakfast
Disney Dining Room
Hosted by NSMH leaders
8:35 a.m. – 8:45 a.m.
Welcome, Introductions, Agenda Review
Darden Auditorium

Lori Safford, Conference Chair

Kathy Henry, Conference Co-Chair

 Dean Youcheng Wang, UCF Rosen College

Associate Dean Alan Fyall, UCF Rosen College

8:45 a.m. – 9:30 a.m.
Opening Morning Keynote Address

The Diamond Difference:

Harnessing Purpose and Authenticity to Become an Effective Leader

Darden Auditorium

Malaika Myers, Executive
Vice President, Chief
Human Resources Officer
Hyatt Hotel Corporation

9:30 a.m. – 9:45 a.m.

Break: Hall of Fame

9:45 a.m. – 10:45 a.m.
Panel (Talk Show)

The Sparkle of Hospitality Plus: Featuring Women Leaders in the Entertainment & Theme Park Industry

Darden Auditorium

Dominique Heron, Universal Orlando

Dr. Carissa Baker, UCF Rosen College 

Shanequa "Word Smith" Bernard, UCF Rosen College Adjunct Faculty

10:50 a.m. -12:00 p.m.
Breakout Sessions
RSH 103-106

Topics:

A Cut Above the Rest
Facilitator TBA

Color Me Wonderful
Facilitated by:                  Dr. Beloved Dillard

12:00 p.m. – 1:20 p.m.

        Lunch & Afternoon                 Keynote Address:         A Diamond in the Rough
Disney Dining Room
Toby Ramirez -Johnson Corporate Director of Human Resources Omni Hotels & Resorts
1:25 p.m. – 2:30 p.m.
Breakout Sessions
RSH 103-106

Topics:

Clarity in Leadership
Facilitated by:                Dr. Precious Makuyana

The Beauty of All Carats
Facilitator TBA

2:30 p.m. – 3:30 p.m.
Networking Reception & Entrepreneur Showcase
Courtyard Fountain Outside the Auditorium

Final Charge
The Conference Committee
You may download the schedule HERE.
Invitation to Vendors to Table at the Forum

We bring you greetings on behalf of the #1 hospitality educator in the nation, UCF's Rosen College of Hospitality Management!!! Thank you for accepting our invitation to be a part of our 4th bi-annual Women in Hospitality Leadership Forum on Friday, March 31, 2023.  Our goal is to bring together industry leaders, employers, career professionals, and students to promote leadership excellence among women and inspire change. The first forum was held in observance of Women's History month 8 years ago in partnership with the National Society of Minorities in Hospitality Management student chapter. Since then, we have held the forum to address current leadership topics, trends within the workplace concerning women and provided the opportunity for women leaders to uplift, motivate and inspire.
We are inviting women entrepreneurs to promote their business during the Networking Reception & Entrepreneur Showcase for 1 hour from 2:30 pm to 3:30pm. The registration fee is $25.00 and set-up will be between the hours of 1:00pm to 2:00pm (sale of goods are permitted).  We will provide an 8ft table and 2 chairs, your business will be listed on the forum's Entrepreneur Showcase page and may be advertised via social media.
To join us, please register  HERE.
If you have any questions, please email A'Rion Raymond at A'Rion.Raymond@ucf.edu or Lori.Safford@ucf.edu .