UCF Rosen College Trains Hospitality Partners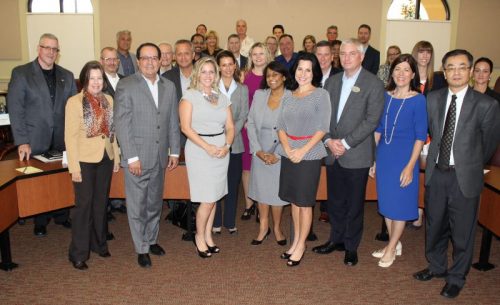 Thirty-four General Managers (GMs) from regional hospitality partners recently participated in a training program on guest service management designed and offered by UCF Rosen College of Hospitality Management. The half-day program was crafted specifically for GMs who are associated with the Central Florida Hotel and Lodging Association (CFHLA).  The program was facilitated and organized  by Associate Dean, Academic Affairs & Research, Dr. Youcheng Wang, and featured three Rosen College professors as speakers:  Dr. Michael Nalley, Vicki Lavendol and Michael 'Doc' Terry. The aim of the training is to enhance service culture in each of the hotels that participated.
The training program is free of charge to CFHLA affiliated hotel GMs as a service to the industry and in appreciation for CFHLA's support of Rosen College. CFHLA is one of Central Florida's largest and most influential trade groups. The membership includes nearly 80% of the more than 121,000 hotel rooms in Orange, Seminole and Osceola counties, and nearly 500 "supplier" organizations that do business with the hospitality and tourism industries.
This session on guest service management is the first training program provided to CFHLA members. More training sessions are in the planning stage for 2018.
UCF Rosen College of Hospitality Management offers undergraduate students, graduate students and industry professional an unrivaled opportunity to learn and continue their education in the heart of hospitality. Ranked #2 among hospitality management programs worldwide, Rosen College has been an educational leader for over 30 years.
— (November 20, 2017)